Nineteen IMG Academy soccer players put pen to paper on NCAA National Signing Day

Bradenton, Fla. (February 6, 2013) – Today 19 IMG Academy  student-athletes in the soccer program made their higher education decisions binding by signing National Letters of Intent to top colleges across the nation.
"The student-athletes who signed today earned their place at their new colleges, and we couldn't be more proud of their achievements," said Scott Dean, Director of Soccer, IMG Academy. "The players distinguished themselves on the field and in the classroom and have been great representatives of IMG Academy. They will no doubt represent their schools well at the next level."  
Standouts among the soccer signing class of 2013 include: 
Pablo Aguilar, a Guatemala native who came to IMG Academy as a freshman in 2009, committed to the No. 17-ranked University of Virginia. Aguilar is ranked as the top midfielder and No. 2 overall soccer player in the state of Florida for the Class of 2013, according to Top Drawer Soccer. 
Hannah Howell, a native of Bradenton, Fla., committed to the No. 17-ranked Georgetown University Hoyas. The attacking midfielder led the IMG Academy U18 Girls in scoring through the 2012 season, notably scoring eight goals in three games at the Orange Classic Tournament held in January in Plantation, Fla.  
Brett Gravatt, a native of Dunn Loring, Va., committed to the University of Akron, a program that finished 2012 ranked No. 7 overall with a stunning 18-1-3 overall record, and a third-round appearance in the NCAA tournament. 
Marco Velez, a Columbia native who came to IMG Academy as a sophomore in 2010, committed to the University of South Carolina. A member of the U18 Academy team, Velez is ranked as the No. 14 player overall and No. 2 among goalkeepers in the state, according to Top Drawer Soccer. 
Sydney McElwain, a native of Wellington, Fla., is a member of the National Honor Society and Key Club, and committed to Coker College, a top-20 school in the south according to U.S. News and World Report. She earned a scholarship after successfully switching from midfielder to goalkeeper during her sophomore year. 
Evan Finney, a native of Hillsborough, Calif., committed to Penn State University, where the men's soccer team claimed a share of the Big 10 Conference championship in 2012 – the program's third conference title overall. 
The full list of soccer signees includes:
Pablo Aguilar (University of Virginia)
Kayla Aritt (University of North Florida)
Allie Ashley (Trevecca Nazarene University)
Dylan Christie (Jacksonville University)
Hannah Davis (Nova Southeastern University)
Evan Finney (Penn State University)
Raul Gonzalez (University of Memphis)
Brett Gravatt (University of Akron)
Hannah Howard (Elon University)
Hannah Howell (Georgetown University)
Cassandra Kerrigan (Lenoir-Rhyne University) 
Sydney McElwain (Coker College)
Brendan O'Connor (St. Johns University)
Casandra Ordonez (Coker College)
Megan Peterson (Carson Newman College)
Chance Stanzyo (Ohio Dominican)
Jenna Steininger (University of North Florida)
Marco Velez (University of South Carolina)
Yazmin Velez (Florida Gulf Coast)
The signings come on the heels of a busy start to the year for the IMG Academy soccer program. In addition to its Academy program in full swing for the second semester, the program has been playing pre-season host to a number of professional and MLS clubs, including the New York Red Bulls, Columbus Crew, D.C. United, and Sweden's Malmö.
About IMG Academy
IMG Academy is the world-leading provider of academic, athletic and personal development programs. With expert instruction, a proven training methodology, professional-grade facilities and a challenging and motivating learning environment that brings together individuals of all ages and backgrounds, IMG Academy provides the ultimate foundation for future success.
The Bradenton, Fla.-based campus annually attracts nearly 200,000 athletes, coaches, event participants and spectators from 100 countries. IMG Academy offers sports camps and academy programs, in addition to training opportunities for adult, collegiate and professional athletes, as well as teams and leagues. IMG Academy is also the host venue for countless international amateur and professional sporting events.
IMG Academy (imgacademy.com) is housed within the IMG Performance (imgperformance.com) division of IMG Worldwide (imgworld.com). 
Contacts: 
Johnny Esfeller, IMG Academy, [email protected], 941-752-2461
connect with us & get a guide
Contact Us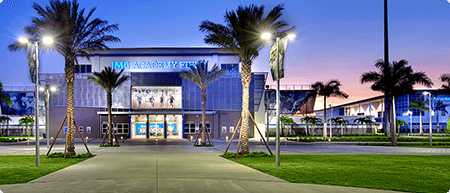 5650 Bollettieri Boulevard
Bradenton, FL 34210
Fill out the form below and we'll be in touch soon!
Request a brochure
We offer downloadable brochures about our boarding school, youth camps, adult programs, team training and pro/collegiate training in multiple languages.
Visit Us
Are you interested in touring the IMG Academy campus? Fill out the form below to submit a tour request and we will be in touch soon to confirm your request.