NLL American goaltender Chris Collins headlines IMG Academy Lacrosse Specialty Goalie Camp
Professional lacrosse player Chris Collins starred as a guest coach for the IMG Academy Lacrosse Specialty Goalie Camp, July 7-13. Throughout the week, Collins has seen great improvement among campers.
"Initially, the kids were foreign to some of the changes or concepts we introduced, but then they started asking questions and before you know it, there's an ongoing dialogue," Collins said. "That's one of the goals – to have the kids find different ways to do things. Similar to a quarterback in football or a pitcher in baseball, there are many different styles from a goaltending standpoint in lacrosse. It's not a stereotypical position where you have to be a certain height or this or that."
The specialty camp consists of male and female players, ranging from newcomers to experienced players. Structured as an intensive immersion experience, the camp emphasizes fundamental techniques and approaches to the goaltending position while creating instinctive habits, reactions and responses that will withstand the speed, intensity and chaotic uncertainty often associated with high-level competition. Utilizing IMG Academy's resources such as vision training, video analysis and mental conditioning, the camp integrates extensive athletic training and skill-specific instruction to mold the superior goaltender. Incorporating attack and defensive coordination, the camp vies to create complete goaltenders that think outside of the box offensively and defensively to truly become a student of the game.
As the only goalie camp in the country that introduces each player to the unique but highly beneficial indoor (box) lacrosse goalie position, IMG Academy added Collins to its coaching staff to bring depth to the program. It allows campers to play under conditions associated with the box game and experience the developmental opportunities and benefits of the goalie position from a different perspective.
The camp's guest coach, Collins, is the only American goaltender in the National Lacrosse League (NLL). The Yorktown, N.Y. native began playing field lacrosse in the third grade, and was introduced to indoor lacrosse, primarily played in Canada, by his college roommate. Named an All-American in high school and at the University of Delaware, Collins has been playing professional lacrosse for the past eight years in both the NLL and Major League Lacrosse (MLL), the indoor and outdoor games, respectively.
Collins' experience in goal is a valuable resource to the aspiring players in the camp on account of his time spent in the MLL and NLL. The MLL, whose season goes from May through early September, is played outdoors on a 110 yd. field while the NLL, which runs from December through May, is played inside an NHL hockey rink with carpet replacing the ice. In the MLL, however, goaltenders cover a 6-by-6-foot post and there is more movement and action from a goalkeeping standpoint. In NLL, the cage is only 4-by-4-foot-9-inches. The goaltender gear is much thicker, forming a marshmallow-like appearance.
Collins has played for the Washington Bayhawks, Chicago Machine and Boston Cannons in the MLL; he formerly played for the New York Titans and is currently representing the Philadelphia Wings in the NLL. Honoring his younger sister with Down syndrome who has never had the opportunity to play lacrosse, Collins plays for her every single time he's out there. At 31, Collins aspires to represent team USA in the 2015 World Games.
Giving back to the sport, Collins has been coaching lacrosse for as long as he has been playing professionally. Collins is an assistant men's lacrosse coach at Drexel University. As the goalie coach and offensive assistant at his alma mater, Collins helped Delaware advance to the NCAA Semifinals for the first time in school history in 2007.
"Playing professional lacrosse has really leveled me as a coach," Collins said. "Knowing what it's like to get up, lift, work out and take care of my body everyday and more importantly, what it's like to work with coaches and general managers has enhanced my coaching."
He continues: "Lacrosse is a game that's exploding all over the country and worldwide. It's a fantastic time to be a part of that growth both as a player and as a coach."
Collins has been blown away by IMG Academy from facility, staff and support standpoints.
"I have heard so much about it but you really can't understand what this place is all about until you walk onto campus," Collins said. "This is the place to train if you want to be an elite-level athlete."
Collins looks forward to returning to IMG Academy to train and coach in the future.
Photo by: Cindy Yu
connect with us & get a guide
Contact Us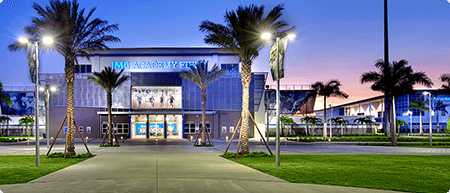 5650 Bollettieri Boulevard
Bradenton, FL 34210
Fill out the form below and we'll be in touch soon!
Request a brochure
We offer downloadable brochures about our boarding school, youth camps, adult programs, team training and pro/collegiate training in multiple languages.
Visit Us
Are you interested in touring the IMG Academy campus? Fill out the form below to submit a tour request and we will be in touch soon to confirm your request.