Notes from Nutrition: Healthy Holiday Recipes
Getting into the holiday spirit means decorations, sweaters, and festive music. For many, food oftentimes plays a large role in the season as well. From turkey, dressing, and potatoes galore to cinnamon or pumpkin treats, pies, and cookies - we've grown to love them all! 
But, have you ever wished for healthy alternatives so that you could enjoy the season without feeling like your year's worth of hard work just became irrelevant? Or, perhaps this may be the first time you're hearing the option but would like to learn more? Look no further than to IMG Academy's nutrition department for tips and tricks as to how you can join in the holiday cheer yet still stick to your diet plan.
Here are two recipes that can be adapted to your standard holiday break yet still allow for those tasty treats, just in moderation!
Holiday Superfood Slaw - A blend of greens, antioxidant-rich fruits, herbs, and nuts makes for a crisp, healthy addition to any holiday meal this season! 

Ingredients:

1/3 C Vegetable Oil
1/4 C Apple Cider Vinegar
2 TBSP Maple Syrup
4 TSP Dijon Mustard
1/2 TSP Kosher Salt
1/2 Medium Red Onion, finely chopped
1/2 Small Head Green Cabbage (about 1 pound, or about 5 cups shredded)
5 Cups Kale, chopped
1/2 Cup Sliced Almonds, toasted
3/4 Cup Dried Cranberries
1 Cup Pomegranate Seeds
3/4 Cup Fresh Italian Parsley Leaves, coarsely chopped

For the dressing - whisk the vinegar, oil, maple syrup, Dijon, and salt together in a large bowl. Add the red onion and stir to combine. Let sit at least 10 minutes for the flavors to meld. Meanwhile, prepare the cabbage.
For the salad - cut the cabbage into wedges through the core, then cut the core from each piece. Thinly slice the cabbage wedges crosswise to shred. Chop kale and mix greens.
Add the shredded cabbage, almonds, cranberries, and parsley to the dressing and toss to combine. Taste and season with salt and pepper as needed.
Tip: Use your leftovers with shredded turkey, reduced-fat cheese, and candied nuts for a hearty entree salad!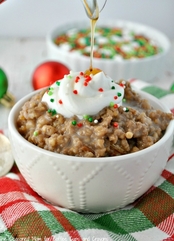 Slow-Cooker Gingerbread Oatmeal - Skip the drive-thrus and empty-sugar pastries during the busy holiday season! Instead, set your slow cooker before bed and wake up to a warm, high-fiber oatmeal that the whole family can enjoy!

Ingredients:

2 Cups Uncooked Steel Cut Oats
1/2 TSP Salt (to taste)
1 TBSP Cinnamon
1 TSP Ginger
1 TSP Nutmeg
1/2 TSP Cloves
1/2 TSP Allspice
1/4 Cup Molasses
Optional: chopped, toasted pecans, dried cranberries, raisins, greek yogurt

Instructions: Spray the inside of a 6-quart slow cooker with cooking spray (or other variation). Combine all ingredients in slow cooker and stir well. Cover and cook on high for 3-4 hours or on low for 8 hours, stirring occasionally. (Note - can be stored in airtight containers in the microwave and reheated. If consistency is too thick, add low-fat milk.)
IMG Academy's student-athletes consistently works with the nutrition department inside the Performance and Sports Science Center to manage the best ways to maximize each individual's strength and to build the ideal body per each sport. Campers also have access to nutritionists during their Total Athlete programming. From hydration to calorie intake to muscle repair, the nutrition department within the Athletic and Personal Development (APD) program consistently sets the industry standard. Check back for more nutrition tips soon!
*Recipe credit to Jamey Rice RD., LD., Nutrition Coach
connect with us & get a guide