Olympic champion Merritt has new home, outlook

LaShawn Merritt's life includes plenty of new things.
Merritt, the reigning 400-meter Olympic gold medalist, has a new home in Bradenton, Fla., and a new coach in Loren Seagrave.
Perhaps most important, though, the Portsmouth native has a new outlook after a humbling and embarrassing ordeal in 2010, when he tested positive for a banned substance found in a male enhancement product.
Merritt faced a two-year ban, but it was reduced to 21 months, and he's now preparing to defend his Olympic title in London this summer. He makes his spring debut Saturday at the Penn Relays in Philadelphia.
"I learned some things about myself and developed some character," Merritt, 25, said from Florida. "Now I'm more focused than ever."
Merritt initially was told he wouldn't get the chance to defend his title because of an International Olympic Committee rule that makes any athlete who receives a doping ban of six months or more ineligible for the next Olympics.
Merritt won a ruling in October that will allow him to defend his title, provided he makes the U.S. team.
"I feel good because I've proven myself," Merritt said. "(My case) has been dissected and it came out that there was no advantage gained and no intention to cheat. We took it to the highest court where we actually got the rule changed. Now I'm ready to run."
The ban and negative attention were a trying time and Merritt wondered if he'd run competitively again. But he trusted that everything would work out.
Last summer, he was cleared by the USA Track and Field board of directors to join the U.S. roster for the World Outdoor Championships in South Korea.
Merritt won a silver medal - just narrowly missing gold by three-hundredths of a second - and earned a gold medal in the 1,600 relay. Proving he had returned to Olympic form, he posted five of the world's top 14 times last season, including a world-best 44.35 seconds.
Merritt will compete in the Penn Relays for the fifth time, but his first since 2009.
"I want to show people that I'm ready," Merritt said. "The relays won't be as serious as the Olympics are going to be. But you're going to see the same faces. It's such a great meet, and I always love the Penn Relays."
The meet is Merritt's first outdoor competition under Seagrave. Coached by Dwayne Miller, Merritt won two Olympic gold medals, four World Championship golds and two silvers. He also has the fifth-fastest time ever in the 400 meters (43.75).
Miller is in his second season as an assistant at Norfolk State. Merritt, knowing this is a crucial year leading up to the Olympics, moved to Florida to train with Seagrave.
"It was kind of difficult, but I still love him to death," Merritt said, referring to Miller. "I understand what he's got going on, but this is a major year for me. I need to have total focus. It was a change but I don't think it was a bad change because of what I get down here."
In Florida, Merritt said he has nice weather year-round, great facilities and top-notch coaching.
Seagrave is well-known for his work with sprinters and professional athletes. Merritt said he recently rubbed elbows with Carolina Panthers quarterback Cam Newton and Baylor quarterback Robert Griffin III, the second overall pick in Thursday's NFL draft. Seagrave serves as the director of speed and movement at IMG Academy in Bradenton and has coached numerous collegiate All-Americans, Olympic and World Championship medalists, as well as national and world record holders.
Merritt hopes Seagrave can help him become just the second man to repeat as the 400-meter Olympic gold medalist, following Michael Johnson in 1996 and 2000.
The top four finishers at the Olympic Trials in June represent the U.S. in London.
"The change was a good change," Merritt said. "I'm in the part of my career where I already know how to run the event. Now I have to get somewhere where I can be totally focused on training. There's nothing to do here but train. I'm totally focused, I have a great coach and we're getting it done."
connect with us & get a guide
Contact Us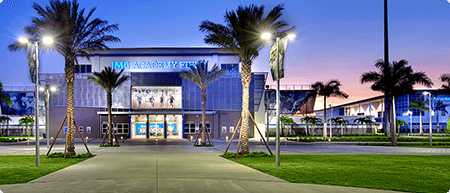 5650 Bollettieri Boulevard
Bradenton, FL 34210
Fill out the form below and we'll be in touch soon!
Request a brochure
We offer downloadable brochures about our boarding school, youth camps, adult programs, team training and pro/collegiate training in multiple languages.
Visit Us
Are you interested in touring the IMG Academy campus? Fill out the form below to submit a tour request and we will be in touch soon to confirm your request.