Omar Passera of Arona, Italy wins IMG Academy Football Gatorade G-Award Week of August 12
Every week of camp, IMG Academy selects the Athlete of the Week sponsored by Gatorade. The honoree is bestowed the G-Award in recognition of the athlete who displays Heart, Hustle and Soul, and exhibits a true desire to reach their true athletic potential.
The IMG Academy Football winner of the Gatorade G-Award for the week of August 12 is Omar Passera of Arona, Italy.
How long have you been playing football for?

Three years in total. I started with one year of flag football, and two years of tackle football.
What are your favorite things about IMG Academy and why?
They really give you the chance to be a leader, to work with your team and the best thing is the menal conditioning.
Do you have any pre-game rituals to help you prepare for a big game?
I always think about my teammates, because they are my family and my friends.
What professional athlete inspires you the most?

Drew Brees, because he pumps up his team every time.
What is your favorite thing to do after you win a game?
I like to celebrate with my coaches, teammates and my family because we are all so happy.
What motivates you to push through a tough practice?

I want to be the best. I know it's probably too much, but I really want to be the very best.
connect with us & get a guide
Contact Us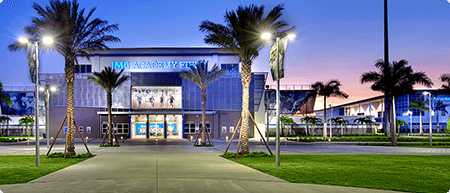 5650 Bollettieri BLVD.
Bradenton, FL 34210
Fill out the form below and we'll be in touch soon!
Request a brochure
We offer downloadable brochures about our boarding school, youth camps, adult programs, team training and pro/collegiate training in multiple languages.
Visit Us
Are you interested in touring the IMG Academy campus? Fill out the form below to submit a tour request and we will be in touch soon to confirm your request.