Path to the pros: U.S. striker Jozy Altidore recalls the days before he got paid to play

The beginning
I played soccer when I was 3 years old. That was my first taste of organized sports. I didn't get picked to play on my first serious travel team until a soccer coach named Josef Schulz spotted me playing in a park when I was 8. Josef told my parents, "I can make your son into a World Cup player." My parents were obviously excited, and they brought me to his academy.
The middle school days
I didn't have to travel far to play for the Schulz Academy, but I did need some type of discount because we couldn't afford it. So Josef offered to let me train with the academy for cheaper than other kids. I learned so much there. Josef used to always tell me that when you get to the highest level, you have to do the little things on your own. I didn't really understand what he meant until I got to Europe.
The high school years
At 14 or 15, I chose to attend IMG Academy in Bradenton, Fla., over playing basketball in high school. I'm not saying I was the next Jordan, but I loved the game. When I got to Bradenton, my initial goal was to get a college scholarship. I never thought about going pro. I was born in 1989, so I was too young to play with players born in 1988 on the FIFA U17 World Cup team. If you don't play on that team, you don't get scouted as much.
So I was doing college visits, trying to decide which school would be right for me. I remember American University offered a really good package. I was just looking for the best option financially. And then Eric Lichaj, who's played in the English Premier League, got injured and I got an invite to play on that U17 World Cup team in 2005.
I got scouted, but I still didn't think I would go pro. Some agents told my parents, "Your son can play in the MLS if you guys want to make it happen." Even then, my parents thought it was better for me to get an education. It wasn't until I knew there was a possibility of going to the Red Bulls that I really took the agents seriously. After I was offered a Generation adidas contract to sign with MLS, it was a no-brainer.
Photo by: Getty Images
Credit to: ESPN the Magazine
connect with us & get a guide
Contact Us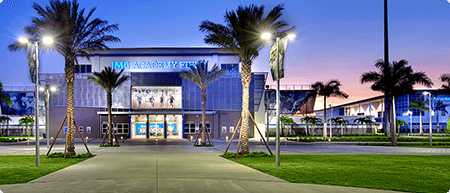 5650 Bollettieri BLVD.
Bradenton, FL 34210
Fill out the form below and we'll be in touch soon!
Request a brochure
We offer downloadable brochures about our boarding school, youth camps, adult programs, team training and pro/collegiate training in multiple languages.
Visit Us
Are you interested in touring the IMG Academy campus? Fill out the form below to submit a tour request and we will be in touch soon to confirm your request.