PDL Soccer: IMG Academy collects first victory, 1-0 over Orlando City

BRADENTON -- First came the momentum-building save, then came the match-sealing goal.
Both were vital in giving IMG Academy Bradenton a boost in Wednesday's United Soccer League Premier Development League game.
IMG defeated Orlando City's Under-23 side 1-0 and gave itself three valuable points in a Southeast Division contest.
"It's all about capturing as many points as you can," Bradenton head coach Scott Dean said. "There's a magic number, which is probably going to be 32 to 33 points, to get into the playoffs. We came up one short (last year). So now it's just a matter of getting these guys together. You can tell we don't have a style yet. ... But we pulled it out."
IMG (1-2, three points) lost to Orlando City in a previous meeting and recently squandered at least one point by conceding a late goal in Sunday's loss to Ocala.
However, Bradenton's fortunes changed with a heavy-possession game that yielded an unrelenting attack on Orlando City for much of the match.
The Lions, though, picked up a golden chance to shift the momentum when they were awarded a penalty in the 57th minute.
But IMG goalkeeper Andrew Wolverton guessed correctly and slid his body to block the penalty shot and keep the game scoreless.
"I kind of had an idea of where he went, because of his lineup," Wolverton said. "But it was a little bit of guessing as well."
Then Dean called upon Ryan Lemasters to provide a spark with roughly 20 minutes remaining.
"He's effective because he just works his backside off," Dean said. "He unbalances the opponent."
Lemasters, who played at Western Michigan University, gave Bradenton the precious 1-0 lead when he rifled in a goal off a wild scrum in front of the Orlando City net in the 86th minute.
"We kept the pressure on the corner kicks and were real dangerous," Lemasters said. "We've been dangerous on set pieces all year. ... I just blasted it, and it went in."
Despite the goal, Orlando City wasn't finished, and the Lions sent pressure forward seeking a goal to level the score.
It did not come as Bradenton kept its shape in the last few minutes to preserve victory.
"You just have to stay organized and keep composed," Wolverton said.
IMG is on the road for its next two matches, but returns to Bradenton to face Fort Lauderdale on at 4:30 p.m. June 11. For ticket information, contact IMG Academy.
Photo by: IMG Academy
Credit to: Bradenton Herald
connect with us & get a guide
Contact Us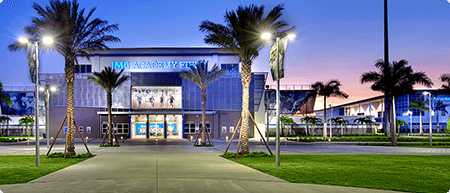 5650 Bollettieri Boulevard
Bradenton, FL 34210
Fill out the form below and we'll be in touch soon!
Request a brochure
We offer downloadable brochures about our boarding school, youth camps, adult programs, team training and pro/collegiate training in multiple languages.
Visit Us
Are you interested in touring the IMG Academy campus? Fill out the form below to submit a tour request and we will be in touch soon to confirm your request.