Player of the Year: Erika Tymrak

LAKEWOOD RANCH — Erika Tymrak is the perfect emotional blend. 
She's passionate about a sport she's been playing since she was 4 years old. 
She creatively dazzles defenses with her movement and knowledge of the game. 
She's remained motivated and committed to becoming the best player she could be at every level she's played. 
And she's become one of the University of Florida's most accomplished players; she leads the Gators in goals, assists and points this season. 
In recognition of her talent, dedication and work ethic, the Florida midfielder and Lakewood Ranch resident was named the 2012 SEC Offensive Player of the Year. 
"It was such an honor to be recognized and given the award," Tymrak says. "There are so many talented players in the SEC, and the fact that I was chosen says a lot about my team. When a player is earning points, goals, assists, etc., a lot of the credit has to go out to the other players, as well. I was just grateful and excited I could represent my school and team." 
Tymrak also was named to the National Soccer Coaches Association of America All-American first team and NSCAA All-South Region first team. She was an All-SEC first team selection, SEC tournament MVP and Soccer America MVP first team selection, among other accolades. 
Tymrak began playing soccer when she was 4 years old after her father, David, a former soccer player, himself, dropped a ball down in front of his daughter's feet one day. She immediately took a liking to the sport and has been playing ever since. 
"I (enjoy) the emotions I experience with it — passion, accomplishment, happiness and teamwork," Tymrak says. "Playing soccer at a high level takes a lot of devotion and commitment. Especially playing in college — it'll either break you or make you into a better athlete. 
"The feeling of fulfillment after a hard workout, though, is so rewarding; and I think it's those types of feelings that drive me to get better and train harder," she says. 
When she was in eighth grade, Tymrak started doing the Olympic Development Program. The decision allowed college coaches to see her and motivated her to push toward her goal of playing at the next level. 
Tymrak spent the next five years playing for IMG Academy, where she was IMG's Most Valuable Player from 2005 to 2007 and the IMG Soccer Player of the Year in 2008 and 2009. 
Tymrak also was a part of the U.S. National Team that finished as the runner-up in the 2008 FIFA U-17 Women's World Cup in New Zealand. 
In 2009, Tymrak moved on to Florida, where she started 90 of the Gators' 95 games. Since then, she's developed both physically and mentally as a player. 
"I think the mental side of soccer is just as important as the physical side," Tymrak says. "When you have a strong mentality going into matches, it gives you an extra edge on your opponents." 
In 2012, Tymrak led the Gators in goals (nine), assists (12) and points (30). She also scored five game-winning goals while leading the Gators to a 19-5-1 record, SEC Conference and Tournament Championships and a berth in the NCAA Round of 16. 
"Being on the women Gator's soccer team was an opportunity that changed my life forever," Tymrak says. "My team, the coaching staff and the people I've met through this experience have helped shape me into the player I am today. I could not have asked for a better college experience, and I will forever be a Gator." 
Tymrak is now preparing for the next phase of her career. Tymrak, who graduated with a degree in criminology, is moving to Kansas City, where later this month she will begin playing professional soccer in the new National Women's Soccer League. 
"I think I've matured as a player since I came in as a freshman," Tymrak says. "I still have much improvement (to make) until I become the player I aspire to be one day, but I definitely think I'm well on my way, and I have Florida to thank for that."
connect with us & get a guide
Contact Us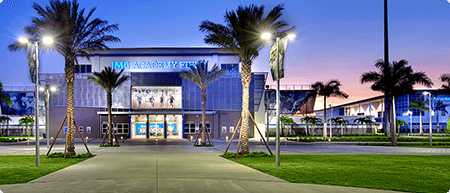 5650 Bollettieri BLVD.
Bradenton, FL 34210
Fill out the form below and we'll be in touch soon!
Request a brochure
We offer downloadable brochures about our boarding school, youth camps, adult programs, team training and pro/collegiate training in multiple languages.
Visit Us
Are you interested in touring the IMG Academy campus? Fill out the form below to submit a tour request and we will be in touch soon to confirm your request.