Players Add Mental Toughness At IMG

For the last few months, there has been a serious amount of football talent walking around IMG Academy, as many of the nation's best college players have been calling the Bradenton, Fla. facility home as they prepare for April's NFL draft.
Projected first rounders such as Bjoern Werner (Florida State), Eric Reid (LSU), Manti Te'o (Notre Dame) Tyler Eifert (Notre Dame) and Justin Hunter (Tennessee) are just a few of the many gifted players who have been training with the IMG Academy staff.
While speed training and position training for maximum performance at the NFL Combine and respective pro days are two of the major areas of focus during the time spent at IMG Academy, as well as the vision training, it's the mental training and work with Dr. Angus Mugford and his colleague Josh Lifrak that may be the most important dynamic of all.
"[Seattle Seahawks quarterback] Russell Wilson is a great story from last year," Dr. Mugford said. "[Washington Redskins running back] Alfred Morris is another one. They've enjoyed tremendous success at the next level. They are testaments to effectively navigating the transition process – what we call growth mindset. Their attitudes towards learning, competition and embracing pressure…There are things outside of their control that contributed to their success, but their attitude, concentration and effort has helped them at the next level, and that has as much to do about their mentality, as it does their physical gifts."
"(Carolina Panthers linebacker) Luke Kuechly is another guy that absolutely fits this mold," Mugford continued. "Those guys were unbelievable in the training environment and it's awesome to see how that translates. They were in search of every aspect they could improve and get better. That's part of being a professional athlete."
When the athletes hit IMG Academy field to train, they hear Mugford and his staff's voices in their ears. Sometimes they hear Mugford and his staff because they're standing there reminding them how to stay focused on the controllable as they go through their practice reps.
Every other day, Mugford and his guys are on the field, and they also get an hour a week with the Draft prospects in a classroom setting as well. Areas of focus include: running the 40-yard dash; interviewing with NFL teams; and scoring well on the Wonderlic test.
Players like the guys mentioned and others, including former Alabama offensive lineman Barrett Jones, and Wisconsin running back Montee Ball, are big believers in the mental preparation IMG Academy provides after seeing how it benefitted so many from the IMG Academy 2012 NFL Draft class.
"Having come to IMG Academy recovering from an injury, one of the things that benefited me the most was visualization," Alabama offensive lineman Barrett Jones said. "I really had the opportunity to perfect and implement visualization so that I could gain some of the same benefits as the guys who were actually able to go through some of the training and drills that I was unable to. I also felt the mental conditioning staff prepared me really well to face the Wonderlic test at the Combine. Through practice and repetition, I was able to get very comfortable with the test."
Mugford and his staff stress to the guys that they can only focus on one thing at a time. For instance, in the 40-yard dash, don't focus on running a 4.5. Focus on the steps you need to do to run that time. Focus on the process.
"It's the same thing with a player thinking about winning going into the game," Mugford said. "Everyone wants to win. It's the players that focus on how to win and not winning who are going to be more successful."
The NFL Combine is not the ideal setting for maximum performance results. The athletes are in a foreign setting, with their meal and sleep schedules seriously disrupted. The pressure and tension in the Indianapolis air can be cut with a knife.
Mugford works with the guys on staying aware of what's really important. He reminds them to visualize success. The staff also teaches the guys how to relax their minds. At IMG Academy, players go through Combine drills and tests while the staff tries to create distractions in the background.
"We want the player to be aware of his thoughts," Mugford said. "If he's thinking about Tom Coughlin being five feet away from him and watching his every move, and his family has been telling him that Mel Kiper has been saying the New York Giants have him high on the Draft board, we don't want him focusing on Tom Coughlin when he's on deck to run his 40. We want them to recognize you can only focus on one thing at a time."
"As it relates to the mental conditioning part of the program, we learned a lot of breathing techniques, which helped me get better sleep," Montee Ball added. "We also developed a habit of doing mental reps. Going through all of the mental reps of running the 40, the L-cone drill - that really helped me prepare for the Combine."
There is a lot at stake and the NFL Combine and pro days are the biggest job interviews of these athletes' lives. IMG Academy has their guys taking it serious from every angle, both physical and mental.
"At the Combine they're putting these guys through a gauntlet of different stresses," Mugford said. "They're trying to get a full medical screen and compare apples to apples. Throw in the challenging and difficult interviews, and it's purely fatigue. These guys are maybe getting four hours of sleep a night. Everything is getting scrutinized, from their body language to how a guy copes with making a mistake and bouncing back with a tremendous amount of pressure. These are all things we talk about and work on at IMG Academy."
"You don't have to look far to be able to see guys that perform well in the Combine but are busts when they get to the NFL. Teams are trying to make their best guess on who is going to shine at the next level. It's typically the guys who are coachable, who are going to respond well to things mentally, and who are going to continue getting better because they have a winning mentality."
connect with us & get a guide
Contact Us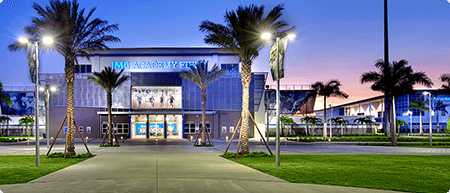 5650 Bollettieri Boulevard
Bradenton, FL 34210
Fill out the form below and we'll be in touch soon!
Request a brochure
We offer downloadable brochures about our boarding school, youth camps, adult programs, team training and pro/collegiate training in multiple languages.
Visit Us
Are you interested in touring the IMG Academy campus? Fill out the form below to submit a tour request and we will be in touch soon to confirm your request.