Pool play of the IMG7v7 Southeast Regional Championship is in the books

Day one of the IMG7v7 Southeast Regional Championship is in the books, and 14 of the top club 7v7 teams battled it out to determine the seeding for Sunday's championship tournament. Each team played a series of four games, and at the end of the day, the No. 1 seed came down to a tiebreak between the Florida Fire (Miami, Fla.) and Central Florida Top Recruits (Orlando, Fla.). Each team ran through the competition with perfect 4-0 records on the day, but their perfect marks were threatened late in the competition.
During their second game, the Top Recruits were on the verge of an upset from Tampa, Fla.'s Unsigned Preps squad. With 40 seconds remaining and trailing, Top Recruits QB D'ondre Francois (Olympia HS, Apopka, Fla./Class of 2015) dropped back, and dumped off a desperation pass to WR Terry Jernigan (Lake Minneola HS, Minneola, Fla./Class of 2014), who made the play of the day. Jernigan made an ankle breaking juke that sent a would be defender to the ground, and broke it for a long touchdown the lead late, and get the win, 25-14.
Similarly, the Florida Fire (Miami, Fla.) found themselves in a dogfight with the South Florida Blur (Miami, Fla.) in their final game of the day, and had to gut out a win to keep their hopes at a No. 1 seed alive. Refusing to lose, the Blur kept the pressure on, finding gaps in the Fire's zone defense and keeping pace with their powerful group of skill players. However, Fire WR Odis Grimes (Northwestern HS, Miami, Fla./Class of 2014) was able to find the endzone three times, and will his team to a nailbiting win over the Blur, 32-26. Notably, the last WR from Miami's Northwestern HS to go off at an IMG7v7 event was current Alabama Crimson Tide WR Amari Cooper, who stunned spectators at the 2011 National Championships event as a member of the South Florida Express.
It came down to the second tiebreak scenario to determine No. 1 seed, which went to the Central Florida Top Recruits for fewer points allowed than the Fire.
The IMG7v7 Southeast Regional Championship will resume tomorrow morning, which tournament play beginning at 9:00 a.m. on IMG Academy's West Campus.
The event is open to the public and admission is free. 
Tomorrow's full schedule:
Team Warmups: 8:45 – 9:00 a.m.
Bracket Play: 9:00 a.m. – 4:10 p.m.
Awards Ceremony: 4:15 – 4:30 p.m. 
Final pool play standings: 
To view Sunday's full championship bracket, visit NFA7v7.com by clicking HERE. 
connect with us & get a guide
Contact Us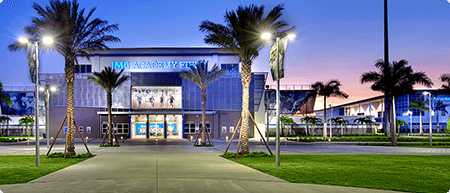 5650 Bollettieri Boulevard
Bradenton, FL 34210
Fill out the form below and we'll be in touch soon!
Request a brochure
We offer downloadable brochures about our boarding school, youth camps, adult programs, team training and pro/collegiate training in multiple languages.
Visit Us
Are you interested in touring the IMG Academy campus? Fill out the form below to submit a tour request and we will be in touch soon to confirm your request.