Prep baseball player savoring every day on the field after cancer fight

BRADENTON -- At first glance, Daniel Hyde looks just like the rest of the baseball players who flocked here this past week for the IMG National Classic tournament.
But delve deeper and discover it's amazing that the 17-year-old Hyde is even playing baseball.
Last September, the Notre Dame College Prep (Niles, Ill.) center fielder was diagnosed with Hodgkin's lymphoma, and he struggled to fight the disease.
On Jan. 6, the treatments sent cancer into remission and Hyde started playing baseball again shortly thereafter.
"The support, the people around me, it was unreal the amount of support knowing the amount of people backing you up on that," said Hyde, whose cancer went in remission on his father's birthday. "My whole team was constantly surrounding me. Everyone was making wristbands for me and what not. It was unreal; everyone's shaving their heads. It just kept me in good spirits having everyone around."
He's not 100 percent, but Hyde is back on the baseball diamond. In tournament action, the 6-foot-4 Hyde collected a hit, drove in a run and scored a run in addition to throwing two innings from the mound.
Cancer, though, hasn't been the only traumatic experience the outfielder has gone through in his quest to play baseball.
At age 2, Hyde was in a car accident in Africa, where he grew up. He was thrown from the car 40 feet after it flipped through the air three times and was lucky to survive.
Then a few years later on his family's expansive plantation farm, Hyde nearly had
a deadly confrontation with a black mamba snake. A dog on the property barked at some tall grass, and Hyde checked it out only to realize what the commotion was about. Before the snake could sink its fangs into Hyde, he high-tailed it in the other direction.
"I have two lives left; I swear I've got to slow down," Hyde said. "Things can be taken away from you like that; you've got to enjoy things while you can."
But Hyde's most harrowing experience involves his family. He was almost 5 years old and was not present for what transpired. His family was in Zimbabwe when political upheaval took center stage. Armed gunmen arrived and forced his family to flee from the life they knew.
"It was everything we had, taken from us," Hyde said. "A couple thousand-acre farm that our whole family lived on. Uncles, aunts, cousins, everyone. It was just taken from us, and everyone just spread out. ... (Zimbabwe President) Robert Mugabe, I guess, and the government decided ... I guess that white people couldn't own farms anymore, sort of. They just showed up and said, 'You guys have a time period to get all our stuff together and get out.'"
Because his mother is an American, Hyde's family relocated to the United States and dispersed around the country. His immediate family found a home in the Chicago area, and Hyde eventually found his way to America's pastime.
Hyde's father, who is South African, provided early motivation, despite knowing more about rugby and cricket than baseball.
Hyde harnessed that motivation to develop into a fundamentally sound player and was looking forward to the college recruiting aspect of his senior year when the news came that he had cancer.
"The form of cancer I had was Stage 3A, which in Stage 3A means no symptoms," Hyde said. "I had been at a camp at (Illinois State University), and I was playing right field. And they hit a ball down the line, and I dove for it. As I dove for it, I landed on my left shoulder and it was a little painful. I continued to play. ... It was thought that I had a tear in my labrum. ... They did blood tests and all that, and everything came back perfect. I was as healthy as can be. It was the last option. It could be cancer, but probably not. Most likely, your blood is perfect. Then three days later, I was laying in bed, and my dad came home early. I knew something was wrong."
Undeterred, Hyde kept grinding and made his way back around Martin Luther King Jr. Day this year, and the right-handed hitter has continued to battle his way back to where his game was prior to being diagnosed with cancer.
"Last year, he was probably our top player," Notre Dame head coach Nelson Gord said. "Our three hitter, center fielder, No. 1 pitcher, the whole works. He had some pretty high hopes of college baseball coming into this season. ... He went through three initial rounds of chemo. Then took a little break, and went through two more full rounds. ... And here he is five, six weeks later on the field playing. And playing pretty well."
connect with us & get a guide
Contact Us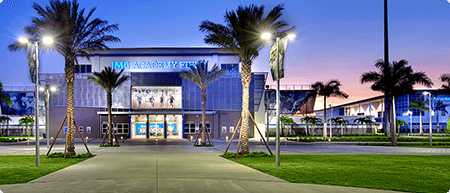 5650 Bollettieri BLVD.
Bradenton, FL 34210
Fill out the form below and we'll be in touch soon!
Request a brochure
We offer downloadable brochures about our boarding school, youth camps, adult programs, team training and pro/collegiate training in multiple languages.
Visit Us
Are you interested in touring the IMG Academy campus? Fill out the form below to submit a tour request and we will be in touch soon to confirm your request.