Ramirez Jr. makes name for himself

His frame, more slender than burly, isn't the giveaway. Neither is the number on his back, the 44 an appropriate paternal tribute to Hank Aaron, Willie McCovey or Reggie Jackson.
It's when the PA announcer articulates his name to the crowd. Then the expectations naturally soar, like a home run off the bat of his famous father.
Manny Ramirez Jr.? This kid had better be something.
"I don't really have a problem with it,'' the 17-year-old IMG Academy senior said. "Everybody just kind of assumes that I'm his son. I don't really get treated differently here that much at all.
"They expect a lot of things from me, but I just try to make my own name and just try to do what I can do and do my best every day.''
Ramirez's best on Friday came at the most timely of occasions. In the championship game of the IMG National Classic, the 6-foot-4, 207-pound outfielder went 2-for-2, with three RBI and two runs scored, in IMG's 13-8 victory over St. John's College High School of Chevy Chase, Md.
Earlier this month, at the Cleats Classic Invitational in Tempe, Ariz., Ramirez led IMG to the championship, hitting .522, knocking in 15 runs and scoring nine.
"I was seeing the ball great and was confident,'' he said. Ramirez's regular season suggests that venue hasn't factored into his performance. Wherever the diamond, he's produced, hitting .355, with a team-high two homers, seven doubles and 24 RBI.
Still, according to IMG head baseball coach Jason Elias, the only trait handed down from father to son is athleticism. When in the batter's box, junior knows he's on his own.
"Manny, at times, shows shades of his father with the bat,'' Elias said, "but Manny's been his own guy ever since I've known him, from a personality standpoint, and he's really worked hard to create a career for himself.
"He's growing into his body now. He probably shed 30 pounds in the offseason. He busts his rear end in the weight room and he's the guy you see out here running sprints when nobody's around, so he's really trying to put himself into a good position for what's next for him after high school.''
Ramirez arrived at IMG three years ago from American Heritage School in Plantation, for many of the same reasons athletes from around the world matriculate to the place spawned by Nick Bollettieri back in 1978.
Getting serious about baseball meant imbedding himself in an environment akin to a hardball laboratory.
"I just had to eat, sleep and drink baseball.''
Even Saturdays and Sundays aren't immune to Ramirez's work ethic.
He last spoke to his dad several days ago. Forty-year-old Manny Ramirez Sr., now plays for the EDA Rhinos of the Chinese Professional Baseball League. On Thursday he hit his first home run.
Naturally, junior was proud.
"It comes with a lot of hard work,'' he said, "a lot of blood and tears because I know how much he put in, and I know how much I'm putting in.''
He's already signed to play next season at Central Arizona Community College, but first, there's this little event known as the June amateur draft.
Under either scenario, Manny Ramirez Jr., will continue hitting the baseball. It's what he does. Hey, Dale Earnhardt Jr., didn't go sell insurance, did he?
"It's basically all I can think about,'' Ramirez said. "I really can't see myself doing anything else. It's in the family.
"Whatever it takes.''
connect with us & get a guide
Contact Us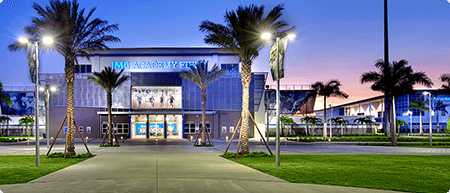 5650 Bollettieri Boulevard
Bradenton, FL 34210
Fill out the form below and we'll be in touch soon!
Request a brochure
We offer downloadable brochures about our boarding school, youth camps, adult programs, team training and pro/collegiate training in multiple languages.
Visit Us
Are you interested in touring the IMG Academy campus? Fill out the form below to submit a tour request and we will be in touch soon to confirm your request.