Sabine Lisicki defeats Maria Sharapova in all IMG Academy alum fourth round Wimbledon matchup
Today at Wimbledon, IMG Academy tennis alums, Maria Sharapova and Sabine Lisicki, faced each other in the fourth round. This was a rematch of the 2011 Wimbledon, where Sharapova defeated Lisicki 6-4, 6-3 in the semifinals. This year in the battle of the IMG alums, the No. 15 seeded Lisicki turned the tables and upset the No. 1 seed and current world No. 1 with the same score of 6-4, 6-3.
After today's match, Lisicki spoke with the BBC about her victory:
"It's unbelievable. I've beaten Maria Sharapova for the first time. I just went for my shots from the first point on. She is a fighter, but I am a fighter, too. I fought to the last point. The last game was tough, but I fought it out. I'm happy. I'm getting better with each match. This is my favorite tournament. I love it here!"
Prior to competing at The Championships, Lisicki had five days of intense training at IMG Academy with Chip Brooks, who has coached elite players for more than 30 years at IMG.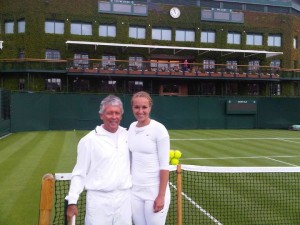 Lisicki will face fellow German and No. 8 seed, Angelique Kerber, in the quarterfinals.