Showtime! IMG Academy boys basketball rolls into the fall behind powerful backcourt

Basketball season does not officially get underway until early November, but the IMG Academy Varsity Boys Basketball team are counting down the days. The team will be led by a 'three-headed monster,' consisting of point guard Corey Sanders, Jr. and forwards Dwayne Bacon and Tysean Powell.
"You're going to see a lot of up-tempo play," Sanders described. "I feel like we have one of the best backcourts in the state."
Sanders and Bacon are well-known prospects to many of the nation's top college programs. The duo arrived at IMG Academy from Lakeland, Fla., each carrying double-digit college offers. Sanders and Bacon are considered Top-100 prospects nationally by Rivals.com (No. 76 and 27, respectively). Meanwhile, Cleveland, Ohio native Powell is only beginning to emerge on the national scene. Powell arrived on campus with only a single college offer, but is already seeing his offer list grow as he hears from more top Division-I programs.
The 6-foot-9 forward, Powell, will no doubt continue to see increased interest from colleges. A rising defender and shot blocker, Powell displayed truly elite athleticism during pre-season testing at IMG Academy, and paced the entire basketball program with a vertical approach that saw him reach as high as 11.75 feet;, one-and-a-half feet above the rim.
When asked to describe what they each bring to the team, Sanders was quick to offer an assessment: "With Tysean, he's long, he's got a high motor. Dwyane can score at any position, pull up and shoot, and also create opportunities for others like me to score, so I feel like we have a great chance of living up to what the three of us can do and having great success as a team this season."
Bacon agreed, adding, "We have a great big-three that can do a lot of things all-around. We're going to see a lot more wins this season."
Each member of the talented trio chose to attend IMG Academy with the goal of getting prepared for college and improving their fundamental skills. For Sanders, he looks to build on his basketball IQ to better direct the team on the floor. Bacon is focusing on improving his left-handed skills. Meanwhile, Powell is working to further his shooting and ball-handling skills.
"IMG Academy is already teaching me things with drills that I haven't seen anywhere else, and is giving me new skill sets, helping me be able to do those little extra things that I might not have been doing before," Bacon remarked.
The world-class facilities and college-style schedule that allows student-athletes to balance their academic and athletic pursuits was also a draw.
"I played AAU and our team came down here about two years ago," Powell recalled. "My coach told me all about it and I got to see the facilities and what IMG Academy had to offer. The coaching staff and facilities here are great - it's basically just like college."
Sanders and Bacon are Class of 2015 prospects, while Powell is currently a senior, set to sign as a member of the Class of 2014. The IMG Academy Varsity Boys basketball season tips off later this fall, with high expectations and a new air of excitement.
connect with us & get a guide
Contact Us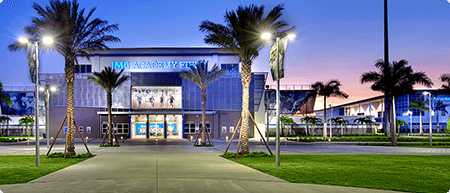 5650 Bollettieri Boulevard
Bradenton, FL 34210
Fill out the form below and we'll be in touch soon!
Request a brochure
We offer downloadable brochures about our boarding school, youth camps, adult programs, team training and pro/collegiate training in multiple languages.
Visit Us
Are you interested in touring the IMG Academy campus? Fill out the form below to submit a tour request and we will be in touch soon to confirm your request.