Spring Break trip to Costa Rica strengthens bond and yields news experiences for IMG Academy U18 girls soccer team

During Spring Break, the IMG Academy U18 girls soccer team travelled to Costa Rica to train, play games and have some fun, too. For Jenna Steininger, it was her first time out of the country.
"It was amazing, but really different," said Steninger. "It made me appreciate things a lot more here."
The soccer portion of the trip included training and playing a game at Labrador Municipal Stadium, the home stadium for professional team Club Sport Uruguay de Coronado. A few days later, the girls had the opportunity to observe a game on the same field they were training on.
In between training and playing games, the girls were able to take part in some special activities. From zip lining to white water rafting, it was a trip they would never forget.
"[White water rafting] was really fun," said Robyn Ross. "Once, we were [stuck] on a rock, so everyone yelled 'high side right' and you're supposed to act on the second, and Megan goes 'high side what?'… It was hilarious!"
But even zip lining and white water rafting couldn't compare to the impact two little boys made.
"We were driving down the road and we saw these two little boys with a beat up soccer ball," said Megan Peterson. "We all yelled 'STOP THE BUS!,' so we pulled over. As soon as we got off the bus and they saw the brand new soccer balls they sprinted over to the bus and we gave them tee shirts and other stuff. They were really excited."

"Seeing the little kids that were really poor and helping them out was by far my favorite part," said Kayla Aritt.
It was a trip of lifetime, and an opportunity for the team to strengthen their relationships and come together as a team. They were also able to share exceptional memories with one another, and learn what life is like outside of the United States.
"Just from a cultural and educational experience, I think the girls learned a lot like what it's like to not have certain amenities and certain privileges," said Head Coach Bobby Johnston. "I thought it was a great experience for the team and the girls. We really enjoyed it."
connect with us & get a guide
Contact Us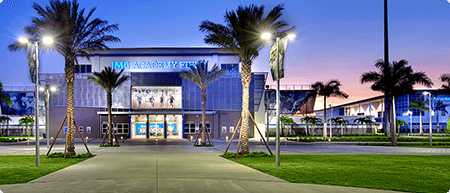 5650 Bollettieri Boulevard
Bradenton, FL 34210
Fill out the form below and we'll be in touch soon!
Request a brochure
We offer downloadable brochures about our boarding school, youth camps, adult programs, team training and pro/collegiate training in multiple languages.
Visit Us
Are you interested in touring the IMG Academy campus? Fill out the form below to submit a tour request and we will be in touch soon to confirm your request.