Stanislaw Grzeslo travels over 5,000 miles to train at IMG Academy
From Kraków, Poland to Bradenton, Fla., IMG Academy Bollettieri Tennis Program trainee Stanislaw Grzeslo traveled over 5,000 miles overseas and gave up competitive swimming to pursue his dream of playing Division-I collegiate tennis. Independent and mature beyond his years, the 17-year-old relocated to Bradenton, Fla. two years ago.
"I miss my friends and family back home, but I think I made the best decision of my life to move here," Grzeslo said. "IMG Academy is one-of-a-kind in that there's no other academy like it in the world. I love training here and I wouldn't change it for anything in the world."
As tennis runs in his family, Grzeslo is fortunate enough to have a piece of home with him. Living with his older brother and father figure Jakub, a tennis coach at IMG Academy since 2003, the two commute to and from campus together everyday.
"My brother is my idol and inspiration to play tennis," Grzeslo remarked.
Having played successfully at the collegiate level, Jakub is a mentor to Grzeslo. He not only earned a scholarship to play for Coastal Carolina University and was honored as the 2000 Big South Conference Player of the Year, but also serves as the College Placement Coordinator for student-athletes in tennis.
"My brother has improved tremendously in the last two years," Jakub said. "The full-time program has helped him a lot on and off the court. All aspects of his game have been improving, including fitness and mental conditioning."
Attracted to the elite-caliber training and ability to advance athletically and academically in the United States, Grzeslo has improved his tennis game all-around to become a more complete player at IMG Academy.
"In Poland, it was less competitive than it is here," Grzeslo expressed. "It's also much more expensive and very difficult to play tennis at a high-level and receive a good education."
Grzeslo continued: "Everything here gives you an advantage. You have a team of coaches, teachers, trainers and even college placement advisors to best prepare you for your future."
Under the tutelage of coach David "Red" Ayme, the rising junior has developed better consistency and a more confident mentality.
"Regardless of how great your physical abilities may be, tennis is a mental sport," Grzeslo said. "How you prepare for each match is key. I wouldn't win as many matches as I have won if I wasn't strong mentally."
Formerly ranked in the top-50 in Poland and known for his strong forehand, Grzeslo looks to improve upon his USTA ranking and possibly compete in the ITF Tennis Professional Circuit in the future.
connect with us & get a guide
Contact Us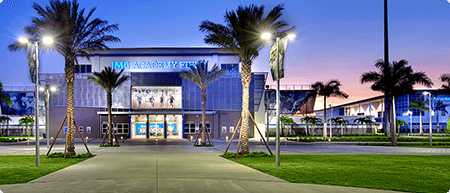 5650 Bollettieri Boulevard
Bradenton, FL 34210
Fill out the form below and we'll be in touch soon!
Request a brochure
We offer downloadable brochures about our boarding school, youth camps, adult programs, team training and pro/collegiate training in multiple languages.
Visit Us
Are you interested in touring the IMG Academy campus? Fill out the form below to submit a tour request and we will be in touch soon to confirm your request.