Student Athlete of the Week: Ryan Sforzo (Lacrosse)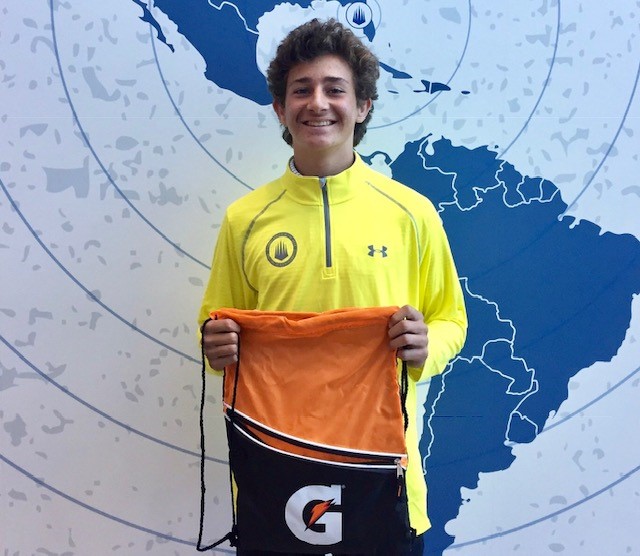 Ryan Sforzo, 9th grade lacrosse student-athlete, enrolled at IMG Academy in 8th grade and has enjoyed his experience meeting new friends and working hard on the field. He chose IMG "to better myself mentally, physically, athletically, and academically" and feels that school has made him more independent. 
Through his experiences over the past year and a half, Sforzo has enjoyed "going with all of his friends to a service trip where they planted crops and helped out around a farm." With his active involvement and willingness to learn in the classroom, Sforzo has been awarded this week's Student Athlete of the Week.
Get to know Ryan:
Hometown: Sarasota, FL
How many years playing lacrosse: 9 years (since 6 years old)
Did you parents compete in collegiate athletics: "My father played college lacrosse at Notre Dame, and my mother played college tennis at Notre Dame."
Coach: Matt Kerwick
Position: Midfield
Awards/Records: Gatorade Award at the end-of-year banquet
What inspires you to work hard and why: "Being able to choose where I go to college."
Student Clubs/Organizations: National Junior Honor Society (NJHS)
Favorite school subject: "Math because I can understand it well and quickly in my mind."
What do you want to study in college: Aerospace Engineering
Best Advice Received: "Real winners make their own luck."
Hobbies outside of school: Fishing
Favorite Book: 
Best sporting event ever attended: College Football National Championship
Favorite post-game treat: Chick-fil-A
Pre-game match playlist: Rap Caviar
Best on-campus event: Football games
Favorite Singer: Famous Dex
Favorite Actor: Michael B. Jordan
Favorite Movie: Top Gun 
Favorite Book: Unbroken
Favorite Local Restaurant: Berns Steak House
Favorite Vacation Spot: Los Angeles
Favorite Type of Pet: Dog
Sports Role Model: "Kyle Marr because of his poise on and off the field."
Favorite athlete, or team: Russel Westbrook
What do you want to be when you grow up: "An engineer of some sort."
What would you tweet right now: "Trying to catch up on sleep during my free period #6:30amWakeUpIsTough"
Editor's Note: IMG Academy features a "Student-Athlete of the Week" award while class is in session. Students are nominated based purely on academic achievements and are chosen by a committee of educators from our boarding school.
connect with us & get a guide