Swiss sprinter Reto Amuro Schenkel looking to take it to the next level at IMG Academy
In order to be the best, you must train with the best, so a variety of athletes from different countries and sports around the world come to IMG Academy. Reto Amuro Schenkel, a talented Swiss sprinter, is one of the newest arrivals to the state-of-the-art training facility. Schenkel has competed in the 2006 World Junior Championships, 2007 European Junior championships, and the 2009 World Championships. He has participated in multiple events, but now specializes in the 100m sprint, and is looking to improve.
Schenkel was well aware of the benefits of training at IMG Academy and was more than willing to make the trip for a unique training experience. Schenkel endured the long flights and long distance drives to get to Bradenton, Florida and train with his favorite track coach, IMG Academy's world renowned speed coach Loren Seagrave.
"My mentality is to work with the best people, and coach Seagrave is the best coach for me," Schenkel said of his decision to train with Seagrave.
Schenkel has now been training at IMG Academy for over a week, and Coach Seagrave is impressed.
"Amuro is turning into a tremendous student of his event. He's already learned so much over the past week and now it's just a matter of trying to rewrite some motor programs and he's really conscientious about working on it all the time," said Seagrave. "He's got good strength, his reactive strength is excellent and now we're just polishing up things."
While training with Coach Seagrave, Schenkel is doing a variety of exercises to improve his sprinting, with the ultimate goal of trimming hundreths of a second away from his personal best of 10.19 seconds in the 100 m.
Coach Seagrave went into detail about his training regimen, stating, "He is working really well in the weight room, and we're measuring his power output in the gym. We're not just adding extra weight. We want to get him more explosive."
However, the gym is just one aspect of Schenkel's training. Seagrave went into more detail: "On the track, we're doing a lot of stuff relative to contrast training. We are working on a little bit of resistance training, and then on some dynamic and reactive strength. Then this is all followed by his real sprinting which is where he is going to implement everything with a new technique."
The two are working well together, and Schenkel loves training at IMG Academy, referring to it as "The Walt Disney World for athletes." Schenkel will continue training at IMG Academy until May 15th. He will then return to Europe to try to apply everything he learned and beat out the competition in the European season.
connect with us & get a guide
Contact Us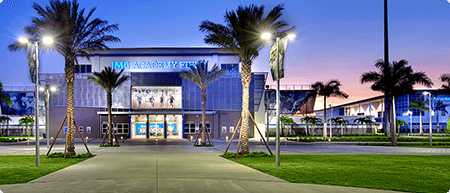 5650 Bollettieri BLVD.
Bradenton, FL 34210
Fill out the form below and we'll be in touch soon!
Request a brochure
We offer downloadable brochures about our boarding school, youth camps, adult programs, team training and pro/collegiate training in multiple languages.
Visit Us
Are you interested in touring the IMG Academy campus? Fill out the form below to submit a tour request and we will be in touch soon to confirm your request.