Talking Tennis (and more...) with Coach Paul Forsyth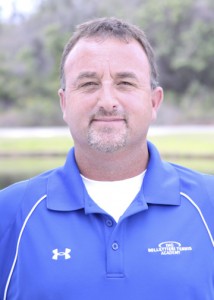 Nope. It wasn't tennis that grabbed a hold of this proud Peru native's life when he was growing up in Lima. Instead, what appealed to IMG Academy Bollettieri tennis program Tennis Coach Paul Forsyth, were the rewards of two other popular sports in his home country: soccer and surfing. Both are great passions that began early in life - well before tennis.
Now he is a Tennis Team Leader at the IMG Academy Bollettieri tennis program, a place where he has coached for 25 years. The key to his longevity, he says, is the challenge of improving each individual that steps onto the court with him. Forsyth recently took some time to let us know a little more about himself and his coaching philosophy.
Paul Forsyth talks...
...about his passion for tennis: I started tennis late. I was 14.I remember one time I saw an exhibition and I was amazed by the sport because it was an individual sport. I also played soccer and when a couple of guys on the team don't do well, you don't do well. I like [tennis> because its an individual sport. If you lose or win its because of you. I was a very drivenindividual.
...how he became a tennis coach: I became the No. 1 tennis player in the country working very hard - probably 10,000 or 11,000 hours of work. I was about 22 or 23 years old and the United States went to play the Davis Cup against Peru. I went to one of Nick's clinics and I was just amazed. The intensity, the flair, the enthusiasm that Nick showed us - I said, "This is what I want to do". That's how it started; I grabbed a ticket to the United States. I was coming to the [IMG Academy Bollettieri tennis program Tennis> Academy for maybe 6 months or a year but I just fell in love with the place. Twenty-five years later I'm still here.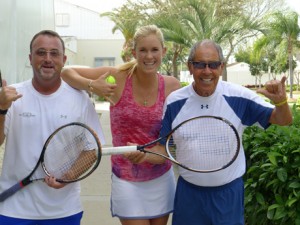 ...working with Nick Bollettieri: I think he is a unique individual. U-Nick. It's amazing, he shows so much enthusiasm out there. You talk to him and it motivates you. He is the first one to come and the last one to leave. He doesn't need to but he loves it and its in his blood.It's not easy to work with the man because he's very demanding. But he makes you better. Hes also a very good human being.
...memorable experiences: I could say it would be with a pro. I could say somebody like Jelena Jankovic, who started in my group, or traveling to Lima, Peru with Marat Safin. But at the same time you get excited about having an 8-year-old, 9-year-old kid just improve. All of those are rewarding. For eight months I worked with Sabine Lisicki when she was No. 239 in the world. Now she's 20. But its the same as working with little Tomas who I have in my group now. He's eight-years-old, smiling, and improving.
...what he would be doing if not coaching tennis: 100% a doctor. I am intrigued by shows on TV. If I had the chance now and they said, "What do you want to do?" I would love to be a surgeon. I would want to help people, through tennis or through medicine.
...relating to students: Starting tennis late, that's why I relate to students who come here at 13, 14 and they're not that good yet. I say, "Well you have a chance. Make a commitment, enjoy what you do, love what you do, don't go home crying - be happy - and learn."
...young athletes playing multiple sports: At the beginning, when you're young, it's good to play sports that are related. Soccer, maybe baseball could help the serve. Then when you're older you sort of have to pick one that will carry you through college and through life.Some kids that are 6-years-old say, "I want to do this". And no matter what you do; you throw them a baseball, volley ball, whatever. "No I'm going to be a tennis player". That's one in a million.
...about his greatest fear: I don't fear many things. My greatest fear is not being a good father to my three daughters. As time goes on and they move away from home, going on to their own life, I hope I have done enough. I hope I spent enough time, because I spend so much time with these children (campers). I spend more time with these kids.
...and greatest inspiration: What motivates me, what inspires me, is the challenge. You have a boy or girl that comes here who is 12 or 13 and they don't know if they want to pick tennis. Then all of a sudden within a year or two years - WOW! Look what we did.
...television: Fuel TV, Tennis Channel, and CNN (The Situation Room withWolf Blitzer).
...music: The Police and Phil Collins
Coach Forsyth's Last Word: The thing that makes IMG Academy different from everybody else in the world is that we have it all in one package. In tennis you have to be good technically, tactically, and most important mentally. Mentally, this is a beautiful place. Every time you walk through that gate somebody is going to challenge you. So you have to be up on your toes, ready to roll.
Also, we have the coaching. We are U-Nick. He (Nick Bollettieri) has given us something that is very important. He has one side that can be real tough but at the same time is very caring for the students. He taught us something that is huge: If you go hard on the student, if you go tough, they need to know that you care. The reason why you're doing this is because you want the best for that player and that particular family.
connect with us & get a guide
Contact Us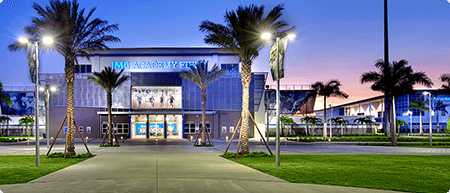 5650 Bollettieri Boulevard
Bradenton, FL 34210
Fill out the form below and we'll be in touch soon!
Request a brochure
We offer downloadable brochures about our boarding school, youth camps, adult programs, team training and pro/collegiate training in multiple languages.
Visit Us
Are you interested in touring the IMG Academy campus? Fill out the form below to submit a tour request and we will be in touch soon to confirm your request.