Team Tampa repeats as IMG7v7 National Champions; Change Factor take first-ever Future STARS National Championship

"T's up!" was the refrain as Team Tampa (Tampa, Fla.) hoisted the IMG7v7 National Championship trophy for the second straight year. The team, comprised of the best players in the Tampa-area, was single-mindedly focused on the task at hand after entering the bracket tournament as the No. 7 seed. At the end of the day on Sunday, all that stood in their way of repeating as National Champions was Miami, Fla.'s South Florida Express Elite. Behind the laser accuracy of quarterback Chase Litton (Wharton HS, Tampa, Fla.), Team Tampa was able to eke out a close victory over the powerhouse Express, 25-24.
"It feels great, representing Team Tampa - these guys, the best talent in the world is on my team, and we were disappointed after the [IMG7v7] Southeast Regional, so we came out to make a statement this time," said Litton after the win.
Litton was on fire, completing pass after pass to a receiving corps that included the likes of East Lake High School's (Tarpon Springs, Fla.) Artavis Scott and George Campbell. Most importantly, Litton only missed four passes in the title game, and his performance included zero turnovers.
"Chase is consistent, and that's one thing I always told him, 'you don't have to be great, just be consistent,' and that's what he did," said Team Tampa Head Coach Woodrow Grady. "7v7 is about being consistent, and having a quarterback that's very accurate, and knows how to read [defenses], and not stare down receivers."  
Grady was also quick to laud the performance of defensive back Aaron Covington (Armwood HS, Seffner, Fla.), who made several clutch plays and forced key turnovers when the team needed them most throughout the tournament.
However, Team Tampa had to overcome major challenges throughout the day. In the third round, they bested the No. 2 seeded Central Florida Top Recruits, led by RB Isaiah Ford (Trinity Christian Academy, Jacksonville, Fla.) and CB Duke Dawson (Dixie County HS, Cross City, Fla.) by a score of 17-15. In the quarterfinals, they had to fend off the fierce Team Delaware, who made their first appearance in the IMG7v7 National Championship with the stellar play of Boston College commitment, QB Darius Wade (Middletown HS, Middletown, Del.) and CB Imani Jones (McKean HS, Wilmington, Del.). Finally, in the winner's bracket semifinals, Team Tampa sent the Express to the loser's bracket by a score of 31-24.
"When you're playing, no matter what level, and you won the championship the previous year, you're a target," coach Grady remarked. "Every game, everybody was coming at us. It's tougher to win back-to-back, because every game, everybody wants to knock you off."
The runner up, the No. 1 seeded South Florida Express Elite, made their own impressive run to the final. The Express began the day with three consecutive wins, highlighted by a drubbing of rival Miami, Fla. squad, the South Florida Fire, by a 49-14 margin. After falling to the loser's bracket, the Express had to overcome a major obstacle in AWP Sports, the No. 4 seed out of Ft. Wayne, Ind. AWP had been on a roll, led by DB Drue Tranquill (Caroll HS, Ft. Wayne, Ind.) and QB David Morrison (Concordia HS, Ft. Wayne, Ind.), but their tournament run came to an end at the hands of the Express, 34-28.
Change Factor is the first-ever Future STARS IMG7v7 National Champion
A new wrinkle at the IMG7v7 National Championship was the addition of the Future STARS division, featuring top middle school players (7th and 8th grade) from all around the state of Florida. In its first year, the Future STARS had nine teams compete for the title, but at the end of the day, the central Florida based Change Factor was standing tall as the champions.
"I tell these kids 'attitude and effort are the only two things you can control,' and they controlled those things and won themselves a national championship," remarked Change Factor Head Coach Tim Frost. "What makes this so great is that this team came together, and we have a combination of kids from all over central Florida - Tampa, Sarasota, Bradenton, Orlando - and these kids just came to compete."
One young player that truly stood out was Bruce "BJ" Judson, who will be entering Cocoa High School (Cocoa, Fla.) next season. Bruce is a jack of all trades, but made his mark at receiver in Sunday's Future STARS final, leading his team to a 22-11 win over the North Broward All-Stars.
"We only practiced one time together on Saturday, and we just came out here today and dominated," Judson said of his team's victory. "This was great, playing with all these great athletes, but we had to do our best and come out here and compete."
Change Factor is a first-year camp education movement based out of Bradenton, Fla., whose core values are based around teaching life on and off the football field. The six key lessons Change Factor instills upon its members are communication, humility, attitude, nutrition, goals and education.
"This is great, but I feel more successful when these kids grow up to graduate, be good fathers and give back to their communities," added Coach Frost.

Teams come from near and far to take part in the IMG7v7 National Championship      
With more than 200 member teams in the National 7v7 Football Association (NFA7v7), it is a special opportunity for each of the teams in the IMG7v7 National Championship to compete for the title against a collection of the nation's best talent, and top 7v7 teams. For all of the teams, however, it is an opportunity to compete and improve by seeing what it takes to compete consistently at the highest level. Within the United States, the team who traveled the furthest was Denver, Colorado's A&B All-Stars, who made the 1900+ mile journey to Bradenton, Fla. to compete against the nation's best.
"It's a great experience and opportunity for the kids to go to another part of the country, and it's also a way to get a dose of reality of what they need to do and what they need to continue to work on," said A&B Head Coach Narcy Jackson. "What we take away is what it takes to compete at a high level - a Division-I level - that it's not a sometimes thing, it's an all the time thing."
For the players involved, it's been a learning opportunity, to see the nation's elite up close and compete against them.
"It's been amazing just to see all the other players, to see all the talent they have and how well they play together," remarked running back RJ Ramirez (Prairie View HS, Henderson, Colo.). "
This is the first year for Colorado's A&B All-Stars to take part in the IMG7v7 National Championship, but it is certainly not their last.
Narcy Jackson commented, "We're going to be out here every year. It's a great opportunity for our kids and another opportunity to see other great athletes." 
Full Results of Club Division: 
Full Results of Future STARS Division: 
Photo by: Cindy Yu
connect with us & get a guide
Contact Us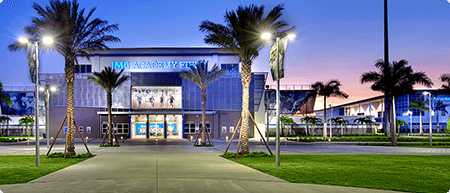 5650 Bollettieri Boulevard
Bradenton, FL 34210
Fill out the form below and we'll be in touch soon!
Request a brochure
We offer downloadable brochures about our boarding school, youth camps, adult programs, team training and pro/collegiate training in multiple languages.
Visit Us
Are you interested in touring the IMG Academy campus? Fill out the form below to submit a tour request and we will be in touch soon to confirm your request.