THUNDER: Murphy making strides behind the plate

TRENTON — Two years ago, after he'd returned to Low-A Charleston, J.R. Murphy mentioned the Yankees had been having him work at a few other positions besides his normal spot behind the plate. He'd taken reps at third base and there'd been talk of giving him a whirl in left field.
After two years of hard work, those talks are gone. The coaches throughout the organization, as well as the pitchers he works with, say that his future is unquestionably behind the plate.
"From when I first started playing with him to now, not just receiving, but the way he calls games, the way his attitude is back there for you, helping you as a catcher and being your battery-mate, everything of his game has stepped up a notch in every aspect," starter Zach Nuding said on Friday. "Being a catcher, that helps a pitcher out even moreso."
When he got to Trenton in the middle of last season, his reputation, as it was for most of his career, centered on his bat. He was just another offensive backstop in the Yankees system destined for either a position change or a career bouncing back and forth between catching and turns as a designated hitter.
In fact, the report that Tony Franklin received from Tom Slater, last year's hitting coach, had Murphy as only a so-so defender. In the couple of months he spent here, Murphy changed his manager's mind.
"I can't say enough about the way Murph has developed into a quality receiver," Franklin said, "but more than a quality receiver, a quality leader of the pitching staff. He's tremendous back there, but you'd never know it because he's so subtle about the way he goes about his business."
To that end, Murphy has noted on more than one occasion that becoming a vocal leader hasn't been easy. He's quiet by nature, so taking charge of a pitching staff and, to some degree, a team, hasn't been a natural fit.
Becoming a field general is a many-pronged responsibility. First, you've got to learn your pitchers. Their strengths, their shortcomings, what kind of motivation they respond to best — all of that comes into play. Besides that, you've got to learn your opponents, the umpires, and the way each ballpark plays. It's not an easy task, and it's not something that can be accomplished in a matter of days or weeks.
Continuity helps, so the fact that Murphy has been grouped for years with what by and large is the same group of pitchers certainly works in his favor.
"That's something I've had to come out of my comfort zone for over the past couple of years, and I've done a good job of that" Murphy said, "but what helps me with this team is that I've known all the guys for a couple of years now. We're a tight-knit group, and they know me and I know them inside and out, so that's really helped."
And to a man, the pitchers who have worked with him over the past few years are quick to praise to developmental strides Muprhy's made as a receiver, a game-caller and an all-around player.
"He has grown as a player behind the plate, and he's always hit, but he knows how to call a game, he sees those hitters' tendencies, he works with the staff very well," said reliever Shaeffer Hall, who has thrown to Murphy since 2011. "He's learning every day just like everyone else, but it's progression. That guy's improved a lot."
connect with us & get a guide
Contact Us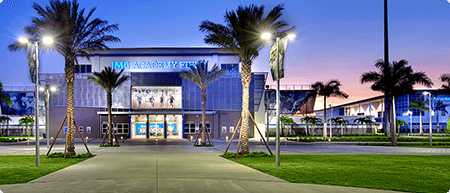 5650 Bollettieri Boulevard
Bradenton, FL 34210
Fill out the form below and we'll be in touch soon!
Request a brochure
We offer downloadable brochures about our boarding school, youth camps, adult programs, team training and pro/collegiate training in multiple languages.
Visit Us
Are you interested in touring the IMG Academy campus? Fill out the form below to submit a tour request and we will be in touch soon to confirm your request.