Track and field athletes Lindsey Hahn and Aneesh Senthil train to reach their dreams at IMG Academy

IMG Academy's world-renowned sprints and hurdles coach Loren Seagrave attracts both local and international athletes. Among them are rising high school juniors Lindsey Hahn and Aneesh Senthil.
Hahn, a student at Bradenton Christian School, praised Seagrave for his vast knowledge concerning frequency, speed, and the derivation of equations to improve times. While Hahn had experimented with various sports at IMG Academy, she was thrilled to hear about the official launch of the IMG Academy Track and Field and Cross Country program in May. As a freshman, she set her high school's record in the 400m, 300m hurdles and the 4x100m relay. To see rewarding outcomes, Hahn perseveres through a tough training schedule that involves intensity drills, endurance building and strength exercises. She loves the feeling of "Wow, I just ran that fast," that settles in seconds after the completion of a race. Inspired by world champion hurdler Lolo Jones, Hahn began competing in AAU-sanctioned track meets in the eighth grade and hopes to earn a college scholarship.
17-year-old Senthil from Tamil Nadu, India originally had no interest in track. When a dog chased him at the beach in the fourth grade, his interest in the sport sparked. After winning some state and regional meets, Senthil had a breakout year in 2012. In January, he became a national champion sprinter, and finished second and third at nationals in the 100m and 200m, respectively. Back in his home country, Senthil trained without a coach. Instead, he mimicked what he saw in Olympic training videos and headed over to a public stadium for his afterschool workouts. To improve his running style, Senthil reached out to Seagrave via Facebook and moved into IMG Academy just two weeks ago to start training with whom he believes to be the world's best coach. Within the span of two weeks, Seagrave has already seen tremendous technical improvement from Senthil. With hard work and guidance from Seagrave, Senthil strives to achieve big dreams, like one day qualifying for the Olympics.
Hahn and Senthil are currently participating in an eight-week track & field training program at IMG Academy.
Photo by: IMG Academy/Kevin Echemendia
connect with us & get a guide
Contact Us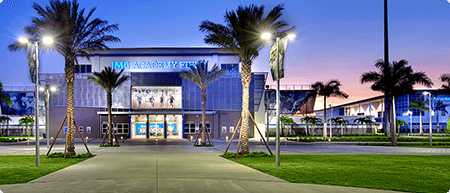 5650 Bollettieri Boulevard
Bradenton, FL 34210
Fill out the form below and we'll be in touch soon!
Request a brochure
We offer downloadable brochures about our boarding school, youth camps, adult programs, team training and pro/collegiate training in multiple languages.
Visit Us
Are you interested in touring the IMG Academy campus? Fill out the form below to submit a tour request and we will be in touch soon to confirm your request.