Trick shots and aces: John Isner and Xavier Malisse dazzle tennis fans
There were thunderous serves, and flawlessly executed trick shots.
And camera phones, too.
Lots and lots of phones from the throngs of tennis fans trying to get a snapshot of two big-time professionals displaying their talents.
That's what a tennis exhibition match will do when it features John Isner and Xavier Malisse.
The duo, both sponsored by Prince, put the exhibition on at IMG Academy on Tuesday and they dazzled the assembled crowd with a fitting show aimed at growing the sport.
And that comes during a time when IMG, which has had an 18-year partnership with Prince, is hosting the prestigious Eddie Herr International Junior Tennis Championship.
"It's very important, especially when you are at a tennis factory like this," said Isner, who is ranked No. 14 in the world. "And going out during one of the biggest junior tournaments in the world. So it's good for these kids to come out and get a glimpse into what pro tennis is like. So it was very easy for myself and Xavier."
For Malisse, the No.
62-ranked player in the world, the exhibition match provided a full-circle feeling.
He watched a similar match with Mats Wilander and Stefan Edberg at the age of six in his native Belgium.
Watching those two players provided the start of a lifelong passion with tennis that has culminated with a professional career.
"Those are the things that stick, so hopefully that sticks with the kids," Malisse said. "I loved it, and it's a great sport. And I had a lot fun watching those two guys. You're six years old, so you don't know much about the world and when you see these nice players, it's actually a nice dream come true to be on the court."
Isner, meanwhile, is known for the longest match in history when he defeated Nicholas Mahut in 2010 at Wimbledon in a match that lasted two days.
However, the 6-foot-9 right-hander that could pass as a power forward in basketball is also known for his smashing serves.
And he didn't disappoint the crowd by delivering three consecutive aces early in the one set exhibition match.
Not to be outdone, Malisse was also a crowd pleaser with his array of trick shots.
The best one was a forehand winner that he struck between his legs in mid-air.
"I wanted to hit it, but it came off a lot harder and better than I thought it would," said the 32-year-old Malisse, who has trained at IMG since he was 17. "It was nice. We had fun. And I hope everybody else had fun. That's the most important thing ... I always try a couple trick shots, but you never know if they are going to work. It came good. I had a flying smash and had a retro over the net on a return of John so that's three-for-three. That's pretty good in an exhibition."
Isner, who made the short jaunt down from Tampa, won the match 6-5 (3) in a tiebreaker. However, the match wasn't about who won and lost, but about putting a show on for the fans in attendance -- many of which are here this week for the Herr tourney.
"A lot of kids in the crowd (Tuesday) will probably get to this level," Isner said. "Seeing as this is one of the best junior tournaments in the world and has a lot, a lot of kids train here. So it's nice for them to get a glimpse of it."
Credit to: Bradenton Herald
connect with us & get a guide
Contact Us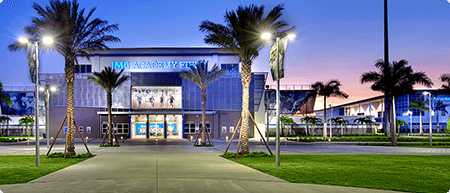 5650 Bollettieri Boulevard
Bradenton, FL 34210
Fill out the form below and we'll be in touch soon!
Request a brochure
We offer downloadable brochures about our boarding school, youth camps, adult programs, team training and pro/collegiate training in multiple languages.
Visit Us
Are you interested in touring the IMG Academy campus? Fill out the form below to submit a tour request and we will be in touch soon to confirm your request.