U.S. pair figure skaters Zhang and Bartholomay take advantage of mental conditioning at IMG Academy

The pairs figure skating duo of Felicia Zhang and Nathan Bartholomay were a longshot to skate in the Olympics. Zhang, a South Florida student and store clerk, and Bartholomay, who works part-time at a martini bar and is taking courses in sports therapy, had never skated in a World Championship. However, they had a breakthrough performance at the U.S. Figure Skating Championships, coming in with a surprise second place finish to qualify for their first Winter Olympic Games in Sochi, Russia. The talented pair had been skating together since 2011, training locally at the Ellenton Ice and Sports Complex, but it was their mental conditioning work with Dr. Taryn Morgan, Assistant Director of Athletic and Personal Development, that brought all their years of hard work together and realize their Olympic dream. 
"Felicia and Nate, in addition to all their skating preparation, really focused on doing mental training and realized how important it was," remarked Morgan. "They weren't expected to qualify for the U.S. team going into the Olympics, and to be able to perform the way that they did as a longshot going into nationals - they skated tremendously." 
The skaters worked with Dr. Morgan on campus primarily in a one-on-one setting, and conducted the majority of their physical training and preparation in Ellenton. Ultimately, Zhang and Bartholomay finished 12th in the pairs free skate, and 14th in the pair short program. A solid finish for newcomers to the global stage of figure skating, and they exceeded expectations for being a relatively new team. 
"We weren't too worried about the placement coming in here because we're a fairly new team," Zhang told the Bradenton Herald. "We just competed in our first Olympic Games, and we handled the pressure really well." 
Added Batholomay in the same interview, "I think we're the only team in the team final that had not been in a world championship. In pairs you have to use that as a stepping stone. We look forward to being frontrunners for the world championships (for the USA) next year."
Bartholomay and Zhang were not the only Sochi competitors to work with Dr. Morgan. The pairs figure skating team of David King and Stacey Kemp of Great Britain, who competed solely in the team and individual pairs short programs, finishing 10th and 19th, respectively also worked with Dr. Morgan prior to Sochi. Although her work with figure skaters goes back to 2010 Vancouver Winter Olympian Amanda Evora, a two-time U.S. Championships silver medalist, who skated with Mark Ladwig to qualify for the 2010 games. Evora's enthusiasm for the value of mental conditioning laid the foundation for much of Dr. Morgan's subsequent work with figure skaters. 
"Much of what I talk with them about is that 'your preparation equals your confidence,' and so for them to be able to prepare the right way, both on ice, in the gym and mentally, will give them the confidence to go out and skate great programs when it mattered the most," Morgan explained. "To have the opportunity to even become an Olympian, even when no one was really talking about them being able to achieve that, is a great compliment to everything they worked for." 
For Morgan, it was all about helping the skaters think about choices, and most importantly, believe they were going to make it and achieve the level of focus to perform more consistently. Although the mental training used to hone figure skaters' performances is similar to techniques used universally, albeit tailored for situations specific in their respective sport. 
"It's about keeping things similar, so an athlete has their routine on how they practice, how they prepare for competition so that it's not all of a sudden, 'oh no it's a competition,' and making everything a seamless transition," Morgan added. "Visualization is another major aspect; seeing themselves perform the way they want to in their mind, so that when the time comes, they can actually perform.
"It's important to keep their minds focused on the right things, and the simplest things. So much of the time, when a skater performs poorly, it's because they over-think. Where they are thinking too much, or they get tense, so it limits their ability to trust in their training and preparation. Instead of thinking, 'don't miss this jump, we might make the Olympics,' we will try and make them think of it as simple as possible, like 'up.' It's important to make practice more like competition, but competition more like practice." 
Through its Athletic and Personal Development services, IMG Academy has trained countless athletes outside of its eight primary sports offerings. Since the early 1990s, IMG Academy has trained snowboarders, bass fisherman, racing car drivers, gymnasts, cricketers and athletes in myriad other sports. Currently, Dr. Morgan is in Indianapolis working with the members of the IMG Academy Pre-Combine/Draft Training program, helping them to bridge the gaps between visualization, preparation and performance. 
Photo by: Getty Images
connect with us & get a guide
Contact Us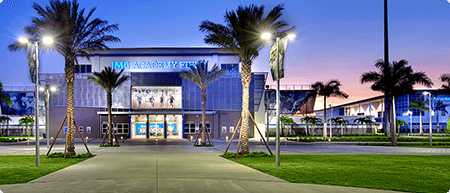 5650 Bollettieri Boulevard
Bradenton, FL 34210
Fill out the form below and we'll be in touch soon!
Request a brochure
We offer downloadable brochures about our boarding school, youth camps, adult programs, team training and pro/collegiate training in multiple languages.
Visit Us
Are you interested in touring the IMG Academy campus? Fill out the form below to submit a tour request and we will be in touch soon to confirm your request.