USL Next Generation Series makes its debut at IMG Academy

The United Soccer League (USL) Next Generation Series will make its debut this weekend at IMG Academy. Eleven boys and girls teams from some of the top clubs in the southeast will gather to participate in professional-level training, testing and education.
Inspired by the consistent message from youth coaches seeking a fresh development initiative geared for younger players, NextGen focuses on the U12 and U14 age groups and strives to develop the complete youth soccer player through a defined regimen of training, competition, testing and evaluation. NextGen is part of a continually growing alliance between USL and IMG Academy.
"Alec Papadakis, the USL CEO, and Peter Mellor, the USL National Technical Director, are great people that run a fantastic organization," said Scott Dean, Director of Soccer, IMG Academy. "We align ourselves with groups that we believe to be on top in their field, and USL is one of those organizations. Although we're two separate entities, we work very well together. Each year, our relationship expands and we do more and more with them."
Participants at NextGen's kickoff event will not only compete on the field, they will take part in the i360 Athlete Evaluation program, conducted by IGNITE 360 certified phsycial conditioning experts, and receive classroom instruction regarding athlete body management, nutrition and mental conditioning from IMG Academy Athletic & Personal Development experts. Coaches and parents will also participate in classroom education sessions designed to place the focus on development and reverse results-based trends.
"No other current youth initiative places the focus so acutely on development while providing players in the U12 to U14 age groups with the knowledge base needed to become elite players," USL Youth Leagues Executive Director Jason Arnold said. "The players are introduced to the principles and habits that will allow them to achieve their full potential, while coaches and parents learn about the priorities that are needed for that potential to be realized."
Clubs taking part in this ground-floor kickoff event for NextGen include Celtic FC Florida, Houston Dynamo of Tampa, Jacksonville Youth Soccer Club, Knoxville Soccer Academy, and the VSI Pinellas Flames. Texas-based NextGen clubs Austin Texans Soccer Club, Samba Football Club and SA United Soccer Club will join in for NextGen's final inaugural-season event in April.
Participants will undergo i360 Testing Friday morning, followed by classroom education sessions and technical training. Games kick off Saturday morning, followed by additional classroom sessions and technical/tactical on-field training sessions. The event concludes on Sunday with final games and a coaches' roundtable session.
IMG Academy hosts various USL events throughout the year, including the Super-20 North American Finals, W-League/W-20 Finals and Super-Y League North American Finals.
connect with us & get a guide
Contact Us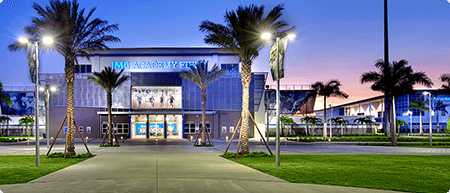 5650 Bollettieri Boulevard
Bradenton, FL 34210
Fill out the form below and we'll be in touch soon!
Request a brochure
We offer downloadable brochures about our boarding school, youth camps, adult programs, team training and pro/collegiate training in multiple languages.
Visit Us
Are you interested in touring the IMG Academy campus? Fill out the form below to submit a tour request and we will be in touch soon to confirm your request.