Wood Bats vs. Composite Bats: The Great Debate

The game of baseball is evolving. From helmets to replay, each facet of the game continues to be updated by technology. However, throughout this modernization, the traditional use of wood bats has remained the constant of each era's norm. Although wood bats may be more expensive, the risks of using metal bats could outweigh the costs. Even with increased metal bat standards, the injury count from metal bat accidents continues to rise for both players and spectators. With metal bats already banned from high school athletics in New York City and North Dakota, the use of wood bats continues to rise.
While wood bats are less forgiving and demand greater hand-eye coordination, the transition between playing with a wood bat to playing with an aluminum or composite bat is relatively easy for all levels of play. Many hitting experts believe wood bat training tends to translate into hitting success. As the level of competition continues to grow, hitters strive to improve their hand-eye coordination while refi ning bat and ball contact. The more a player trains with a wood bat, the more they will be able to experiment with the length, weight, and style of the bat, helping to personalize it for the player, just like a glove.
"Wood bat training is less forgiving and necessitates greater precision to consistently produce hard-hit baseballs. It also creates a higher feel and greater sensitivity to the batter, helping to emphasize the importance of hands throughout each swing," says Ken Bolek, director of the IMG Academy baseball program and a former major league coach.
The Bradenton, Florida-based IMG Academy baseball program, which has produced such notable MLB alumni as Chris Perez and Tyler Pastornicky and countless D-I signees, uses wood bats during the fall and transitions to aluminum/composite during the spring season. With 12 players selected in the MLB Draft since 2006 and 16 student-athletes named to All-America teams since 2009, the training methodology used at IMG Academy speaks for itself.
Alfredo Escalera, an IMG Academy alum drafted last year by the Kansas City Royals, actually prefers using a wood bat now.
"IMG Academy taught me how to square the ball and stay back with a wood bat, allowing me to hit the ball with better contact," Escalera said. "A wood bat allows you to perfect your swing so that when you go back to a metal bat, you hit the ball more accurately and with maximum power."
Bolek says that as the game continues to evolve, the most serious players should adopt some portion of wood bat training for their development and acclimation to higher levels of the game. To help with that transition, IMG Academy launched its Summer Wood Bat Leagues nearly fi ve years ago and has now grown to offer High School, 14U and 12U leagues. In addition to training multiple days per week, the league splits its participants into teams that compete throughout the summer while also implementing elements like strength training, speed training, vision training and more.
Mitchell Gallagher first participated in the Wood Bat League and then enrolled at IMG Academy. He says that besides taking a few then enrolled at IMG Academy. He says that besides taking a few more reps to get back into the swing of things, the transition from wood to metal bats prepares you better for the next season.
"Training with a wood bat builds up bat speed," he says. "Usually right after the transition, I get the bat to the zone quicker and the ball tends to come off the bat a lot faster." 
As the baseball world continues to evolve, some things may always  stay the same. Just as the originators and legends of the game used wood bats, the current generation and beyond may all benefit by the one and only wood bat.
For more information on IMG Academy, including the summer email baseball@imgacademy.com or call Wood Bat Leagues, 800-872-6425.
Credit to: Baseball The Magazine
connect with us & get a guide
Contact Us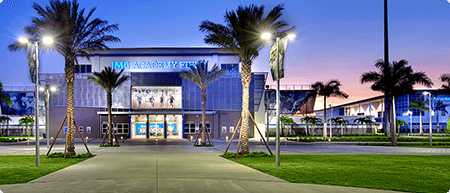 5650 Bollettieri Boulevard
Bradenton, FL 34210
Fill out the form below and we'll be in touch soon!
Request a brochure
We offer downloadable brochures about our boarding school, youth camps, adult programs, team training and pro/collegiate training in multiple languages.
Visit Us
Are you interested in touring the IMG Academy campus? Fill out the form below to submit a tour request and we will be in touch soon to confirm your request.