Yarmouth High School Girls Lacrosse ready to dominate their season after training at IMG Academy
The Yarmouth High School girls lacrosse team's experience at IMG Academy was above and beyond their initial expectations. Yarmouth Head Coach, Dorothy Holt was blown away by her team's progress at IMG Academy.
"The lacrosse instruction and the facilities were excellent," said Holt. "I know our girls learned a lot through their week at IMG Academy."
During the week of their stay, the team had the chance to experience many of IMG Academy's offerings, including strength training with Coach Eric Grantham, mental conditioning sessions with Ali Levine and lacrosse practices every morning with some of the nation's best coaches, offensive coordinator Pat Haley and defensive coordinator Jason Basso.
Within the short week, the team and their coach were exposed to a 360 degree approach to training, world class training and facilities and learned techniques that can be applied to their future practice regimes once they return home to Maine, where they will hopefully dominate their season.
The Yarmouth team also competed in a local scrimmage against nearby Wharton High School and won 14-5. The team's enthusiasm for the sport of lacrosse was apparent to the IMG Academy coaching staff.
Jason Basso said: "It was a pleasure to have the Yarmouth girls lacrosse team here. They were taught the intricacies of offense, including picks and screens and how to incorporate it into the girls' game. There was a strong focus on transitions, as well as play with fast pace. The girls excelled throughout the week as a result of their excitement and passion for lacrosse. We wish them the best of luck to their season and look forward to having them back here on campus."
connect with us & get a guide
Contact Us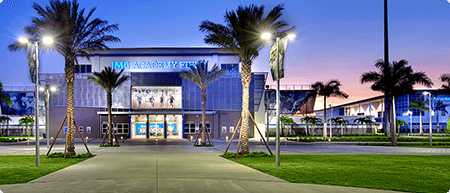 5650 Bollettieri Boulevard
Bradenton, FL 34210
Fill out the form below and we'll be in touch soon!
Request a brochure
We offer downloadable brochures about our boarding school, youth camps, adult programs, team training and pro/collegiate training in multiple languages.
Visit Us
Are you interested in touring the IMG Academy campus? Fill out the form below to submit a tour request and we will be in touch soon to confirm your request.