This year's 14U Wood Bat League at IMG Academy carries well-known pedigree

Like father, like son, this year's IMG Academy 14U Summer Wood Bat League (WBL) carries a pedigree of great renown. For players Chance King, Sean Garvey, Dylan Ravagnani and Jordan Redman, feeling pressure to succeed comes with the territory. 
How does Chance King live up to his potential and make a name for himself outside of the shadow of his radio and television icon father Larry King (pictured below)? Can Sean Garvey follow in not only the footsteps of his father Steve Garvey, who was part of the greatest Draft class in MLB history with the Los Angeles Dodgers in 1968, but also his brother Ryan Garvey to continue the family's Major League legacy? What about Jordan Redman, the son of Mark Redman, who pitched for the 2003 World Series champions Florida Marlins? Or Dylan Ravagnani, whose grandfather, Joe Torre, is a four-time World Series champion and currently MLB's Executive Vice President of Baseball Operations?
For this group of players, they use the pressure of a famed father as fuel for their motivation to work harder and get better every day. 
"I'm inspired by my brother and dad making it to the pros," 14-year-old Garvey said. "It just shows me that I can definitely get there too."
With celebrity status in the family comes the fame of being related to so-and-so. The WBL players try not to let their lineages effect them.
"I see my dad being famous as normal because I grew up with lots of people coming up to him asking for his autograph," Redman said.
King adds: "It sort of sucks being in the shadow of my dad, but I don't want to be known as Larry King's son. I want to make a name for myself."
Rather than flaunt their relations, the WBL players express a level of maturity and humility beyond their years.
"I don't tell people unless they ask me," Ravagnani remarked. "I'm not going to lie to them so I'll admit that Joe Torre is my grandpa but I don't want to take advantage of him so I try to act normal otherwise."
Baseball experiences
Each of the players were born into baseball.
Garvey, who plays under Royals coach Austin Knight, a former Baltimore Orioles infielder and catcher, started playing at the age of three.
His father has influenced him immensely on the field.
"He helps me with my game when I have trouble or I'm slow," Garvey said. "If he's not there, I always call him after the game and ask for advice on what I can do to get better."
Garvey continues: "He's taught me to keep my head down and swing through the ball. Drive a Mercedes to right field and a Chevy to left field. If you take it to the right, you'll get more bases. I drove a triple to right field and had I taken it to left, I probably would have only got a double."
The Palm Desert, Calif. native is building a physique similar to the elder Garvey. Not only did Garvey inherit his father's big arms, but also he is referred to by his teammates as MC3, or Mr. Clean 3. His father was widely renowned as Mr. Clean for his squeaky clean image through his baseball career and his brother takes on the nickname Mr. Clean Jr.
Like Garvey, Redman began playing at age three and grew up watching his dad play from the dugouts.
"My dad taught me how to pitch, play outfield and hit," Redman said. "He taught me how to play baseball."
King's dad introduced him to tee ball at four-years-old.
"It's a great relationship," King said. "We're really close and he loves baseball. He's always encouraging me and going to my games. I remember one day when I was playing for two teams, my dad drove me back and forth in between games from 7:00 a.m. to 6:00 p.m. to watch me play."
As an integral influence in King's life, his dad has always been there for the 14-year-old by surrounding him amongst the right people and helping him make good decisions.
Ravagnani's upbringing mirrors his mother's, who played softball and attended games ever since she was little because of her father, Torre.
"My mom is actually my toughest critic," Ravagnani said. "She gets really into the game and she's always pushing me in the sport. It's good and I'm glad she does."
Torre instilled a "never give up" attitude in Ravagnani. Leading by example, Torre managed five MLB teams and played for three.
"I'm trying to take on his mentality," Ravagnani (pictured right) said. "Whenever I get down or strike out in a game, I just think positive and keep playing."
IMG Academy Wood Bat League influence 
As the four WBL players aspire to play in MLB, the IMG Academy Baseball program has put them on the right track to achieving their dreams.
With the world's largest multi-sport training facility training, IMG Academy provides an unmatched opportunity to develop players to their full potential through competition, individual training and overall development.
King is in his fifth season with the IMG Academy WBL.
"IMG Academy is the best place to be at if you want to improve," King remarked. "It's a fantastic environment and the perfect place to develop and get noticed as a baseball player. I fell in love with it when I was nine so I've been coming back ever since and I've gotten better each time."
The versatile Buccaneers player (P, 2B, 3B, SS) from Beverly Hills, Calif. has learned that "what you put in, is what you get out so you have to work hard to get better."
Garvey, another WBL veteran, began training at IMG Academy because his father recommended it after sending his older siblings to camp.
"Over the years I've been here, it's just helped me grow my game and become a better athlete," Garvey said. "Everybody treats you like family here. It's just a great community."
Mark Redman brought his son to IMG Academy for exposure to college coaches. The 12-year-old from Tulsa, Okla. especially enjoys diving catches in the outfield, and has seen tremendous improvement in his hitting and outfield work with Tarpons coach Jamie Rose.
Joe Torre himself signed Ravagnani up for IMG Academy.
"He felt that the program was state-of-the-art and would help me a lot with my skills," Ravagnani said. "This is the best camp I've been to so far. I've improved my catching fundamentals, like stances and transitions, and I've been hitting the ball a lot better."
While Ravagnani studies at the American School of Dubai, he enjoys the challenge of playing against players at a more advanced skill level in the United States.
connect with us & get a guide
Contact Us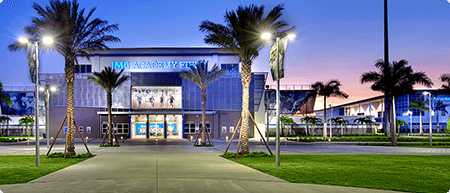 5650 Bollettieri Boulevard
Bradenton, FL 34210
Fill out the form below and we'll be in touch soon!
Request a brochure
We offer downloadable brochures about our boarding school, youth camps, adult programs, team training and pro/collegiate training in multiple languages.
Visit Us
Are you interested in touring the IMG Academy campus? Fill out the form below to submit a tour request and we will be in touch soon to confirm your request.