Carving His Own Path, Korda To Make Challenger Debut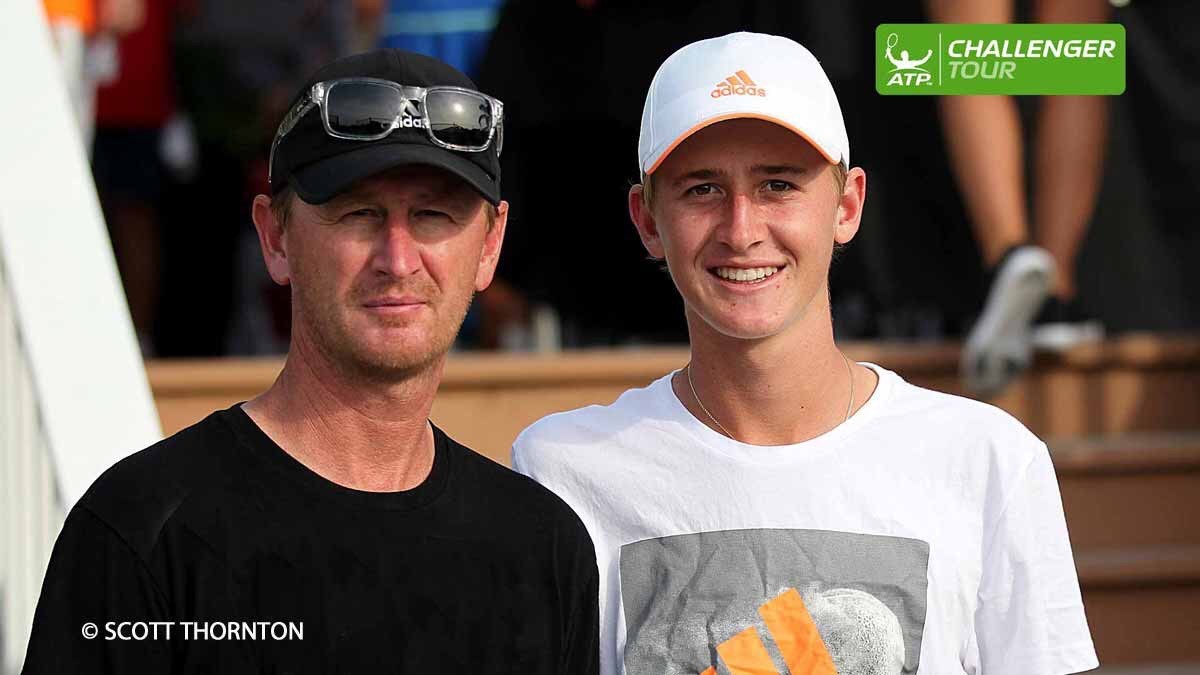 By ATPWorldTour.com
Sebastian Korda's wild card into the 2017 Elizabeth Moore Sarasota Open is a combination of family, firsts and reminiscing.
The 16 year old is the son of Petr Korda, who climbed to No. 2 in the Emirates ATP Rankings in 1998 and accumulated 10 ATP World Tour titles during his career.
Sebastian, who trains down the road at the IMG Academy in Bradenton, Florida, is making his ATP Challenger Tour debut this week and remarkably took his first steps onto a tennis court on the grounds of this event, the formerly called the El Conquistador Tennis Club.
"It's very important because he was born here in Bradenton, raised here in Bradenton," said Petr. "He didn't start playing seriously until 10 or 11 years old due to his passion for hockey, but we live close by, so we came once a week, had fun on the tennis court. This is one of the first places and then the IMG Academy where he first hit a tennis ball."
The teenager will remain on the junior circuit for the foreseeable future, but this event right on his doorstep offers up the perfect opportunity to gain a taste for the professional arena.
"It's going to be really special, I grew up right across the street," said Sebastian. "I've been a ball boy at this event and I've been coming to watch this event for as long as I can remember, so it's going to be pretty special. I'll hopefully have a lot of support, so it should be fun."
His opening round match is against Slovenian qualifier Blaz Rola, 2013 NCAA National Champion at Ohio State University and a former World No. 78, which chalks up a remarkable coincidence.
"He's actually the first professional I practised with at the IMG Academy when I was 13 or 14. I've played with him a bunch of times," revealed Sebastian. "I've just got to go out there, play my game, have some fun and see what happens out there."
Should Sebastian win he would earn a match against #NextGenATP player and top seed in Sarasota Jared Donaldson. However, his father is keen to concentrate on the experience rather than the result.
"I can remember when I first played at home in 1987, it was difficult, but it was important," added the 1998 Australian Open champion. "There are no expectations, whatever he learns, he learns. If he wins a game, great, if he wins two, three, even better. If he wins a set, great.
I just want him to be as relaxed as he can be in front of people who have seen him grown up. It's an experience, any gains he makes in the match are important for his future development."
Petr is adamant that his previous successes on the ATP World Tour should not impact his son's journey into the professional game.
"He has to have his own path. I can help him to find his own answers. A lot of people want him to follow in my footsteps, but that is wrong," said Petr. "My wife and I both play tennis and we will help him to find the correct answers to these new challenges. His name is Sebastian Korda, we only share the last name, his path has to be different."
Sebastian will face Rola not before 5pm local time in Sarasota on Tuesday. Watch free live stream from all the action at the $100,000 event.