IMG Academy and Professional Bull Riders come together to Walk the Walk for Miracle League of Manasota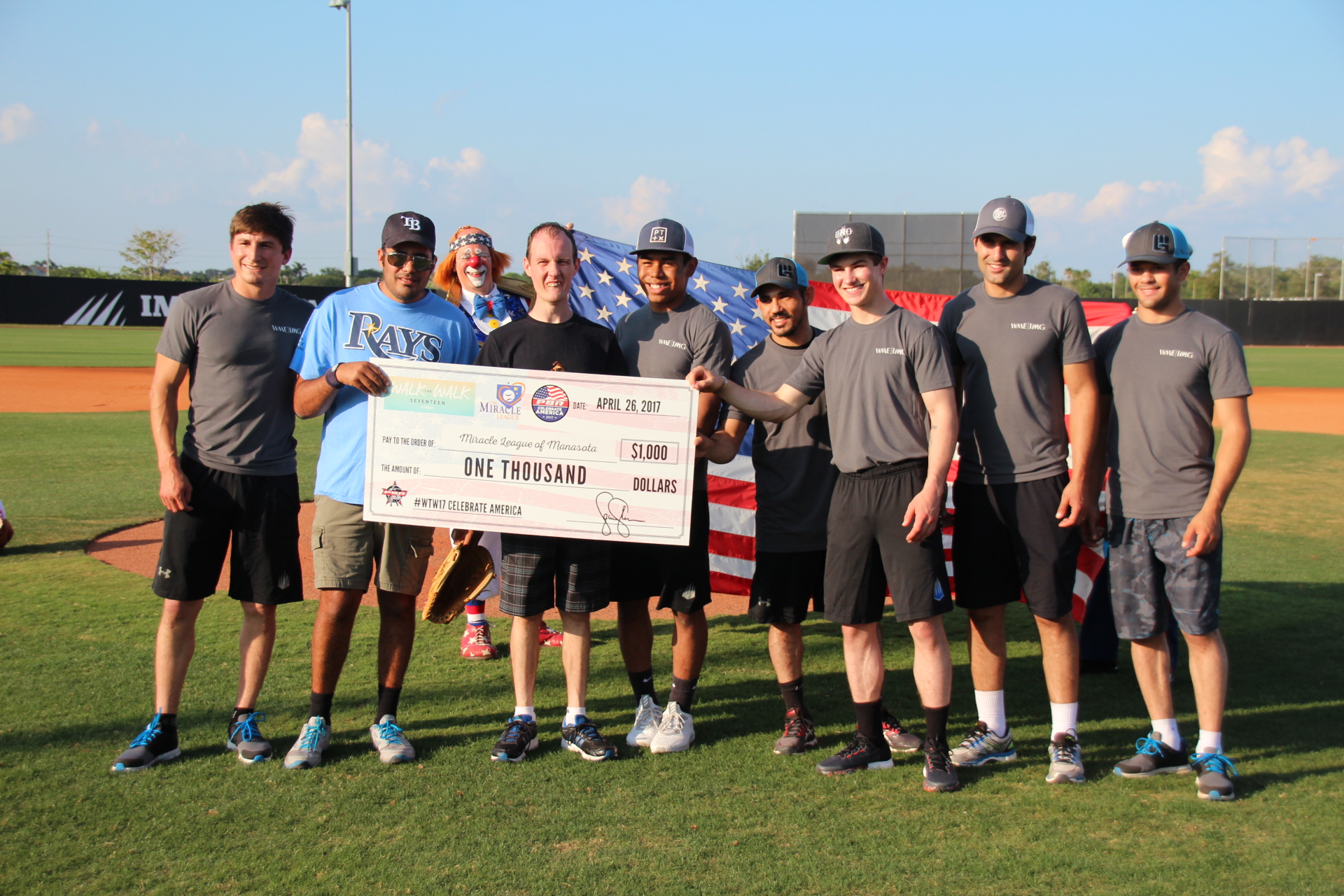 During the week of April 24, the entire IMG Academy campus participated in the community service initiative, Walk the Walk (WTW). Celebrated annually, WTW is a tradition among all divisions of WME | IMG, and at IMG Academy, student-athletes, staff, faculty and coaches all join in for a series of events and activities over the span of a week. This year, Walk the Walk was highlighted by the Miracle League All-Star Game at the IMG Academy Baseball Stadium. At the event, everyone welcomed the participation of a group of six athletes from Professional Bull Riders (PBR) who were on campus training for the week. In addition to making a difference in children's lives through the Miracle League, PBR donated $1,000 to the organization as part of their Celebrating America initiative.
Some of the PBR's best current and rising stars were on hand for the festivities, including 19-year-old Jess Lockwood, the 2016 Rookie of the Year who opened 2017 at the top of the PBR world standings after winning the season's first event in New York City.
Joining him was Oklahoma's Ryan Dirteater, the 2016 Built Ford Tough World Finals event winner; three-time PBR World Champion Silvano Alves; 2015 Rookie of the Year Kaique Pacheco; 2011 Rookie of the Year Rubens Barbosa; and rising star Keyshawn Whitehorse.
In addition to the Miracle League All-Star game, IMG Academy packed 45,000 meals for Feeding Children Everywhere. The meals will be provided to families in need in Haiti. Additionally, a week-long drive for cards, toys and books was held on campus to support patients of John Hopkins All-Children's Hospital in St. Petersburg, Fla.
The bull-riders are the first from the sport to have trained at IMG Academy. Over the years, IMG has hosted athletes from many sports outside of its eight core sports, including the likes of bobsledders, figure skaters, auto-racing drivers, cricketers, speedskaters, Olympic weight-lifters, BMX racers, hockey and sport fishing.
IMG Academy students and staff have frequently volunteered with Miracle League of Manasota. The Miracle League was introduced to the Suncoast in 2012, after originally being founded in 1998 outside of Atlanta, Ga. The non-profit's mission is to provide opportunities for children with disabilities to play baseball. With more than 14,000 school-aged children with disabilities between Manatee and Sarasota Counties, the League commissioned the construction of a synthetically-surfaced baseball field to empower children to enjoy the game. With the donation from PBR, Miracle League representatives are looking to purchase new softballs.
Photo: Morgan Liber, IMG Academy
by: Johnny Esfeller