Nick Bollettieri breaks down the top men at the French Open Nick Bollettieri discusses the top men contenders at this year's French Open including Djokovic, Nadal, Federer, and many more.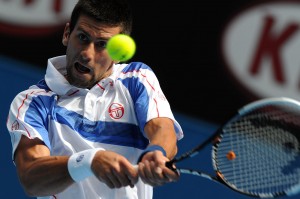 Novak Djokovic
Ranking: #1
Height: 6'2"
Weight: 176 lbs.
Country: Serbia
Novak has come a long way. It wasn't very long ago that coaches, commentators, players and fans said he didn't train off-court enough because during long rallies you could see signs of him slowing down. Then, along came a nutritionist, that studied his on and off the court training, including his diet. The nutritionist completely changed his diet and the results have been unbelievable. He has put together two of the best years in the history of the game and he hasn't showed many signs of slowing down in 2012.
Let's look into the game of the number one player in the world!
Let's start out with his ready posture and athletic foundation. Look very carefully how Novak stands, prepares, makes contact, and recovers for the ball.
Ready Posture
His feet are spread apart more than shoulder width.
He puts most of his weight slightly forward.
His knees are relaxed and slightly bent.
His upper body is still fairly straight up.
His arms are extended in front of his body, slightly above his waist.
His eyes are totally focused on the ball.
He reminds me of a tiger watching his prey, but does not strike unless he knows he will be a winner.
Forehand
He has a moderate semi-western grip with a very simple backswing that starts with his non-hitting hand pushing the racket back the same time he turns his hips and shoulders. He can hit from any stance because of his control of his entire body. When making contact with the ball he has a great deal of racket-head acceleration. Next time you watch him play, try to notice when he follows through as he always extends to the target.
Backhand
He has one of the best ever, starting with a simple hip and shoulder turn and aiming the butt of the racket staring at the on-coming ball.
Please observe…
His bottom hand (right) holds the racket and his top hand (left) generates the power and the spin on the ball.
Look a little closer..
Not only does Novak hit the ball brilliantly, but he also knows he must recover to hit the next ball. No one else besides Nadal can compare to him on his recoveries.
Nick's Tip
Even though Novak has one of the best backhands in the world, he still will go to his bread and butter shot – his forehand.
What else can he do, actually lets reverse that and say what can't he do?!
He can do everything including:
Simple volleys
Swinging volleys
Touch volleys
Excellent slice, drop shot, angles
One of the most effective 1st and 2nd serve.
Let's not forget he has one of the very best return of serves on the tour.
Can he win the French Open?
Let's get through the first week and take one match at a time. Keep in mind there is no easy match during the French Open.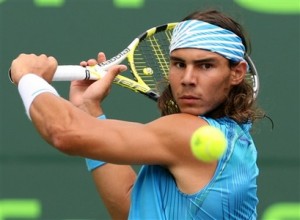 Rafael Nadal
Ranking: #2
Height: 6'1"
Weight: 188 lbs.
Country: Spain
No one in the history of the game is more tenacious than the Rafa on the clay! He plays every single point as if his life is on the line.
Unique extreme-western forehand grip
To hit with his grip requires you to have a very strong forearm, great wrist acceleration and a follow through that goes through the contact zone, out, and then over with the follow through being about waist high and the palm of the hitting hand facing the hitting surface at the end.
I didn't forget
His cowboy follow through ending up high and on the same side of his hitting arm (he is a lefty so his follow through will be above his left shoulder).
Movement
Let just say he makes a tiger, a leopard, and a greyhound look slow and clumsy!
Backhand
Keep in mind that he was originally a righty and because of this, his top hand can do everything with any type of shot hit at him. All of his opponents definitely are aware of his deep slice shot.
Return of serve
Nadal is among the very best returners in the history of the game.
Volleys
His opponents should be aware how comfortable he is when volleying. Especially his simple volleys and touch volleys.
Mentality
There was a time last year when Rafa became a little frustrated and even showed some negative body language when losing to Djokavic and being replaced by him as the number one men's tennis player in the world. Hopefully we won't see any of that now.
Can he win the French Open?
Yes. No one can predict the future but he is the favorite!
P.S.
He is the very best player on and off the court for the game of tennis. He also is a great role model for young children and aspiring tennis pros.
The best strategy to beat Nadal
Hit deep side to side
 Hit behind him
 Be careful, when he is behind, he becomes the most dangerous!
You must take his balls very early.
Jam him when you serve.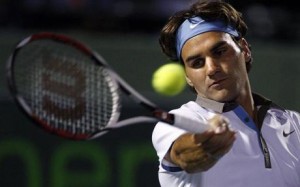 Roger Federer
Ranking: #3
Height: 6'1"
Weight: 187 lbs.
Country: Switzerland
When you research the history of tennis, Roger must be on top of the list as a player, but also a true diplomat of the sport.
Forehand
In my opinion, he is as good, if not, better than all other forehands. He does not have an extreme grip, but a simple compact backswing with the elbow going back first. His follow through shows his arm and racket are extended away from his body and the butt of the racket pointing at the on-coming ball.
Backhand
Yes, he has one of the best ever, as did Sampras and Haas, but he has to work so hard and be in perfectly balance to:
Return high bouncing serves
Return heavy cross court balls with spin, especially when playing a lefty (Nadal).
He has one of the top slices and touch shots and also can change to tempo of the game with those hits.
Movement
His movement during play is just beautiful. I am recommending him to audition for Dancing with the Stars because his footwork is always in tack and his movement is also smooth as silk.
Can he win the French Open?
His chances of winning the French Open will demand he mixes his play up with:
A few serve volleys
Chip and change
Take chances
Vary his serve
Force the opponents to serve down the tee when returning his AD side.
P.S.
His coach, Paul Annacone, is one of the very best, and most importantly he was a former student at the IMG Academy Bollettieri tennis program.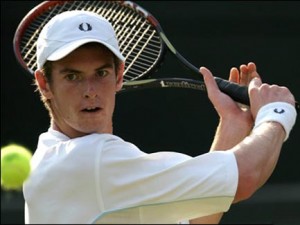 Andy Murray
Ranking: #4
Height: 6'3"
Weight: 185 lbs.
Country: Great Britain
It's not easy living in Great Britain and being the hopeful to win a Grand Slam. There is no question about his athletic ability, movement, and his return of serve. The new addition of Ivan Lendl (coach) was great in the beginning. This relationship started out with a bang and a ball of fire! But the flames are only a flicker, especially over the last thee clay court tournaments.
Let's share the facts
Review the top three players in the world and then add another dozen hanging around, and you tell me about his chances of winning a Grand Slam. Being born in the era of talent takes the wind out of you. Andy must come out with much more fire power and accept the clear facts that he cannot reach the quarters or semi-finals if stands 8 to 10 feet behind the baseline.
Be careful of the following players!
Jo-Wilfried Tsonga
Ranking: #5
Height: 6'2"
Weight: 200 lbs.
Country: France
Tsonga is a very big and strong guy; because of this he has a huge serve and forehand. Even though he is large, that doesn't effect his movement at all. But the only question about him is if he can hold it together for 2 straight weeks.
David Ferrer
Ranking: #6
Height: 5'9"
Weight: 160 lbs.
Country: Spain
He has a very good motor; he plays and plays but keeps coming back. He has excellent movement and doesn't give up too many defensive balls. He will make you miss during his matches and he has very consistent 1st and 2nd serves.
Tomas Berdych
Ranking: #7
Height: 6'5"
Weight: 200 lbs.
Country: Czech Republic
Tomas is truly on a roll! No one has even questioned his talent but the real question is can he keep his mind calm. YES! YES! YES! He plays the game well and can do it all. He has fire power whether it is his ground strokes or his serve. I would not want to be in his side of the draw, that's for sure.
Janko Tipsarevic
Ranking: #8
Height: 5'11"
Weight: 183 lbs.
Country: Serbia
Janko, as a player, is a little crazy. As a doubles player, he is excellent. His serves are sold and he seems to play quite a distance away from the baseline. In my opinion he needs to stand a little closer to the baseline to improve his game. Also, I sure hope he has a darn good contract with Oakley. From my understanding he even sleeps with them! Go Oakley! They're my favorite sunglasses.
Juan Martin Del Potro
Ranking: #9
Height: 6'6"
Weight: 214 lbs.
Country: Argentina
Del Potro seems to be back. He has all the tools to win a Grand Slam and it doesn't look like his past wrist injury will bother him anymore. He takes advantage of his height by coming on the court and taking the ball very early. If his serve is working well, then we will see him in the second week of play!
John Isner
Ranking: #11
Height: 6'9"
Weight: 245 lbs.
Country: United States
Yes, he does play pretty darn good on clay. He has excellent groundstrokes and his movement is excellent for a big man. To be successful he needs to serve well and take full advantage of any and all defensive balls.
Gilles Simon
Ranking: #12
Height: 6'
Weight: 154 lbs.
Country: France
Simon has the perfect build for a tennis player and this allows him to have great movement. He has an effective backhand with a short backswing. He has a very effective serve and his forehand isn't too shabby. He tends to lose matches that he should have won and this causes him to lose focus at times.
Nicolas Almagro
Ranking: #14
Height: 6'
Weight: 185 lbs.
Country: Spain
Almagro has a superb serve and is a huge hitter! His aim is flat when he hits with his forehand and can have some spin with it. He has a fantastic one-handed backhand. A problem I see with him is that at times he can lose focus and hurts his game.
Also, watch out for a couple of guys that could be spoilers like Cilic, Harrison, Tomic and Raonic.