Nick Bollettieri breaks down the top women at the French Open Nick Bollettieri discusses the top women contenders at this year's French Open including Azarenka, Sharapova, Serena, Radwanska and many more.
Victoria Azarenka
Country: Belarus
DOB: July 31, 1989
Height 6'
Weight: 145 lbs.
Preferred Hand: Right
Ranking: #1
Forehand
Azarenka, ranked number one in women's tennis, has many great attributes that got her to where she is today. Her forehand alone is one of the most powerful on the women's circuit. The reason her forehand is so dangerous is due to her standing close to the baseline, which enables her to make early contact with the ball, forcing more pressure on her opponents. Also, her ability to hit from any stance adds to her overall game.
Backhand
She also has a very aggressive two-handed backhand and makes early contact as she does with her forehand. She doesn't hit with too much spin and make sure you pay attention when she is in trouble as she will hit deep down the center.
Footwork
Her footwork is an "A+".
Style of Play
She is not afraid to come in and will also hit simple volleys, but will also go to the full swing volley when she needs it. She prefers to control play.
Serve
At times her high toss can be a problem.
Change of Pace
Can slice, but for most parts she is a hitter.
Mentality
Azarenka tries to break you down and challenges you to go for it.
Things to Watch
When she has a huge backswing in her forehand, it will result in some errors.
When she gets a little tentative, she will push her serves and her opponents must jump on them.
Be sure to put in your ear plugs.
Has trouble against players who keep the ball high and deep and never miss.
She is not a good tie-breaker player.
Goes for spectacular shots, but will make many errors.
Pull her out wide - angle her.
She is a go-all-in-kind-of-player and you must break her down.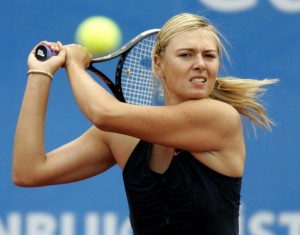 Maria Sharapova
Country: Russia
DOB: April 19, 1987
Height: 6'2"
Weight: 130 lbs.
Preferred Hand: Right
Ranking: #2
Forehand
Stands very close to the baseline and hits the majority of balls very flat with little spin. Her grip is not extreme like most players. Being so tall, and standing close to the baseline, forces Maria to not exaggerate her backswing.
Backhand
Once again, her grip is not extreme and her mind set is to go for it everytime.
Volleys
Maria isn't fancy with her volleys, but just directs the ball with little to no swing. She also loves the swinging volley from both sides and this shot was a trademark that she learned at the IMG Academy Bollettieri tennis program.
Serve
Maria has had so much trouble in the past with her shoulder and many people believed at the time that her career had come to an end. But not in the mind of Maria! She is back, but you will notice that there will be times when double faults will come about.
Strategy
Maria has one thought in mind: control play and take advantage of every opportunity.
What Makes Maria a Champion?
She refuses to lose. When she is down and out is exactly when she is dangerous. As displayed in her match with Li Na with the score 6-4 and 4-0, everyone thought Maria had no chance. But the Italians were in for a treat. In a downpour of rain, Sharapova wins in a third set tie breaker.
Conclusion
Maria Sharapova is a competitor; she gives it all and then some more. The IMG Academy Bollettieri tennis program is so proud of Maria and we always look forward to her returning with her outstanding coach to practice where she started when she was only 9 years old.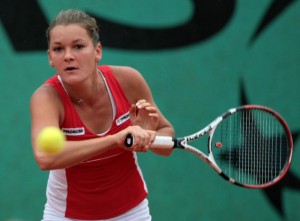 Agnieszka Radwanska
Country: Poland
DOB: March 6, 1989
Height: 5'8"
Weight: 123 lbs.
Preferred Hand: Right
Ranking: #3
Agnieszka prefers to play several feet back from the baseline and really does not have a bad day on the court. Some of her bestattributesare her exceptional movement and she is also great at anticipating the ball.
What Does She Need?
She needs to start moving a little closer to the baseline; it's too tough for a player to become a winner when your balls have to travel an extra 3 to 5 feet longer. This is one of the reasons Caroline Wozniacki couldn't win a Grand Slam. She has an excellent year by winning in Miami, Dubai, and reaching the semis of Stuttgart, Madrid and Sydney.
Serve
Her serve is very tentative, especially the second.
Movement
She has great movement, especially when coming forward for the short balls.
Forehand
Radwanska is funky with the follow-through, but I also think her backhand is even stranger.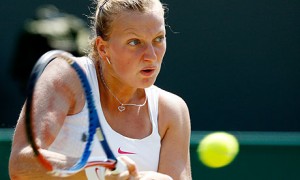 Petra Kvitova
Country: Czech Republic
DOB: March 8, 1990
Height: 6'
Weight: 154 lbs.
Preferred Hand: Left
Coach: David Kotyza
Ranking: #4
Lets first begin by saying she is a big, strong, lefty and for the most part that means trouble for her opponents. She went to Turkey to train physically, including hiring a fitness coach. She prefers to play from 3 to 5 feet behind the baseline, because it allows her to control the play of the game.
Her Style of Play
Her style of play is very simple. Hit flat, play fast! She has a beautiful backhand.
Can She Volley?
Yes, she can and for a darn good reason! She has a balanced foundation and gets down to the level of the ball, especially on the volleys.
Why isn't She #1?
This young lady can go from not missing a ball to missing every ball. Not too many players on the WTA tour can hit aggressive shots when the ball is above the shoulder, but her quick hands allow her to make the adjustment and hit the ball when it is above her shoulder.
Serve
Another big plus when being a lefty is being able to not only hit to the ad side, but even to the deuce court. Both of these serves take the opponents off the court.
Movement
She has pretty darn good movement for a tall girl.
Return of Serve
Even though she is a very aggressive on the return of serve, she still controls the ball enough so she doesn't over hit.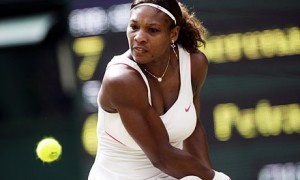 Serena Williams
Country: United States
DOB: September 26, 1981
Height: 5'9"
Weight: 155 lbs.
Preferred Hand: Right
Ranking: #5
There is no need to write and write about Serena. When she is healthy, she has to top the list as being the best player in history of the WTA. Her serve and forehand bring her wins and more wins. I love watching her aggressiveness and she is always going for every ball! The only question for her is if she can go 2 weeks without getting injured.
Be sure to observe 3 very important factors of her game:
She must stand right on top of the baseline to control play.
Watch her very quick backswings on both her backhand and forehand.
She never lets you get away with any defensive shots.
Samantha Stosur
Country: Australia
DOB: March 30, 1984
Height: 5'7"
Weight: 143 lbs.
Preferred Hand: Right
Ranking: #6
Yes, she does have the best kick serve on the tour, a heavy forehand, steady backhand, and competes at all times. But at times, her age is a factor. Especially on a clay court.
Li Na
Country: China
DOB: February 26, 1982
Height: 5'7"
Weight: 143 lbs.
Preferred Hand: Right
Ranking: #7
Her opponents have to be careful because she has the ability to make you over-hit. She stands right on the baseline, moves extremely well, and has no real weakness. But it seems her serve can break down sometimes.
Marion Bartoli
Country: France
DOB: October 2, 1984
Height: 5'6"
Weight: 139 lbs.
Preferred Hand: Righti
Ranking: #8
She is a very different player. She hits with two hands from both sides and do not try to copy her serve, although it is effective. Her stance is close to the baseline, she moves very well, and she is a feisty one. One of her downsides is that her fitness is a question, but her upside is she is constantly putting pressure on her opponents.
Caroline Wozniacki
Country: Denmark
DOB: July 11, 1990
Height: 5'10"
Weight: 128 lbs.
Preferred Hand: Right
Ranking: #9
Her techniques on the forehand and backhand are the very best. When she was #1, she preferred to stand several feet behind the baseline. The question was and still is today is "does she have the enough to win a Grand Slam?
What must she do?
Stand closer to the baseline.
Be more aggressive and control play.
Must get into her comfort zone.
How does she win?
She makes you miss. She is always in control of everything she does, but this is not enough to win a major.
Angelique Kerber
Country: Germany
DOB: January 18, 1988
Height: 5'8"
Weight: 150 lbs.
Preferred Hand: Left
Ranking: #10
This lady can so some damage, especially being a lefty. She also has a darn good serve and a wide slice. Her Forehand is flat and dangerous, she has good movement, and she has the wide is good. She was a semi-finalist at the 2011 US Open. Another of her great qualities is that she can change directions with her forehand and that usually catches the opponent flat-footed. She's worked on shortening her backs-wing preparation and mastered a big weapon which is applying top spin with her forehand. One downside of her can be her temper.
Sabine Lisicki
Country: Germany
DOB: September 22, 1989
Height: 5'10"
Weight: 154 lbs.
Preferred Hand: Right
Ranking: #12
When Sabine is on, she is one of the best in the game. She has a great serve, outstanding forehand and her backhand is solid as well. Her issue as of late has been injuries. If she can stay injury-free then she is a threat, if not, then she could be ousted early, especially on the red clay.
Ana Ivanovic
Country: Serbia
DOB: November 6, 1987
Height: 6'
Weight: 152 lbs.
Preferred Hand: Right
Ranking: #13
Anna has excellent ground stokes, moves well, steady serve, etc. But she lacks the weapons to be a threat at the French Open this year.
Andrea Petkovic
Country: Germany
DOB: September 9, 1987
Height: 5'11"
Weight: 152 lbs.
Preferred Hand: Right
Ranking: #15
Her father is a tennis professional and instructed her to the sport when she was 6 years old while attending school in Germany. When she graduated high school, he dad told her to go to college but Andrea said no. She wanted to focus on tennis and two years later she turned pro and in one year she was in the top 10. She was injured in 2008 (ruptured her ligament in her right knee), but wouldn't give up and went to the mountains to train with no phone or internet. She didn't want anything on her mind except to train and get healthy. In 2010 she impressed everyone especially at the US Open with her dance.