Nick Bollettieri still going, still controversial, at 80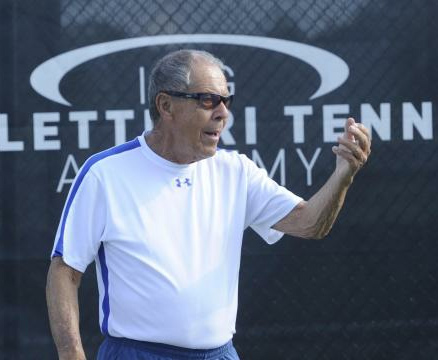 If there were a gateway for aspiring tennis players in this country, it would be a swath of sun-baked property north of Sarasota on Florida's west coast.
The Statue of Liberty? An almost preternaturally tanned man in sunglasses slightly bent at the waist, feeding balls and barking instructions in a gravelly voice.
Because if anyone has stamped the paperwork for tennis immigrants during the past three decades, it's Nick Bollettieri. His boarding academy in Bradenton, Fla., is a beacon of athletic opportunity for locals and foreigners alike.
"His place is an Ellis Island of worldwide tennis," says Oakland, Calif.-based tennis historian Joel Drucker.
Simply put, Bollettieri reinvented the way tennis is taught at the elite level.
His influence was on display all across the grounds at Wimbledon the past two weeks, from the players still gunning for titles such as Serena Williams, to those who have taken up residence in the commentary booth such as Boris Becker.
That influence, however, has not come without controversy. He's 80, but on Saturday in Newport, R.I., Bollettieri once again won't be inducted into the International Tennis Hall of Fame.
Bollettieri has been such a fixture on the tennis scene that he is an international brand that needs no introduction.
His training ground has spawned so many name players —Andre Agassi, Jim Courier, Monica Seles and Maria Sharapova among them — and served as a home base for so many others that he has every right to rest on his laurels.
But to Bollettieri, rest is anathema.
What belies his phenomenal success — he's worked with a double fist full of No. 1s — is that he's still at it.
"I will tell you why, man," Bollettieri growls. "I just love the excitement. I love getting up, and the action. I love being with action."
Most of the octogenarian's peers are honing their bridge skills or pushing balls across groomed lawns. He is looking for the next diamond in the rough.
He's up before dawn — 4:45 a.m. to be exact. He stretches and does 150 situps on a medicine ball in his kids' playroom (Bollettieri has two young sons adopted from Africa), lifts a few weights and is at the court by 6 a.m. for his first lesson of the day.
He teaches till around 11:30 a.m., dashes into town for a business lunch — often at his favorite haunt the South Philly Cheese Steak café— and is back on the court from 1-5 p.m. He prefers to wrap up the physical workday by heading to the links for a little golf.
At night he answers email, fields calls, and writes for about a dozen websites around the world. At 11:30 p.m. he finally rests his head, often while watching a tournament on ESPN.
He sleeps maybe 4-5 hours — no one can fathom how little he rests — and often is interrupted by a phone call from some player in Asia or Europe who needs last-minute advice.
Cindi, his eighth wife, likens him to Peter Pan.
"He is eternally youthful," says Cindi, 48. "When I married him, I knew I was the mistress. I knew that he was truly married to the academy."
'Tennis was a sissy game'
Bollettieri has little to prove to himself or anyone. It begs the question: Why do it? Why awake at dawn, sweat all day in the searing sun, allow yourself to be pulled in 50 different directions? Why does this husband, father and grandfather press on?
The answer is pretty simple. Bollettieri is a coaching, teaching, motivational shark. If he stops moving, he'll die.
"Take that away and he would not be alive anymore, at least not in his soul," says former academy standout Courier, now the U.S. Davis Cup captain. "He'll go out with his boots on."
Sneakers did not seem likely working shoes. Bollettieri's circuitous journey to tennis is a cross between bootstrap determinism and opportunistic marketing magic.
He grew up a sport-obsessed kid in Pelham, N.Y., who used to hawk candy in the neighborhood and lurk at the back of the pews in church in order to make a quick exit to the playing fields. In his racially diverse neighborhood, football and baseball ruled. Tennis was an afterthought, at best.
"I grew up with black people and Italians and a few Irishmen, and tennis was a sissy game," Bollettieri.
A cousin persuaded Bollettieri to try out for the tennis team at Spring Hill College in Mobile, Ala., which needed a sixth man. He wasn't half bad, and ended up playing his junior and senior years.
A career in the genteel, patrician sport wasn't on his radar. His father wanted him to become a lawyer, but Bollettieri hadn't yet perfected the art of argument he has used to great effect with so many different tennis personalities.
He bailed out of the University of Miami Law School after three months but continued teaching tennis at a public court in North Miami Beach for $3 an hour (today's rate: $900) to put gas in his car. The rest, as they say, is history.
"Pretty soon I began to learn a little bit more about tennis, and all sorts of great things happened … by accident," he says.
His academy set standard
His crowning achievement, purchased by management company IMG in 1987, has evolved into what is a sprawling 450-acre Bradenton campus serving seven sports with 650 full-time employees, which was
At the IMG Academy there are 55 tennis courts, a 10,000-square-foot weight room where the roughly 700 full-time students from 75 different counties hit, kick, dribble, throw and tee off. All told, 30,000 athletes, coaches, visitors and event participants pass through annually.
The model he built in Bradenton, which has become a siren song for competition-starved players the world over, is his legacy. It started on 40 acres of nondescript land he bought for $1 million borrowed from a wealthy friend.
"Nick was the first guy to establish the academy model, along with Harry Hopman, though it wasn't as militant," says Courier, who arrived in the mid-1980s as a promising 14-year-old and went on to win four Grand Slam titles and reach No. 1. "He set the table for 360-degree training. You can't underestimate the way Nick was a forerunner of all that."
His revolutionary approach was to bring in the best talent in one place and guarantee them top-flight competition day-in, day-out all year.
The Lord of the Flies/sink-or-swim system became a template that has proliferated around the globe. Similar setups can now be found in Europe, South America and Asia.
It was tough — the stories of backcourt brawls, smashed rackets and tearful comeuppances are legendary. But it pushed everyone to strive to be atop the pecking order, and it worked.
One of his earliest students, American Paul Annacone, recalls the scene at the Colony Beach and Tennis Resort, the forebear to today's academy, when he and standouts such as Jimmy Arias, Rodney Harmon and Pablo Arraya were on court.
"As soon as we saw the pro shop door fling open and Nick appeared, you never saw so many adolescents learn how to concentrate so quickly," says Annacone, once a top-15 player and now Roger Federer's coach.
"When you put good people together that want to be something special," says Bollettieri, "you have a chance of getting your special person."
Bollettieri was more than taskmaster.
"He treated me like a son in many ways, whether it was going to dinner or giving me a few hundred bucks here and there, making sure that I was always taken care of," says veteran Tommy Haas, who once ranked as high as No. 2.
Long after they've left, players still go back there to recharge their batteries.
"He still helps me to this day," says former No. 1 Jelena Jankovic of Serbia, who came to the academy as a 12-year-old.
The Midas touch
Bollettieri the man has greased the cogs of so many greats — with funding, encouragement or tough love — that he is the equivalent of a self-contained tennis federation.
Or as Courier says: "He's like a tennis NGO."
Four-time Grand Slam winner Sharapova says Bollettieri "kept it real" when her father first showed up from Siberia with hopes of turning his 7-year-old daughter into a champion.
"He has a way of knowing what to say in the right moments," says Sharapova, 25.
Bollettieri was not a tennis expert, but he brought other qualities to the table: a supernatural work ethic, Lombardi-esque motivational skills and an enduring passion, none of it sugarcoated.
His biggest asset might be his ability to connect with players.
"He's a great reader of people," says Jose Lambert, who has been at the academy almost 35 years as a student, player and coach.
It's not always what he did directly that made a difference, notes Sharapova's longtime agent from IMG, Max Eisenbud.
"The best thing that he did that allowed her to be great was, he told his staff, 'Whatever she needs, make sure she gets it,' " he says. " That kind of green light helped Maria a lot."
Says Bollettieri: "God just gave me the gift to look and be able to relate to them in a manner that they accepted, because everybody is different."
Clearly, he has an eye for talent, too.
One of his earliest successes, former top-five player Arias, recalls being trotted out to hit with a young kid from Las Vegas with flashy strokes. The kid crushed a winner here and there but sprayed balls all over the court. Arias smoked him.
"Nick would say, 'Did you see those shots!' " recalls Arias, now a commentator for Tennis Channel. "I said, 'But he doesn't hit any in. What are you talking about?' "
The kid was Agassi.
The outsider
In the blueblood sport of tennis, Bollettieri remains an outsider, forever a guy from the wrong side of the tracks. As much as he personifies tennis establishment, many continue to see him as a circus-act hustler whose enthusiasm can come off as Barnum & Bailey schtick.
Nowhere is that more evident than his failure — twice, in 2010 and 2012— to be inducted into the International Tennis Hall of Fame in the contributor category.
The 2012 class, to be inducted Saturday, includes Grand Slam champions Jennifer Capriati, Gustavo Kuerten and Manuel Orantes, Paralympic tennis gold medalist Randy Snow, and promoter and entrepreneur Mike Davies.
Based on the HOF criteria — "Exceptional contributions that have furthered the growth, reputation and character of the sport, in categories such as administration, media, coaching and officiating" — Bollettieri would seem a shoo-in. (Candidates must get 75% of votes).
"Under the guidelines, I don't see much question that he is entirely worthy of the honor," says veteran tennis writer Steve Flink, who is on the Hall of Fame nominating committee and has voted for Bollettieri both times.
Agassi, who has had his share of highs and lows in a long association with Bollettieri is also an eligible voter.
"I didn't hesitate in my own vote nor would I hesitate giving my opinion about it," he says. "I think the guy has given a lot to the game, and I think he should be recognized for it."
There are others who clearly don't believe Bollettieri has earned the right.
Critics have charged that Bollettieiri's players are one-dimensional, big-serve, big-forehand bashers. John McEnroe once said Bollettieiri "doesn't know anything about tennis."
But Bollettieri takes it in stride, noting that success sometimes breeds resentment.
"There's no question I'm a promoter, but I have been able to back up my promotion," he says. "I'm in the Italian Hall of Fame, the USTA Hall of Fame, the USPTA Hall of Fame, the Florida Hall of Fame. I'm in every Hall of Fame except the other Hall of Fame. So that ain't bad."
His wife says Bollettieri is "supernaturally resilient" and was only briefly disappointed by the two failures.
"Anyone that's been married eight times knows how to pick themselves up and start going again," she says. "If things like that bothered him he would never have achieved what he has."
Bollettieri carries on
Indeed, none of it has dampened his irrepressible spirit and indefatigable energy.
He remains a whirling dervish of activity, giving talks to American troops in Afghanistan and Iraq, traveling to tournaments, and of course teaching and coaching the thousands that come through Bradenton every year.
"He wakes up at 5:30 in the morning and he pumps those biceps, and then he spends some time with his newly adopted kids," Sharapova says of the couple's 4- and 7-year-old boys from Ethiopia (Bollettieri has five grown children from previous marriages). "Who has that type of energy in life at that age?"
He is even coming out with a memoir this November titled It Ain't Easy, which, according to Bollettieri, tells his unvarnished life story, including anecdotes about seven of his eight wives.
"That's a biography in itself," he laughs.
Times have changed, of course. The man who practically invented the big serve/big forehand philosophy says the modern game is too athletic for that recipe.
"You cannot protect an outstanding weakness in today's game," he says. "It's too fast."
It's also a global game, one where Americans aren't likely to dominate as in generations past.
Bollettieri says he'd like to be remembered as "helping people, trying to give them a foundation … and survive in life."
Perhaps that will be enough some day for residence next to so many of the players he's influenced.
"I don't think the last chapter has been written," says Hall of Fame committee member Flink.
Credit to: USA Today