Q&A: Vince Walden Breeding Toughness At IMG Academy For DICK'S Nationals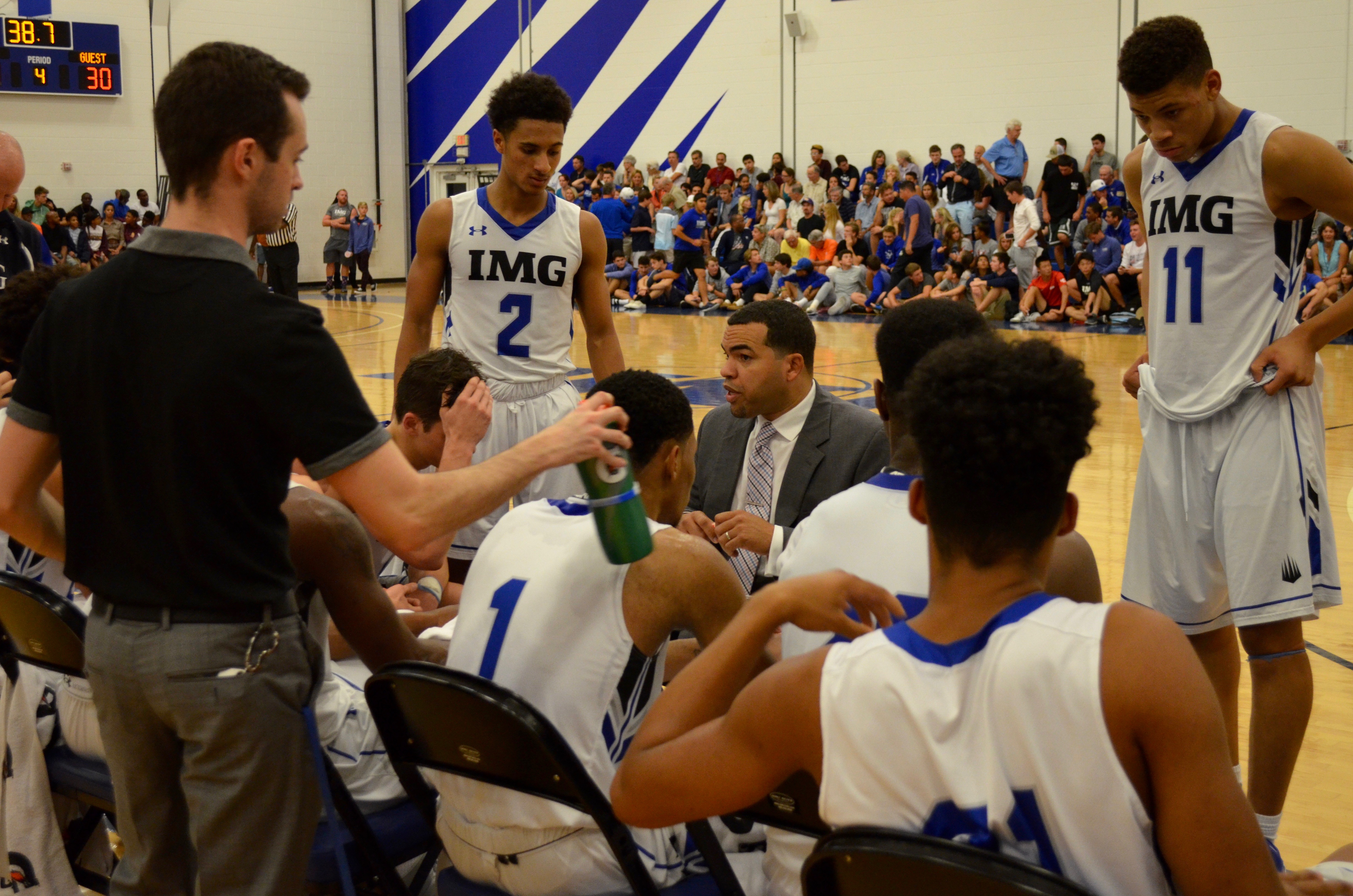 With the long season in the rearview mirror and the bright lights of DICK'S Sporting Goods High School Nationals waiting, it's hard not to like your team's chances. After all, the work and sacrifice it took to get to this point is over. It's time to throw it up and fight for a title.

At No. 3 IMG Academy (FL), it's business as usual right now. The Ascenders, at 26-1 and the No. 2 seed in the tournament, are locked in and will not be changing their approach at this point. Head coach Vince Walden won't let it happen.

When the ball tips against seventh-seed Greensboro Day next week at New York City's Christ the King High School, Walden wants nothing more than for his players to enjoy the opportunity. He wants all the pressure to be on him. And at the end of the day, he wants to come out with a win, which is something his talented squad has been known to do all season long.

FloHoops: Coach, when you got the announcement, what was going through your mind in knowing your season wasn't done?
Walden: Really honored and thankful. Both because it's such a great opportunity for our program and for our kids, and thankful just that this has happened as a result of our work. I just wanted the kids to work hard and buy in, and they just continued to let me coach them. I've coached them hard and they've continued to work. And to be rewarded with this, it only validates the truth I've been trying to give them. Hard work doesn't guarantee you success, but it gives you a chance, and I think each day we've gotten in the gym together has given ourselves a chance.

We're talented, but they're buying in and believing in has given us this chance that we have in front of us.

How do you think they felt when they got the news they would be playing in this tournament?
You should have seen these guys. These guys were thrilled, man. This was something that we talked about at the very first meeting that we had as a team this year. We had talked about it, but not a whole lot. I just wanted them to take one day and one game at a time. 

There were times on the road this year when I would say, "Hey, what's our record?" The guys would say, "Coach, we're 17-1." I said, "No, we are 0-0, and we just have to win these two games while we are on the road. It's a business trip." They've been locked in and have taken each game as kind of one chunk of the season at a time. 

So, I'm just absolutely thrilled that this was our vision and our goal and we've executed on it. That's been the most rewarding thing. For young men that I'm leading to say, 'Hey, man, we set a goal and we had a vision about this, and it was doable.' And I hope that it gives them great faith as they get to the next chapter of their lives that they continue to set these kinds of goals and have visions for their lives and what they would like their lives to be. And that they can achieve it with some purpose and some intention and some work.

Why do you think the players bought into this goal?
Man, I don't know. (laughter) They bought into it. When I came back last year, we had another good year. We won 27 games. We bought into the defensive side of the ball. I had just come back from Liberty University, and the kids were so coachable.

One thing I love this year is we had such a big core coming back, and they knew how we worked. I just set some standards and I think the success we had last year helped with the core terms of them buying in, and then guys started seeing, "Hey, look, we have a chance to do something special here."

They bought in. I think the winning as we started to go along, the buy-in from game to game continued to grow.

Was there a turning point for this team?
Yeah, I think so. I think when we lost to Montverde, that was a threshold moment for our team and our season. When I walked into the locker room after losing to those guys at City of Palms, I came in, I had been speaking to media personnel, and when I walked into the locker room, our guys were on the floor crying. Guys were in lockers crying. Guys were sitting in the showers sitting with their backs against the wall crying.

There were two emotions that I had. One was one of excitement, because they believed. And then the second part was, "Can I get them ready? I have a big task to get these guys ready for tomorrow night versus The Patrick School (NJ)." And if you're familiar with that game, we were down 13 points in the second quarter. We ended up winning by five against a very, very talented team, and it showed that we had something to us, that we had some grit, that we had something to sustain us for the rest of the season.

So, as I look back, I looked back at The Patrick School game earlier this week, and that let me know something. We haven't lost since that game, and it's been tremendous buy-in and fight from these guys. I think that was most certainly a threshold moment for us as a team.

Now that you're here and you have this opportunity, what's it going to be like in this opening game with Greensboro Day?
Greensboro Day, man, has a big-time coach. Coach Freddy Johnson is a legend, and he does a good job, man. He's better than me. He does a good job of moving his players around and moving the ball around. So we're going to have to communicate hard and well and be a united group on the defensive end to guard his action. 

They have some good pieces, man. The kid John Newman, (Will) Dillard is good. They've got some really good pieces and a really good coach and run some really good action. We have our hands full, and I just (told) our kids to know that, "Hey, it's great we got the second seed. It means nothing. Any one of these teams can go up here and win this thing."

I'm just focused on them and see if we can come up and win that first one and play hard and play well. It's like we've done all season, just one chunk at a time, but they're good. They're really good.

With that said, what's it going to take to win this thing?
Man, that's a great question. I think it's going to take some fortitude to win this thing. I have a saying, and I got it from my mentor, coach Dale Layer, who I worked for at Liberty. I use it often now and the kids think it's mine, but it's truth. Hard work doesn't guarantee you success, but it gives you a chance. If we can work hard and do what we do, I think we've got a chance.

We're going to have to make some shots and we're going to have to get some stops, but I also want my guys to enjoy it. I hope they have zero pressure on them. I want all of the pressure to be on me, and I want them to enjoy this experience. ... I just want us to win our last game. Our last game is our next game, and that's Greensboro Day.

If we take care of them, we give ourselves a chance.

Do you like your chances?
I do, I do. I like my chances. I think every coach likes their chances, because every coach is probably going to be biased to their team. I know we have flaws, just like everyone else. We need everything to go our way to win this thing, because these teams are so well-coached. They have so much talent on them, and the season has been so long. ... I really think toughness, especially with this kind of long year and a great opportunity on this big stage, the toughest team is going to win.