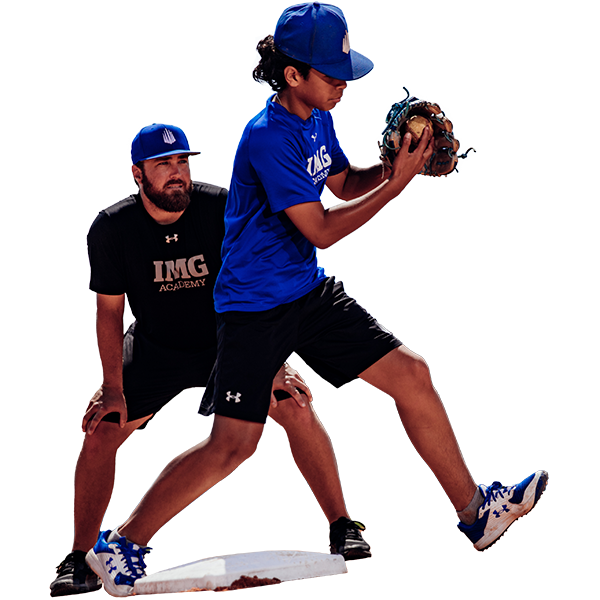 Baseball camps
Competition and tournaments can only take youth baseball players so far. At IMG Academy, we combine age-appropriate development on the field with invaluable strength, nutrition, and mindset training. Athletes will truly be able to maximize their potential in a fun and supportive environment led by coaches who have experience at the highest levels of the game.
Baseball camp overview
Baseball camp at IMG Academy
IMG Academy baseball camps feature position-specific training as well as group training sessions that focus on proper mechanics and techniques as well as in-game situations.
Within this unique training environment, campers of all levels will learn directly from the same coaches who led IMG Academy to a 2019 National Championship and have proven experience in developing elite collegiate and professional players. All campers will also receive a post-camp player evaluation inclusive of coach feedback.
Learn More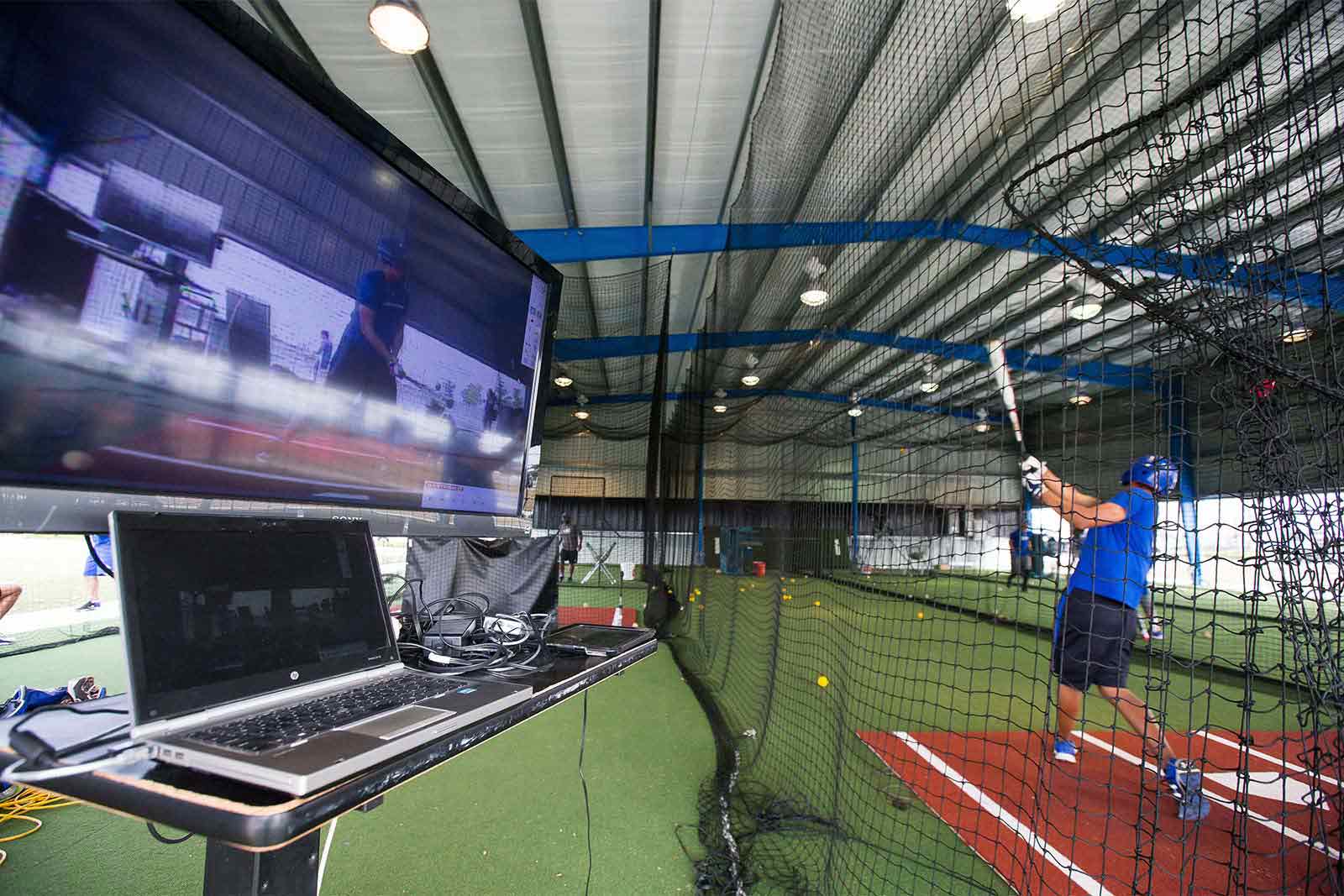 Baseball camp overview (SEO)
IMG Academy's baseball camps provide access to some of the world's best coaches and many advanced training methods, both of which will help you reach your full potential and continue to do so long after your time at our baseball camps has ended.
Amongst the many features offered by an IMG baseball camp are its high-quality training, world-class coaching, challenging competition and professional facilities. All of that is in addition to its climate, which is conducive to playing baseball year-round, and the impressive accolades that its alumni have achieved during and after their time here.
As a result, attending an IMG baseball camp is an easy decision for most.
While here, you will receive instruction from a quality coaching staff that has brought years of experience working in college baseball as well as at the minor and major league levels. They will help you learn more about baseball and about yourself, and you will utilize this long after you leave here.
Our elite baseball camps not only focus on helping you improve your physical game but also your mental game – helping you become a more polished player. Also note that the mental aspects not only include things such as knowing what decisions to make during plays but also how to emotionally handle challenging situations.
Our unique training is essential to reaching your potential as a baseball player and includes leadership training, vision training and baseball nutrition. Our world-class facilities include multiple game fields, practice mounds, batting cages and HitTrax simulators. Also available for use is our EON augmented reality simulator.
One of the learning experiences that you will have at a baseball camp hosted by IMG is experiencing top-level competition as many of your fellow campers are among the best in the country and are also pushing themselves.
A major benefit of IMG's location is that we offer players attending our baseball camps weather conditions that provide for top-quality offseason amps for baseball. Even in the middle of winter, the average high temperature at an IMG baseball camp is 72 degrees.
In fact, that is a significant reason why our baseball camps are popular throughout the year and why many of our campers fly here from long distances.
IMG's summer baseball camps are the biggest and most popular while spring camps are the second most popular time as numerous students want to improve their game then as well. Overall, our IMG youth baseball camps and holiday camps are amongst the best in the country.
One of the top indicators of IMG Academy's quality is its high school baseball team claiming the USA Today Super High School national baseball championship in 2019. Six members of that squad were drafted, and more than 20 students and alumni in total have been drafted since that season. That includes Elijah Green, who was selected fifth overall in the 2022 draft, by the Washington Nationals. We also just had four more players drafted and one was fifth overall pick. Baseball camp with top resources
Once at a baseball camp here, you will get to take advantage of our stunning facilities. Included are 16 batting cages, 16 practice mounds, a physical gym, a mind gym to ensure that your mental game is enhanced as well, six full baseball fields and three half fields.
Some other important aspects of becoming a top baseball player that are taught at an IMG baseball camp include leadership training, nutritional education and injury prevention while access to NCSA college recruiting resources is included as well.
Also, our baseball camps feature the latest in technology and testing, such as batting cages that incorporate tech tracking followed by assessment and virtual reality simulation that can provide our coaches and you with a significant amount of essential information.
Another reason why so many players are interested in participating in a baseball camp here is the quality of the coaching that is on hand. Overseeing our coaches is Dan Simonds, our director of baseball. Prior to arriving in Bradenton to run our baseball camps, he served as head coach at Xavier and Miami Universities.
Helping him prepare you for success with your future baseball experiences are numerous coaches who also possess years of high-level college, minor league and major league experience. Multiple IMG coaches have played in the MiLB and MLB.
One example of a player who has benefited from all of these resources is Elijah Green, who Baseball Factory ranked as the top prospect of the current class and who played for IMG Academy's varsity team.
Baseball camps by season
One of the best features that IMG Academy offers is baseball camps throughout the year. You have an option of a summer baseball camp, a fall baseball camp, a winter baseball camp and a spring baseball camp. Also make sure to consider our special holiday baseball camps, which many do in lieu of a regular winter baseball camp.
Perhaps you have been searching for "summer baseball camps near me" and discovered IMG baseball camps, whether our location fits the description of a summer baseball camp near you or not. Regardless of our proximity to you, one of the reasons why a summer baseball camp in Bradenton is popular is because it's timing generally corresponds with school vacations.
June-August is an especially busy time for our baseball camps, resulting in a summer baseball camp here being great for the competition, training and facilities.
Meanwhile, a fall baseball camp might fit your needs better. This is because fall baseball camps can help prepare you for the fall season or be done after it is over as you turn your focus to winter training.
Winter baseball camps are offseason baseball camps that provide you with the ability to enjoy year-round training. Of course, winter baseball camps, our most popular offseason baseball camps, are particularly inviting for players from colder climates, but many of our winter baseball camp attendees are also from Florida and other warm states.
In fact, December-March are amongst the busiest months of the year for our IMG baseball camps.
Also, several of our holiday baseball camps take place in the winter. Examples of popular holiday baseball camps that we hold are three-day ones that occur before and after Christmas. Holiday baseball camps often focus specifically on pitching, catching or hitting.
Of course, spring baseball camps are held at the time of the year that this sport is especially synonymous with although this time is also not as popular as some others for our baseball camps because so many are playing high school and similar forms of competitive baseball then.
With that said, IMG's spring baseball camps provide you with the same level of specialized coaching while access to our tremendous facilities and training methods will, of course, be a part of your spring baseball camp experience.
Note that whether you would like to, for example, take advantage of a summer baseball camp or a spring baseball camp or perhaps one of our holiday camps, they can be overnight youth baseball camps, or you can also handle your housing elsewhere and not have boarding included.

Baseball camps by age groups
Every baseball camp that we offer is tailored to the age group of those in attendance. Examples include youth baseball camps, high school baseball camps, college baseball camps and pro baseball camps.
Youth baseball camps, otherwise known as kids' baseball camps, help younger players prepare for high school and travel ball and any baseball opportunities that may follow. Our youth baseball camps are specifically designed with this age group in mind.
With that said, do note that our youth baseball camps are limited to those 8 years of age and older during the summer, and our kids baseball camps are only accessible to those at least 10 years of age throughout the rest of the year.
Youth baseball camps provide more of a focus on the fundamentals of the sport that older players will have most likely mastered. For these young players, youth baseball camps can result in success in Little League, Babe Ruth and similar types of ball.
High school baseball camps offer a great opportunity to take your game to the next level as you continue your high school career and help determine if you will get to enjoy any post-high school baseball opportunities.
In fact, much of the information that you will learn at this type of baseball camp will be applied throughout your baseball career, regardless of its duration.
Meanwhile, a college baseball camp will provide more advanced training, partially because the game is played at a higher level there, plus you may have professional playing ambitions that a college baseball camp could help you realize.
Our college baseball camps generally involve specialized drills and focuses that will help you reach your potential sooner than would otherwise be possible.
Although exceptions obviously exist, underclassmen taking part in a college baseball camp at IMG Academy are often looking to secure starting places on their teams while upperclassmen at these college baseball camps often want to solidify their spots in the lineup and be amongst the best in their conferences.
We also feature pro baseball camps for those who are already professional and either want to reach the major leagues or are already there and looking for more success at that level. In particular, former Pittsburgh Pirates players Andrew McCutchen and Neil Walker both experienced eye and reaction-time improvement following vision training here. The same technology applied to our pro training is delivered to our baseball camps.
Whether you are looking to take advantage of our junior baseball camps, our pro baseball camps or one in between those ages and skill levels, you will be assured of receiving coaching from instructors who have proven experience with all age groups. At any IMG camp, whatever your baseball skills are, you will receive unique training to your age and goals.
Baseball boarding program
IMG Academy also provides a baseball boarding school option for those looking to take advantage of hitting training, pitching training, educational offerings and other aspects of being here that go beyond our top baseball camps.
Our academic offerings are amongst the nation's best, and our culture also teaches character development and social responsibility. We want all of our baseball players to be ready for what follows in life, on and off the diamond.
Students in our IMG baseball boarding school also get to experience different cultures without leaving the campus as our student body is comprised of individuals from dozens of other countries as well as from throughout the United States. That helps everyone grow more than is possible in many other educational and athletic settings.
IMG Academy boarding school is available to Grades 6-12 and Post-Graduates looking to gain a competitive edge. Student-athletes prepare for collegiate athletics with schedules mirroring those of some of the nation's top sport programs. Our college prep curriculum includes both AP and Honors courses. Specialized tutoring is also available if a student-athlete is engaged in sport-related travel across the country. IMG Academy boarding school balances academics with athletics in a supportive, engaging environment. Our student body is represented by over 60 countries including: China, England, Brazil, Japan, and Mexico. Our student-athletes are committed to the highest level of success both on and off the field.

IMG sport accomplishments
Many of those who have played sports for IMG Academy have experienced a tremendous amount of success. These accolades include more than 1,400 Division I placements since 2011, 2020 national championships in football, 2019 boys basketball and baseball championships and 11 participants in the 2020 Summer Olympics.
Other IMG successes include:
153 DI placements from 2021 graduates and post-graduates
Top-25 national ranking for lacrosse every year since 2015
20+ national team call-ups for boys and girls soccer
17 students and alumni selected in the MLB Draft since 2019
12 alumni on NFL rosters to start the 2021 season
7 alumni selected in the NBA Draft since 2017
6 ITF World Tennis Tour Junior #1s since 2016 Training for every position and skill
Depending on your position, here are just some of the skills you will learn from our expert coaches:
Learn More
Baseball camps by position or specialty
When you take part in an IMG baseball camp, you often receive specialized training, particularly if it is a more advanced baseball camp, such as one involving older players. These types of baseball training camps are focused on baseball drills and other activities.
Our baseball pitching camps are examples of specialized camps. When you participate in a pitching camp, you receive expert guidance in improving your mechanics and delivery as well as how you can physically take care of your arm before, during and after games.
We also know how important it is to have a change of pace in your pitching repertoire, and our pitcher camps help you develop off-speed pitches and improve your curve and slider as well. Another feature of being a good pitcher is knowing how to control the other team's running game, and our pitching camp instructors help you do just that.
Various types of pitching training and pitcher drills are a part of a baseball camp experience. These can include learning different types of throws that help improve a pitcher's power and efficiency.
Fielding is another important skill for pitchers to have, and our pitcher camps help you learn how to respond to both bunts hit towards you and line drives belted at you. Our baseball pitching camps also help you learn how to improve your ability to cover first base on balls hit to right side.
As for the other side of the sport, our baseball hitting camps help those who play elsewhere in the field, two-way players and designated hitters improve their hitting games. The instructors at our hitting camps know all of the facets that go into being a top-notch hitter.
Those who participate in our baseball hitting camps leave with an improved ability to recognize pitches more quickly, have better strike zone discipline and know how to adjust their hitting style to the situation. Bunting is another aspect of our hitting camps.
Our instructors put many of our players through baseball drills that involve hitting balls off of a tee or being tossed to them and engaging in one-arm swings. In addition, our repertoire of baseball drills include ones related to baserunning to ensure that you get from one to the next as efficiently as possible.
Those who spend considerable amounts of time behind the dish will get a lot out of our catcher camps, including catcher drills that involve learning how to receive and block pitches as well as improve your footwork and throw out more runners. Being able to better call a game is another critical skill learned at our catcher camps.
Simply put, our catching training and catching drills will help you improve as a player and teammate in numerous ways.
Outfielder camps provide you with the ability to learn how to better position yourself and more quickly read a ball and get a jump on it. Also taught in our outfielder camps are techniques specific to catching and throwing the ball. In fact, our outfielder drills help those become second nature. Recent baseball trends like fielding shifts and use of computer technologies are reviewed as well.
Those in the infield will learn similar skills and participate in various infielder drills and fielder training in our infielder camps. These include things such as improving how they position themselves prior to pitches, learning how to better turn double plays and engaging in throwing mechanics lessons. Infielder camps also teach you how to expand your range and efficiently participate in rundown plays.
Meanwhile, baseball fielding camps in general incorporate all fielders in situations such as relays and cut-offs. Another fielding training feature of our baseball fielding camps is the teaching of how to communicate with each other on pop flies that both infielders and outfielders are pursuing.
Additional types of baseball drills that are available at baseball training camps are related to vision training. This type of hitting training involves players enhancing their skills in visually processing things and their hand-eye coordination.
Improving the brain's ability to think quickly and the eyes' abilities to move efficiently is a significant part of this baseball camp experience. Part of the way that this is done is through using randomly blinking lights to improve a player's ability to utilize their peripheral vision.
Hitting
Approach, pitch recognition/strike zone discipline, situational hitting and bunting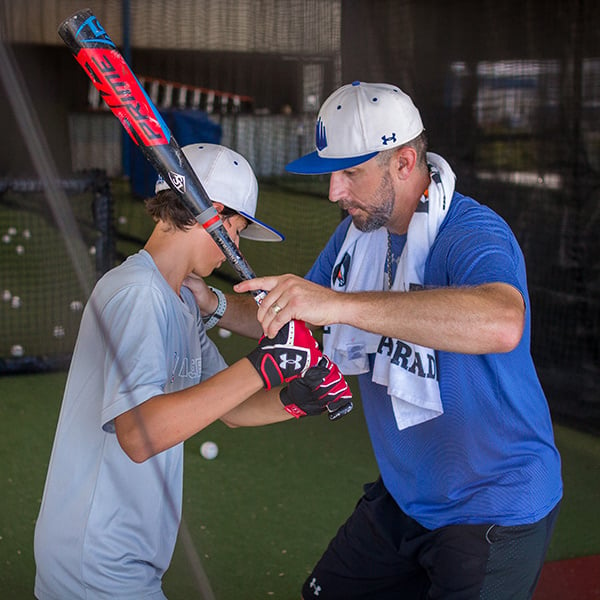 Catching
Receiving, blocking, throwing, footwork & exchange and game calling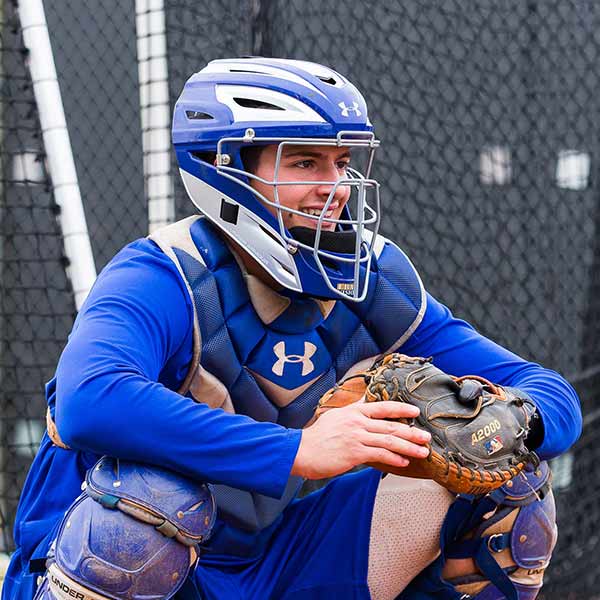 Base running
Primary/secondary leads, proper reads, base stealing and sliding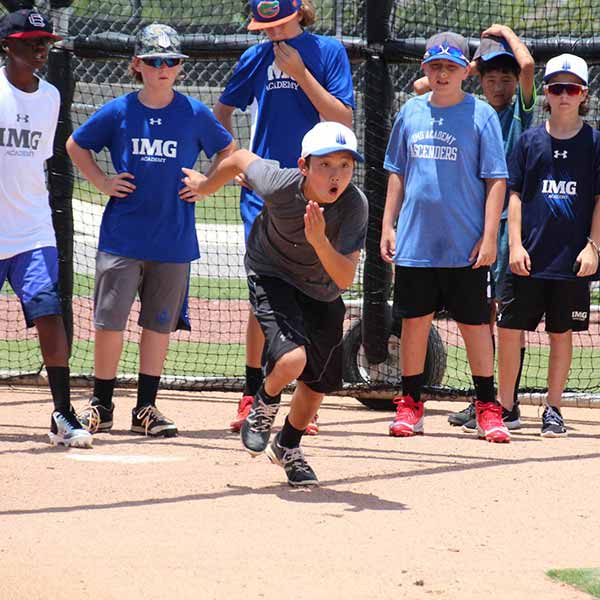 Infield
Pre-pitch preparation, fielding mechanics, throwing footwork, range, double play turns and positioning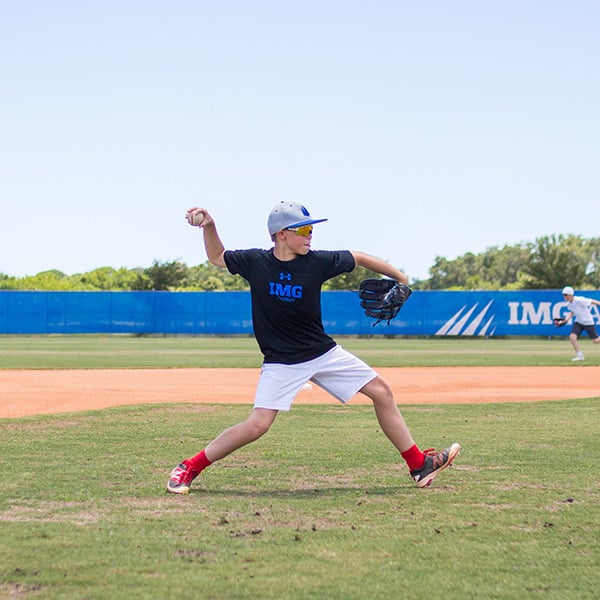 Outfield
Pre-pitch preparation, fly ball and ground ball technique, jumps and reads, throwing and positioning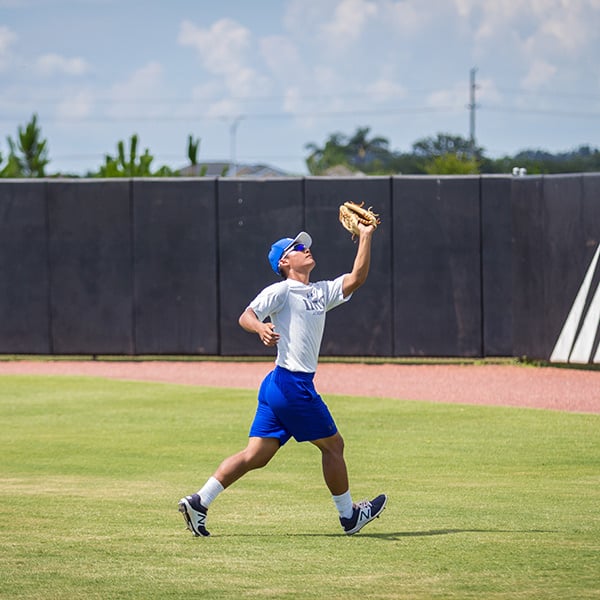 Pitching
Mechanics/delivery, arm care, off-speed development, pitchers fielding practice and controlling running game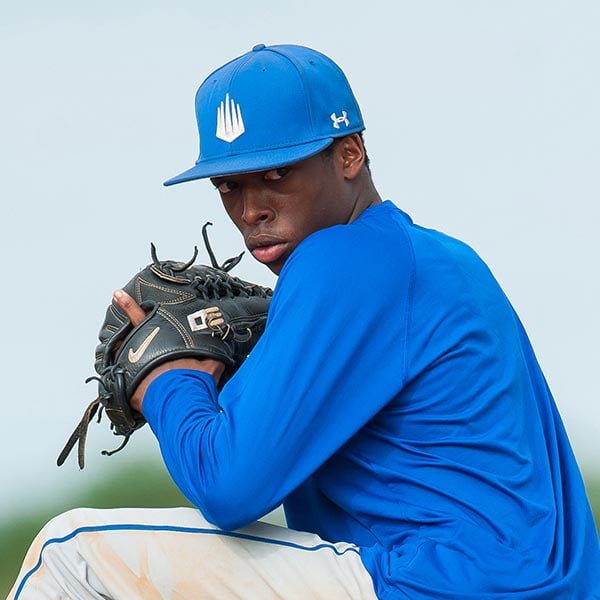 Physical
Increase speed and agility, flexibility, first step quickness, endurance and injury prevention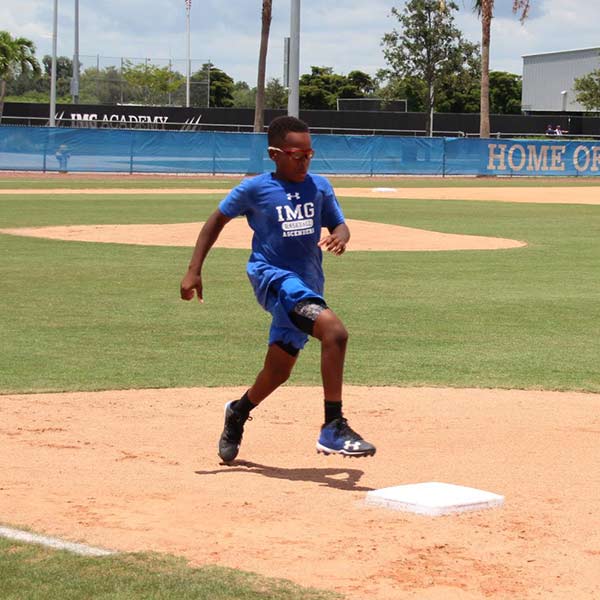 Team fundamentals
Cut-offs & relays, rundown technique, pop fly communication and situational defense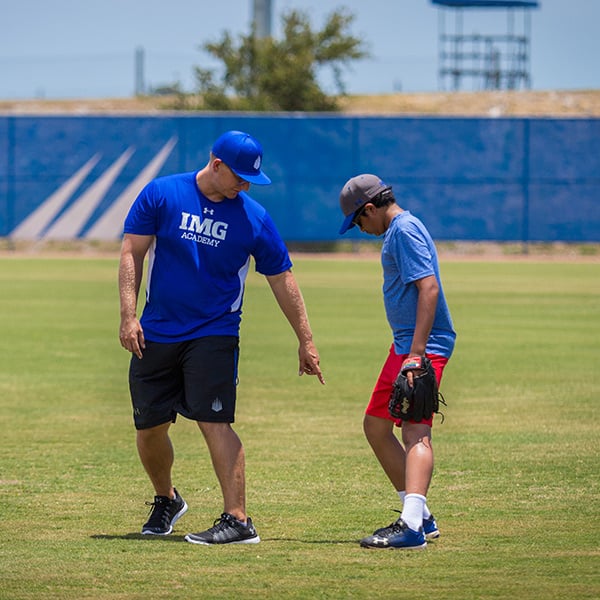 Baseball camp training specializations
All Total Athlete and Game Changer programs include training specializations that can be changed for each week of the camp. Athletes seeking to hone their skills outside of sport-specific training will benefit from these unique training specializations. IMG's expert coaches set athletes apart from their competition, and each session provides campers with takeaways that will significantly impact their game.
Learn More
IMG Academy+ Nutrition and Mindset
A few of the cutting-edge features that we offer those wanting to take part in baseball training camps here are our Academy+ features, which are related to mindset and nutrition. These factors play significant roles in a player's ability to improve over their peers and reach their potential.
Even though pitcher drills, catcher drills, infielder drills and outfielder drills are essential, the mental game is arguably more important than all of those. That is because in addition to needing to master the game's physical skills, you must be able to handle your emotions, both while pushing yourself on a day-to-day basis as well as when a moment is particularly significant.
These mental skills also include motivating yourself. For example, it is easier to be motivated when you are surrounded by coaches and teammates, but can you be just as motivated when on your own? Our instructors will show you how.
Nutrition coaching is significant as well since nutrition is an essential tool for achieving your potential. You want to consume the best foods for playing baseball and in optimal amounts. As a result, this is an additional aspect of a baseball camp experience that is arguably as important than hitting training and pitching training.

Strength & power
Explosive resistance
Jumping and plyometrics
Efficient power development
Correct motor patterns
Speed & agility
Linear acceleration
Maximum velocity
Lateral movement
Multi-directional movement and agility
Mental toughness & vision
Self-talk
Breathing
Imagery
Focus
Emotional regulation
Goal Setting
Nutrition for athletes
The performance plate
Pre-competition fueling
Recovery
Fueling timelines
Hydration
Leadership & communication
Team building
Verbal and non-verbal communication
Identity
Developing relationships
Inspiring and empowering yourself and others
Athlete assessment & injury prevention
Led by on-campus Johns Hopkins All Children's Hospital physical therapists, programming includes movement, strength, and flexibility analysis screenings as well as review sport-specific injury prevention tips. Campers will also learn corrective exercises along with ways to proactively reduce the risk of injury during sport.
College recruiting essentials
Campers will learn how to leverage Next College Student Athlete's (NCSA) online recruiting platform, build their NCSA profile and target college programs that best fit their athletic, academic and personal preferences. Sport-specific recruiting experts will coach campers on communicating effectively and creating quality connections with college coaches throughout their recruiting process.
Learn more about NCSA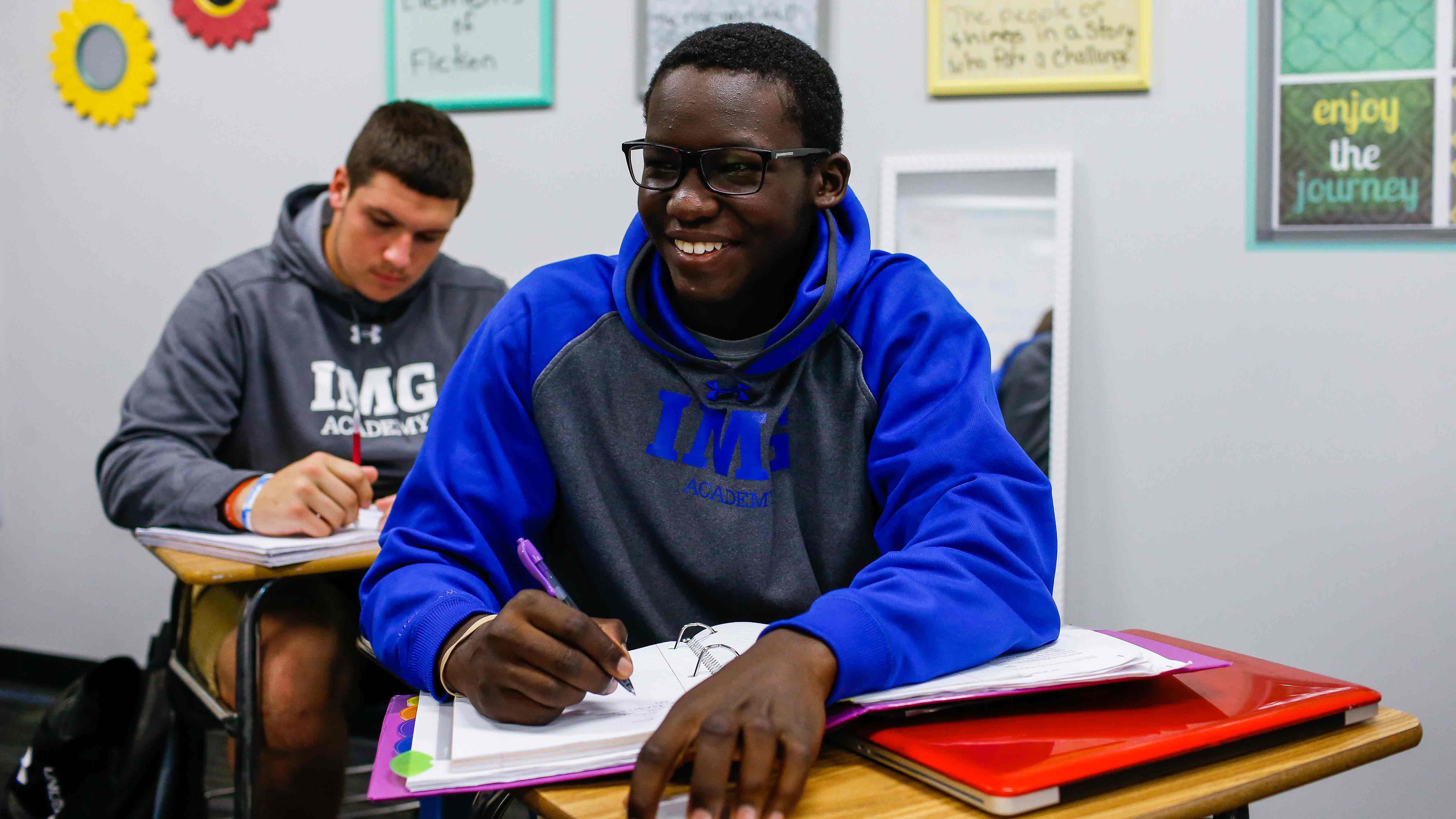 SAT/ACT test prep
Semi-private and individualized classes with our test prep experts helps students prepare for their SAT or ACT college entrance exams. Instructors use official testing materials and offer techniques to help take the exams with confidence.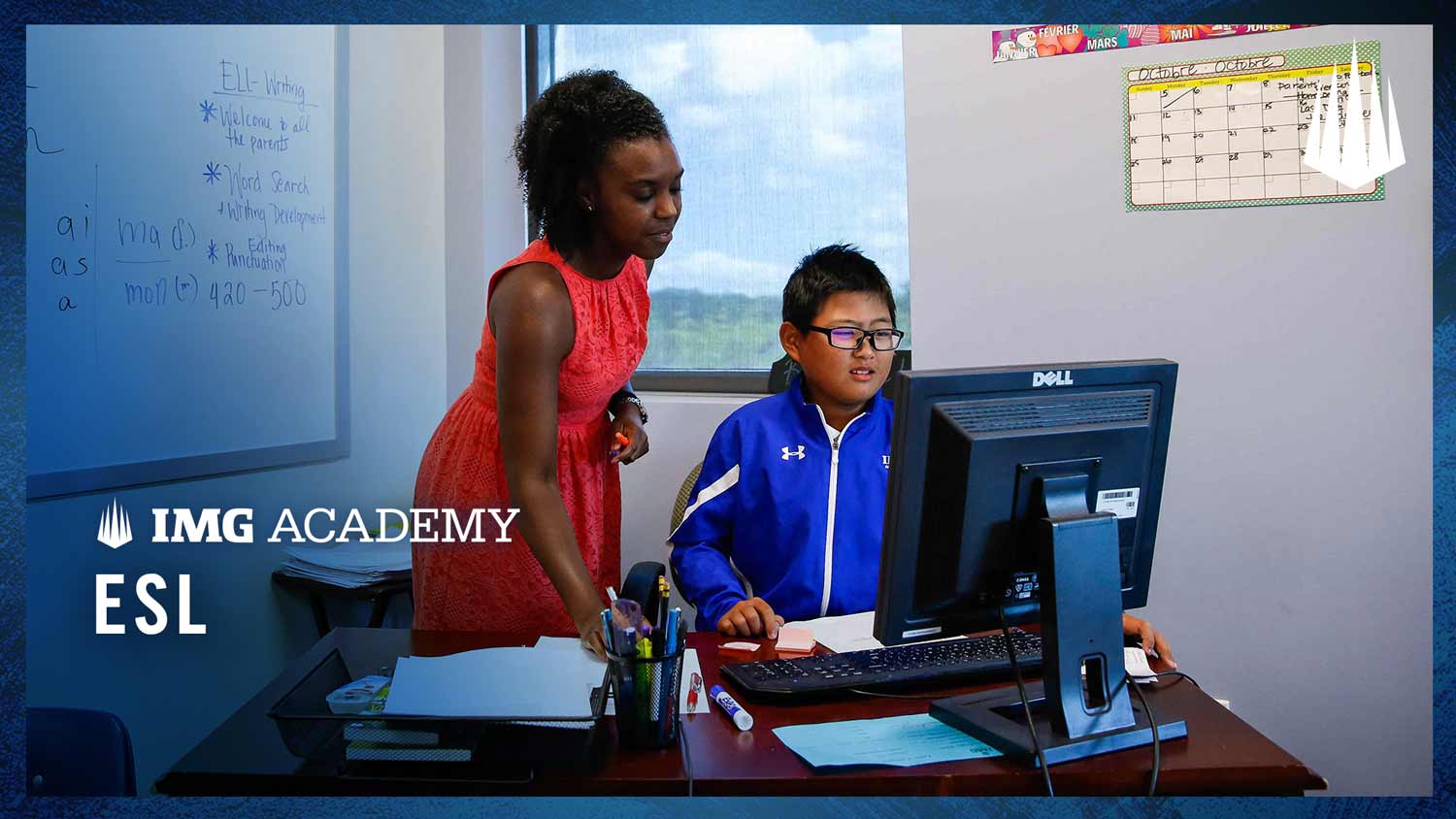 ESL
Campers will have a daily ESL course with weekly themes such as Inspiring People, Extreme Sports, the Endangered Planet, or Entrepreneurs. Instructors focus on communication skills, vocabulary development, conversation, short videos, and grammar as well as test preparation. For all options, please contact an advisor.
Expert coaching
IMG Academy baseball camps are anchored by expert coaches with years of playing and coaching experience at the highest levels. Learn from the pros to gain insights and training methods to continue developing your skills.
Learn More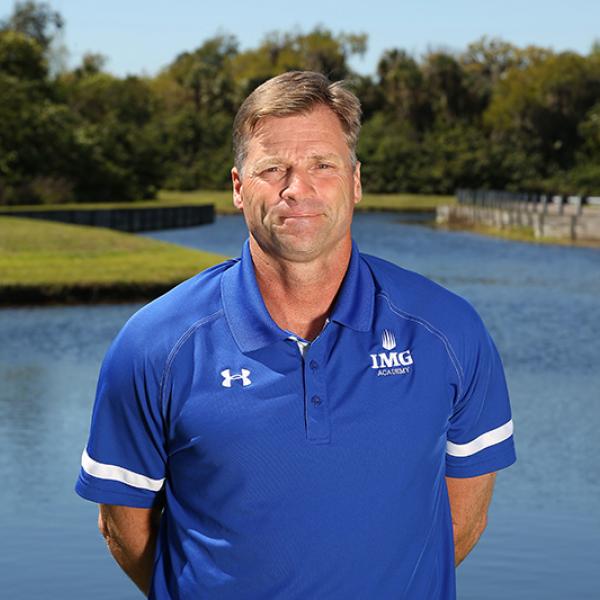 Coach spotlight
Dan Simonds - Director
A former collegiate and professional player and coach who most notably spent eight years as Miami University's head coach, Dan Simonds is a proven leader with a history of developing student-athletes to reach their full potential.
Baseball camp coaching
Helping Director Dan Simonds provide top-notch instruction and training at our camps for baseball are more than 20 professionals, many of whom are athletic specialists who specialize in things like hitting training, pitching training, pitcher drills, catching training, catcher drills, infielder drills and outfielder drills.
However, those are not the only individuals involved in your baseball camp experience. Also included are specialists knowledgeable about other aspects of the sport, such as nutrition and leadership, as well as individuals handling areas such as strength and conditioning and athletic training.
IMG Academy baseball coaching staff have years of experience across all skill-levels, whether a camper is just learning the fundamentals, or an aspiring high school senior is seeking baseball training to prepare to play at the collegiate level. Baseball coaching at IMG Academy is the foundation around which the baseball training curriculum is built. For example, campers may spend part of their day working with a former World Series champion in the classroom before transitioning to position-specific field drills led by a College World Series champion.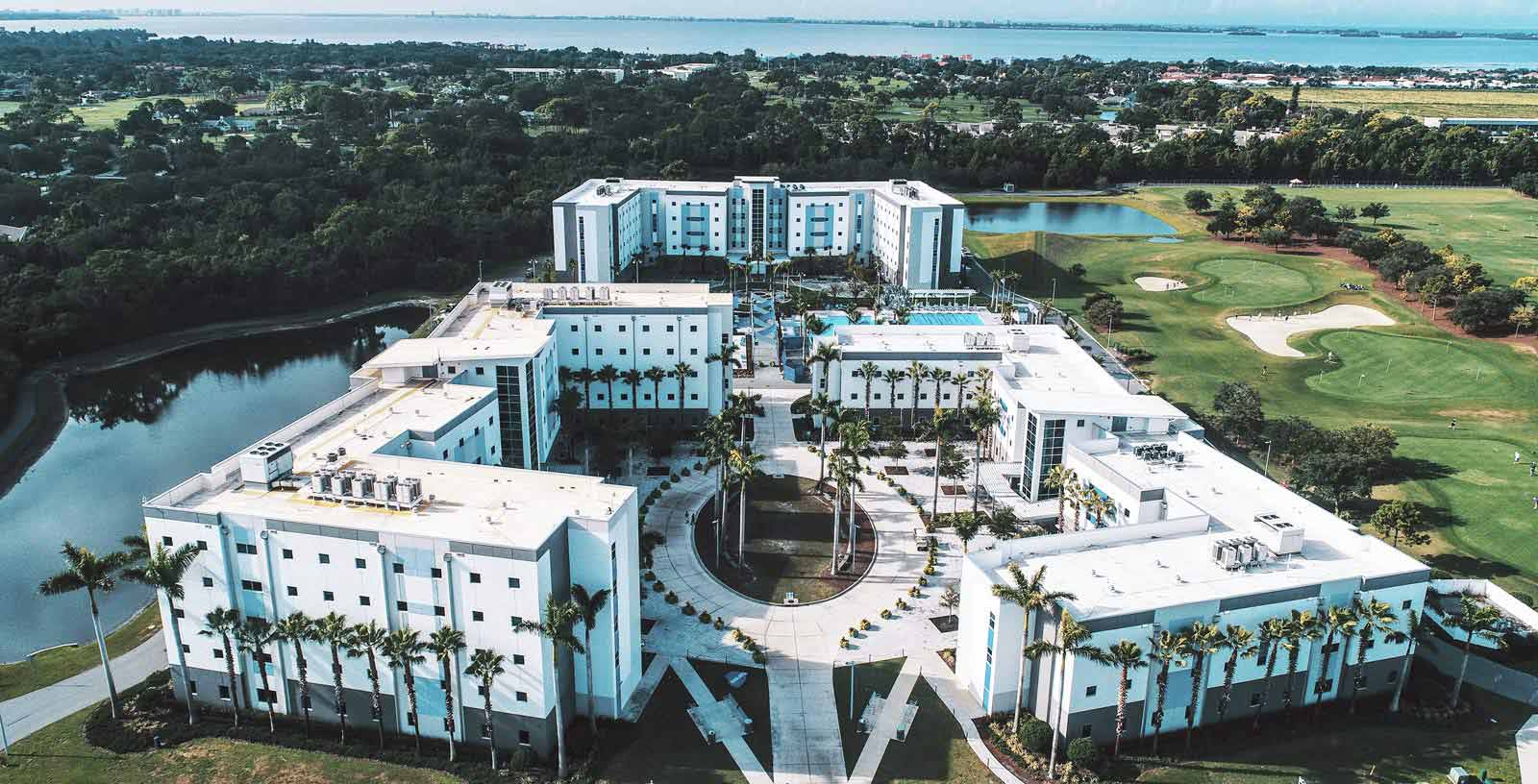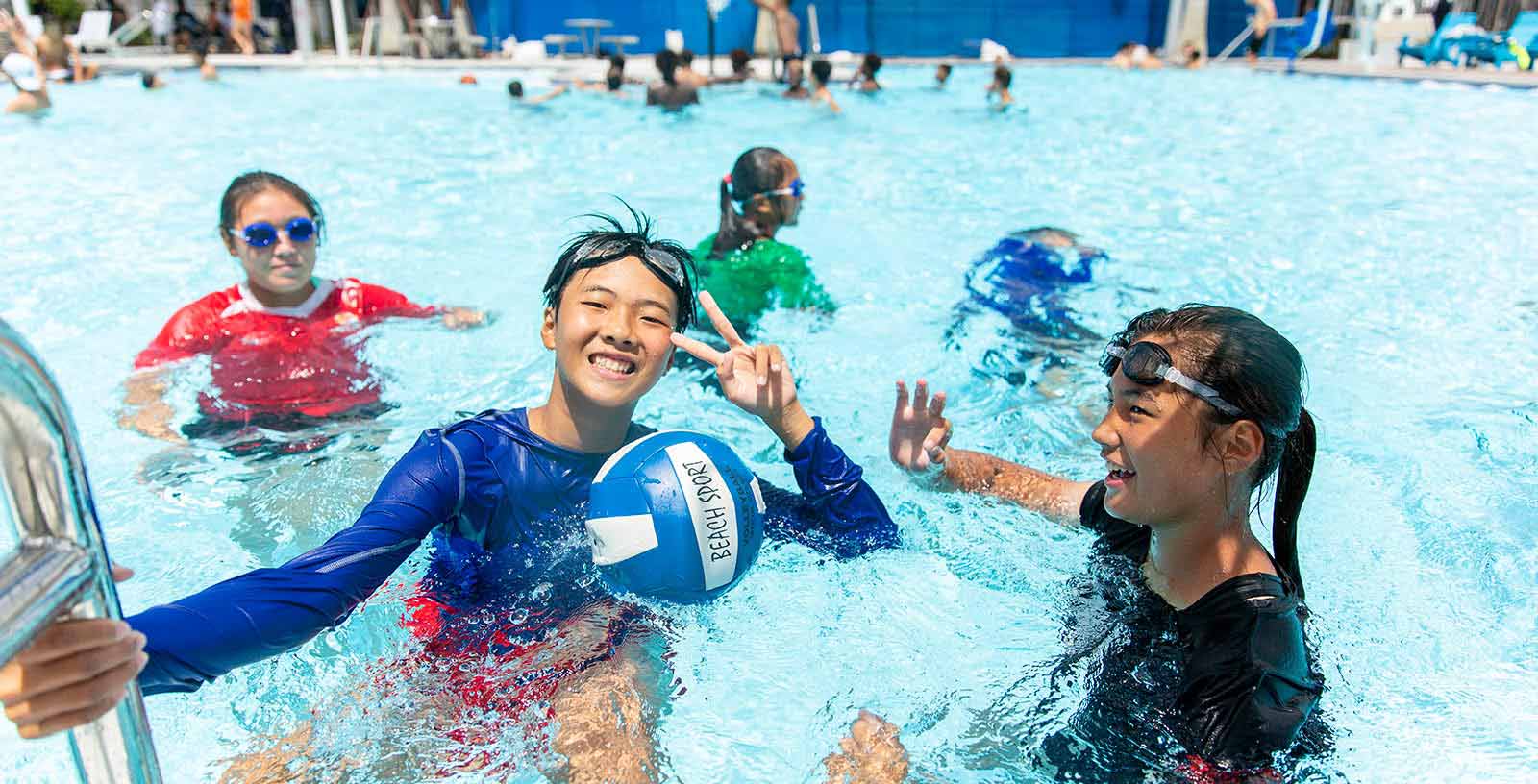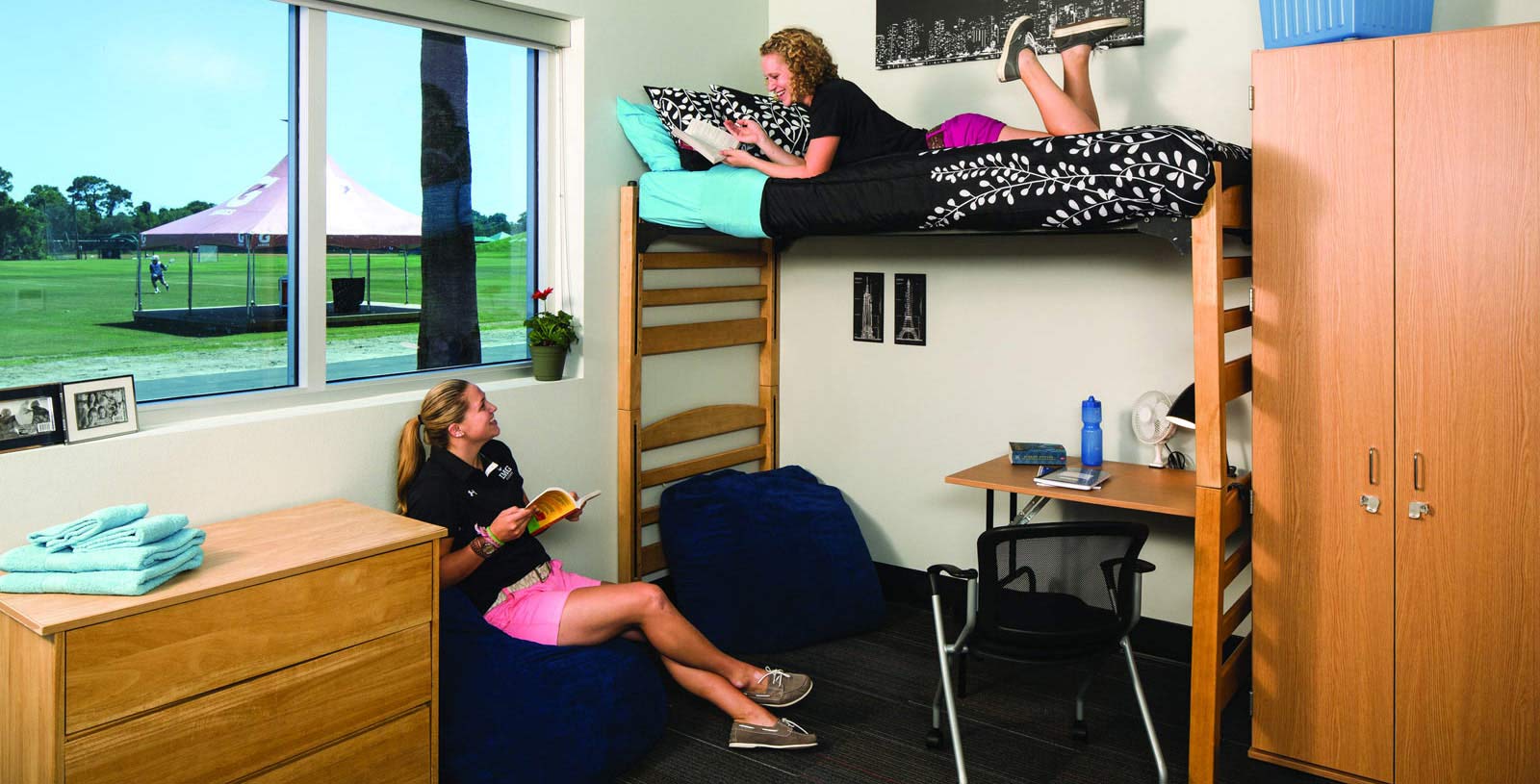 Year-round performance and world-class amenities
IMG Academy's baseball camps are a great opportunity for young baseball athletes to hone their skills, make friends, and learn valuable lessons about teamwork. At IMG Academy's sleepaway baseball camp, campers can take advantage of world-class coaching and state-of-the-art facilities to improve their game.
We offer day and overnight baseball camp options throughout the year and also have special group rates for teams that want to train together during off-season or holidays. The boarding option gives campers the opportunity to sleepover in Ascender Residences Halls with 24/7 access to campus amenities and a full team of residential mentors.
A perfect option for local baseball campers or for families on vacation in the Sarasota and Bradenton area, many on and off-campus housing options are available for adults and families, including the Legacy Hotel, The Lodge, Academy Park Villas, Ritz-Carlton, Holiday Inn Express and Suites and more, including beachfront resorts.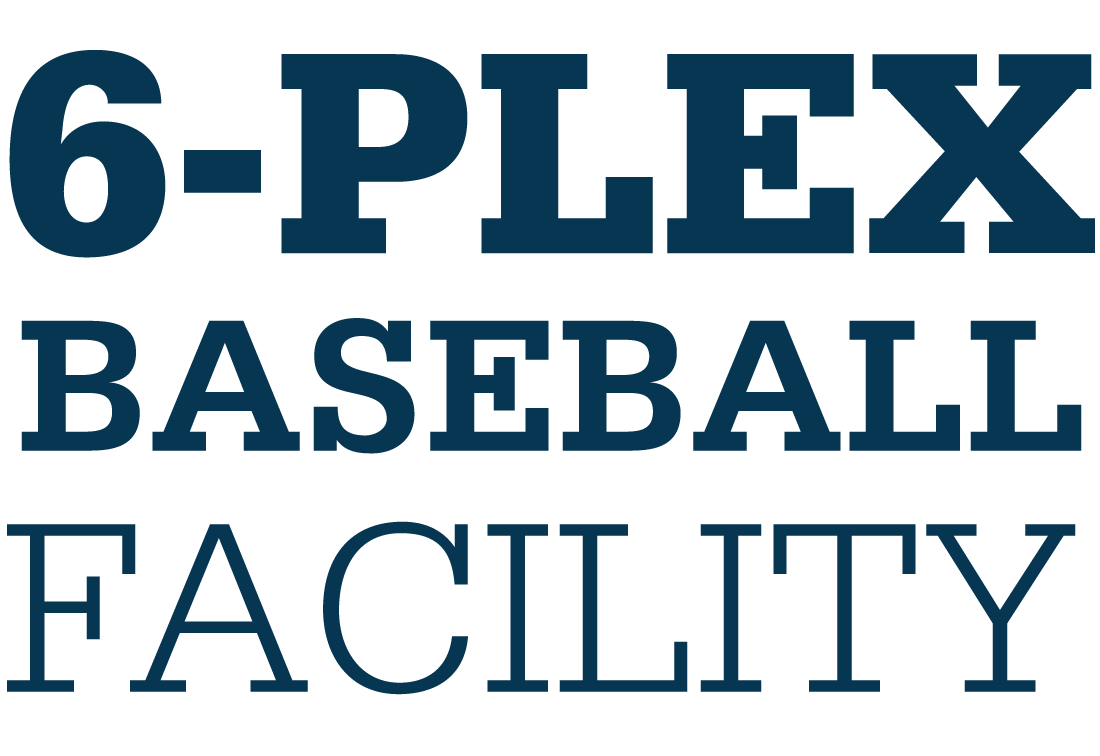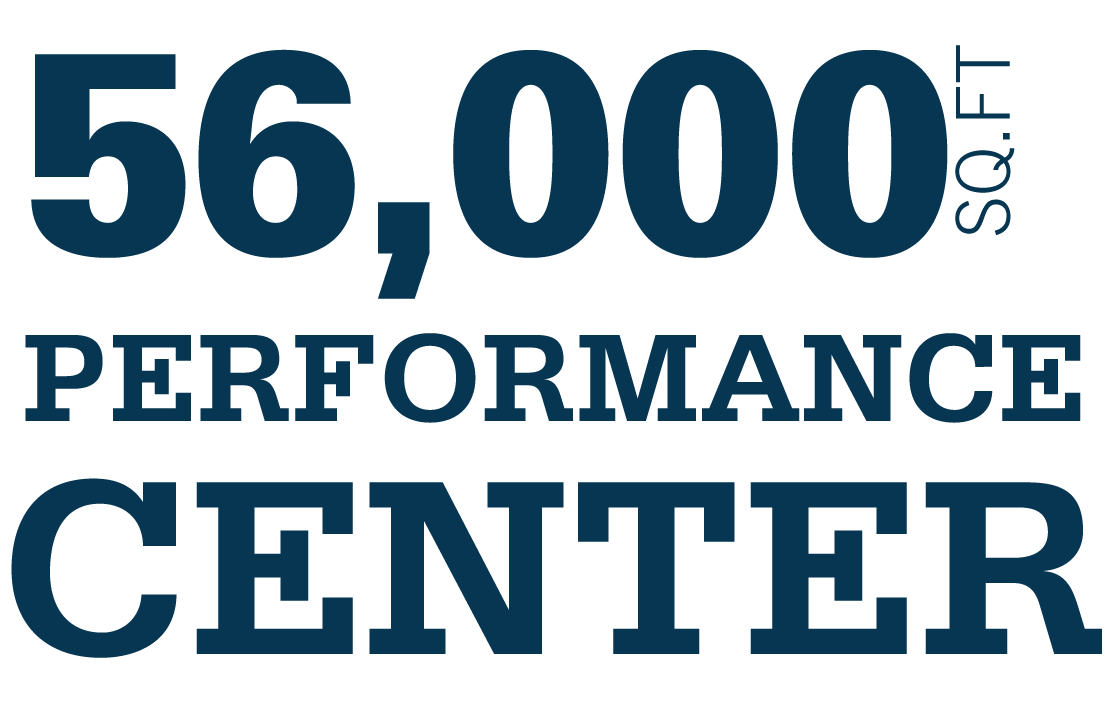 Sample weekly camp schedule
AM

Session

PM

Session

Monday
TRAINING SESSION
(OFFENSE)
TRAINING SESSION
(DEFENSE)
Tuesday
TRAINING SESSION / SCRIMMAGE GAME
TRAINING SESSION
(OFFENSE/DEFENSE)
Wednesday
TRAINING SESSION
(OFFENSE)
TRAINING SESSION
(DEFENSE)
Thursday
TRAINING SESSION / SCRIMMAGE GAME
TRAINING SESSION
(OFFENSE/DEFENSE)
Friday
TRAINING SESSION / SCRIMMAGE GAME
TRAINING SESSION
(OFFENSE/DEFENSE)

Curriculum includes a college recruiting seminar and additional optional training time on Saturdays for multi-week campers.

IMG Camp Includes:

3 Strength & conditioning sessions
1 Mental conditioning session
Campers train here
6-plex baseball complex with stadium for showcase games and tournaments
16 practice mounds, 4 indoor batting cages, and 12 outdoor batting cages
Fieldhouse with professional-style locker rooms, coaches' offices, and meeting rooms
Performance & Sports Science Center
Mind Gym for mental conditioning sessions and vision training
Strength and conditioning equipment
Classrooms for nutrition and leadership training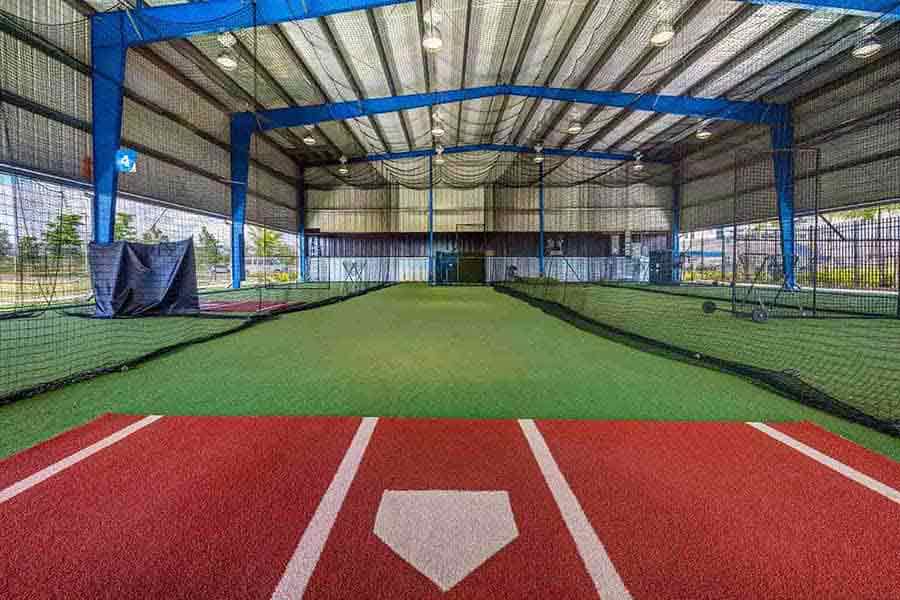 Enhance your camp
After you've registered for a baseball camp, take advantage of our chaperoned, off-campus excursions, and visit some of the best local area attractions. Trip options include Busch Gardens, Adventure Island, Tampa Bay Rays, Bradenton Marauders, Top Golf, and more.
For exact pricing and to reserve your camper's spot, book a camp online, and then contact our Camp Service team at [email protected] or call (941) 749-8660.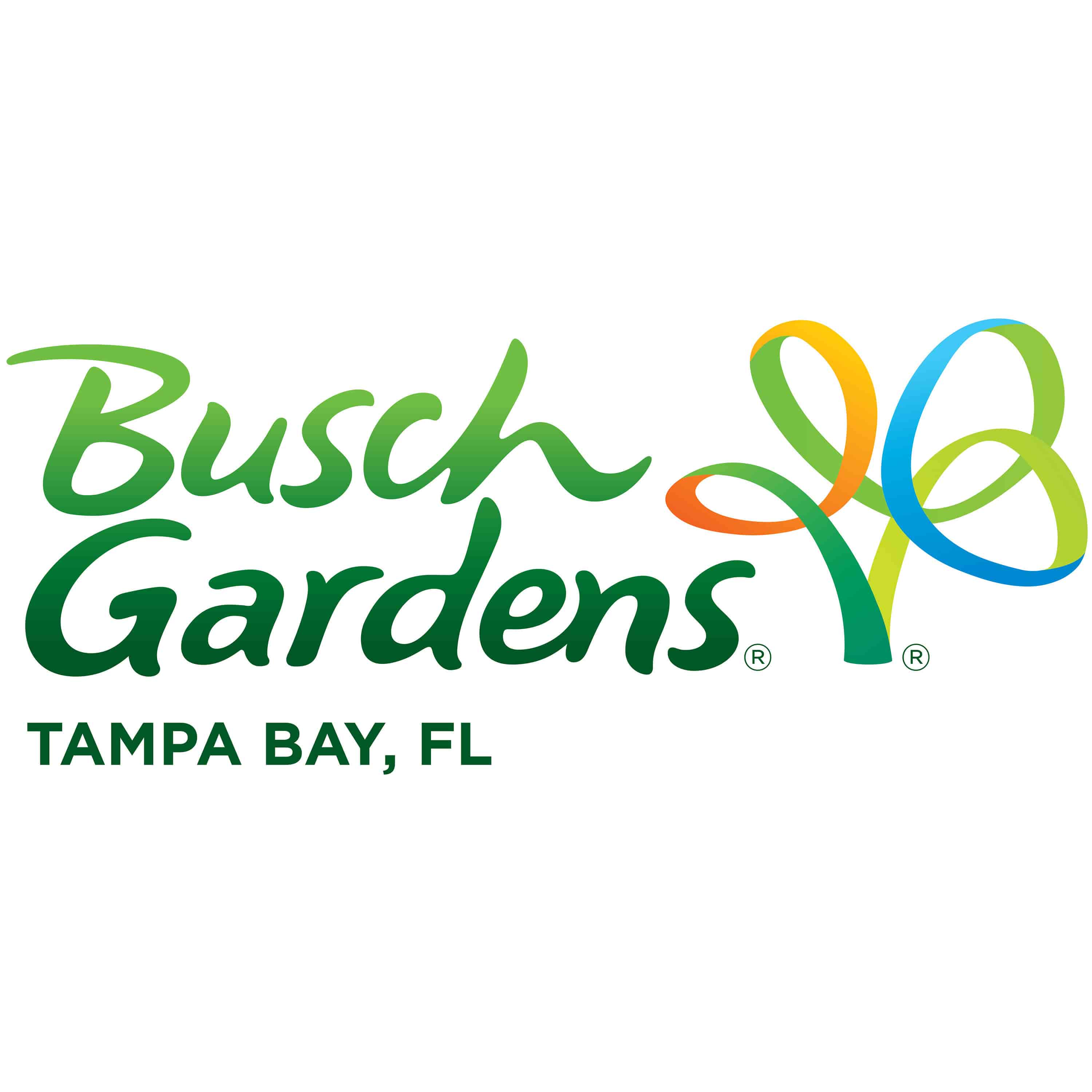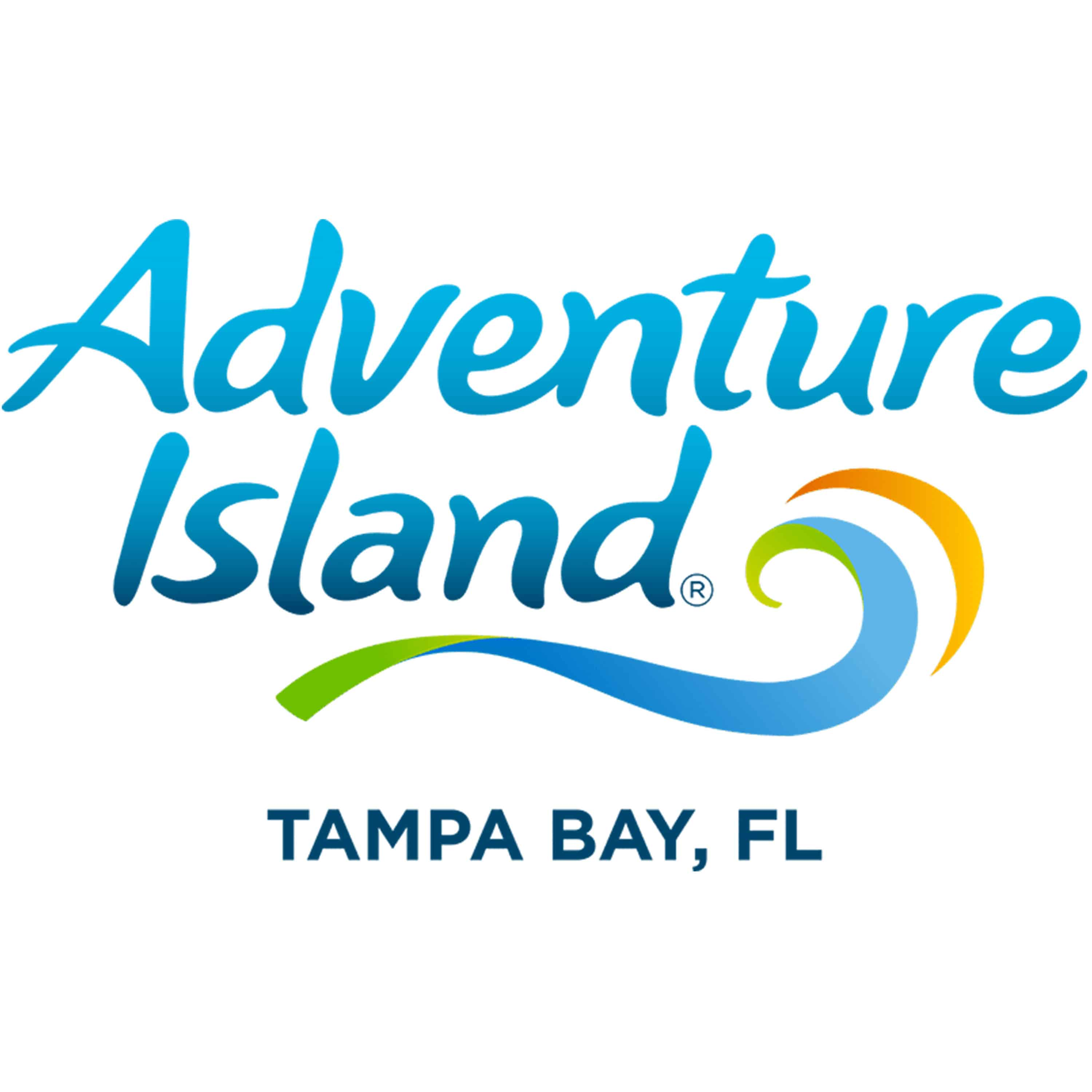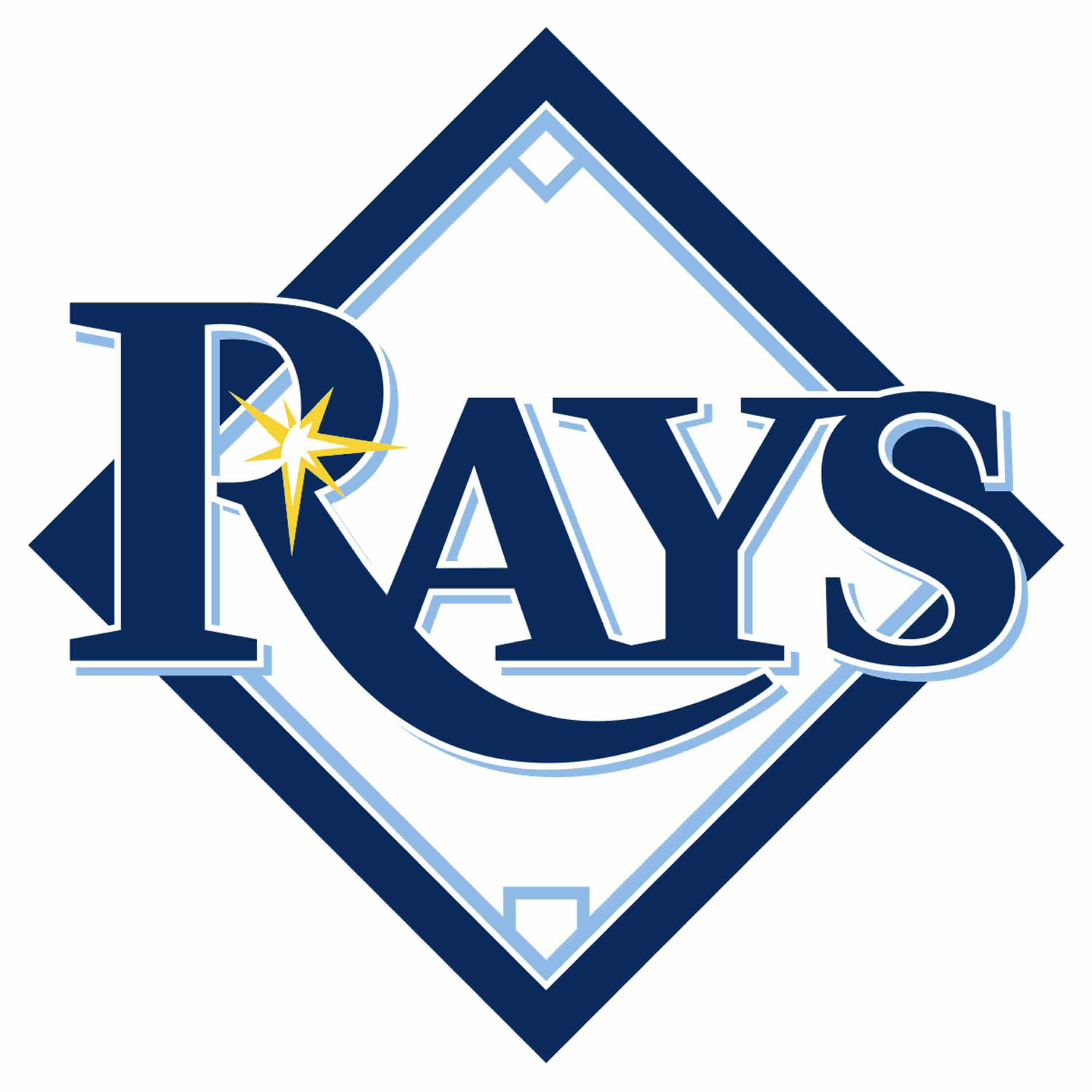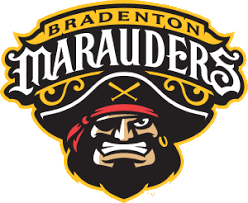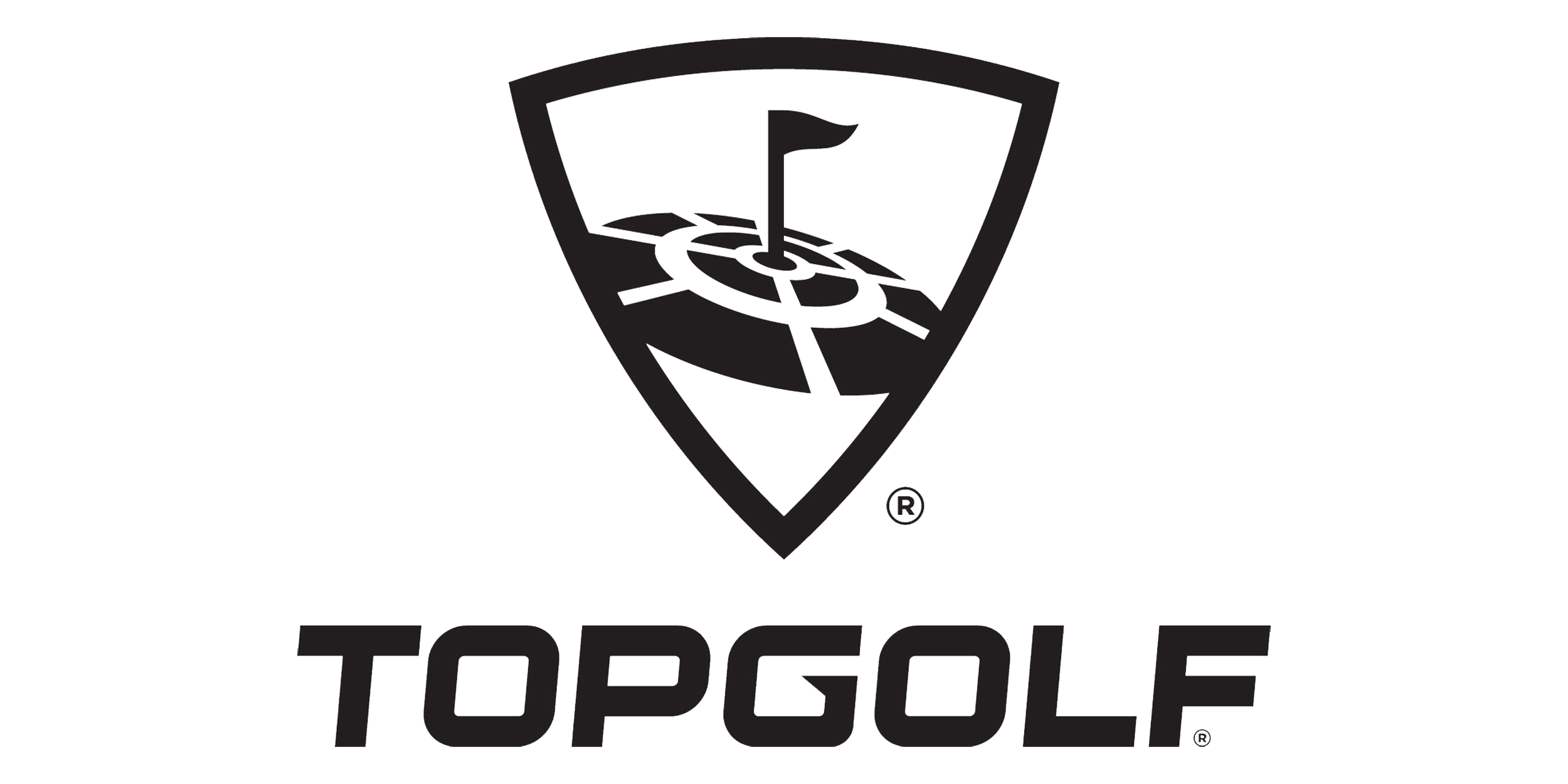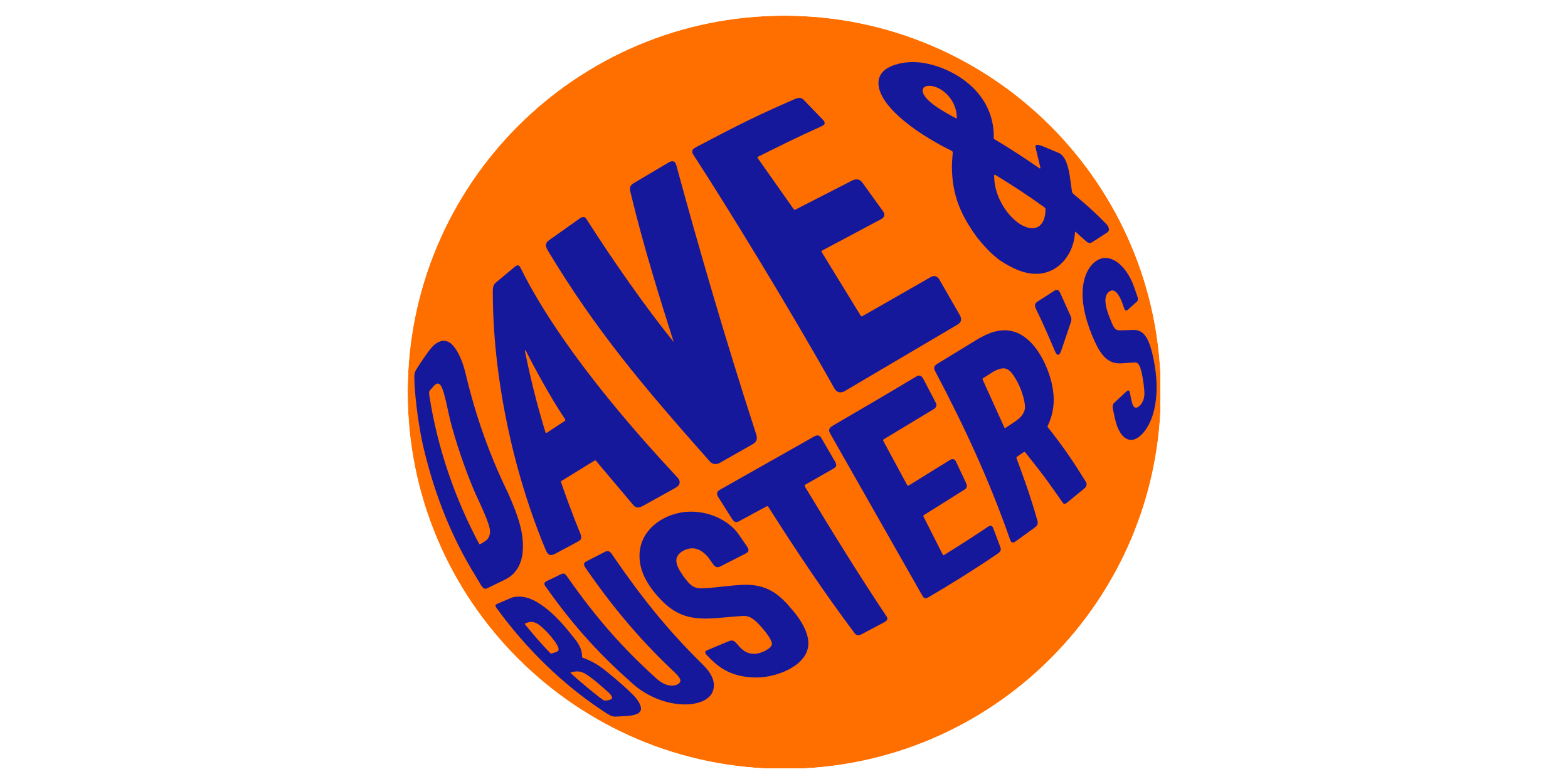 VIA campers
The VIA program, designed for 8-9 year boarding and non-boarding campers, is available for camp weeks between 6/26 - 7/31.
Your young athlete deserves the highest level of support and comfort during their camp experience. IMG Academy offers additional support and oversight for 8-9 year old campers at no additional cost for this very reason! The VIA (Very Important Athlete) program consists of designated pick-up and drop-off locations and age-appropriate activities and programming tailored to camper schedules delivered by a responsible and energetic team guiding campers throughout their experience.
Available camps
3-day holiday camp
Start Dates: 12/20, 12/27
5-day holiday camp
Start Date: 12/18
Weekly summer camp
Available: 6/5 - 8/13/22
3-week summer camp
Available: 6/5 - 8/6/22
---
Choosing a camp
How to choose the
length of stay

for your child
The longer you stay, the better you become.
Capitalize on our progressive sport camps that build on each week incrementally.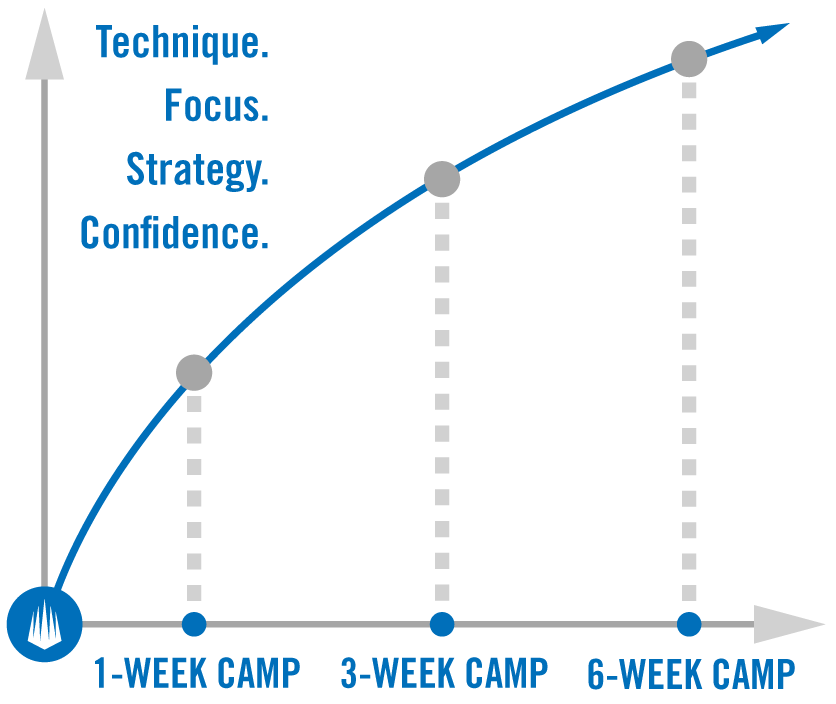 Learn from expert coaches and improve your game during IMG's 1-week sport camps that offer five full days of training.
Campers who attend IMG's 3 and 6-week camps see the greatest benefits, as they are fully immersed within the program, strengthening relationships with our expert coaches and staff, and developing their skills on a week-by-week basis.
Selecting a
training program

for your child
Based on 40+ years of athlete development, we've created four training programs uniquely tailored to help athletes experience a transformation to their game.
Training Program
IMG Camp
Total Athlete
Breakthrough
Game Changer
Program Description

The revolutionary IMG methodology that includes elite sport instruction and core performance training.

IMG Camp

+

1 daily training specialization session.

IMG Camp

+

1 daily personalized sport training session.

IMG Camp

+

Total Athlete

+

Breakthrough

Designed For

Athletes still learning and refining their game.

Athletes who want to enhance strength, speed, mental toughness or other areas of performance.

Athletes who want to hone specific aspects of their game with customized coaching.

Athletes who want the ultimate training experience to transform their game.
What parents and campers wish they knew
prior to booking
Camp registration closes 10 days prior to the start of each camp.
Camp check-in is on Sunday, and check-out is on Saturday (except for some Holiday and Tournament camps).
Camps are available year-round, with January-March, June-August, and December as the most popular months among athletes. It's important to book at least 6 months ahead to reserve your spot and ensure availability.
Campers can extend their camp stay while on campus, pending boarding and sport training availability.
Prices may increase the closer to a booking date, so book early to save.
Multi-week campers typically book one of our chaperoned off-campus excursions to relax and enjoy time with other campers at some of our local attractions. For exact pricing and to reserve your camper's spot, book a camp online, and then contact our Camp Service team at

[email protected]

or call (941) 749-8660.
Groups of 5 or more can receive a discounted rate for booking together. Simply call our camp advisors to make a group reservation to save. 1-800-872-6425
Refundable camp options are available. If you purchase a refundable package, IMGA will refund the amount you paid to purchase the package, less a service fee equal to 2.5% of the total amount paid for such package, provided you cancel the package at least 48 hours in advance of your original scheduled date of arrival.
Bring the
IMG Academy

experience home
Enhance your camp experience with expert training through IMG Academy+ mental performance and nutrition coaching.
1-on-1 online training with IMG coaching experts
Includes pre-assessment, customizable scheduling of individualized coaching, routine evaluations, & more
Training & takeaways you can apply to your game right away
Explore Online Coaching
---
Need More Help?
Request a consultation with one of our advisors today!