GRADUATES HAVE COMMITTED TO ARIZONA, BAYLOR, LSU, AND MORE
About Our Program
IMG Academy coaches foster a structured, challenging and motivating environment that focuses on total development and prepares our girls to perform at the highest level. We understand how to train female student-athletes to become champions through a structured, challenging and motivating environment in which to lean the complexity of the women's game. Our coaches understand what it takes to perform at the next level, and they train players with the next level in mind. That's why the IMG Academy girls basketball program is recognized as the nation's best for total development. Our goal is to help every student-athlete reach her goals through a proven training methodology that prepares them to compete anywhere. To facilitate total athletic development, we offer performance training developed over the course of nearly 40 years that can integrate with sport training. Our goal is to help you reach your full potential in sport and life.
Program Structure
With teams at the post-graduate, varsity, junior varsity and middle school levels – and a unique developmental approach to each – the IMG Academy basketball program provides the nation's most effective training environment. Upperclassmen and post-graduates experience intensive, position-specific instruction that replicates how collegiate programs operate. Underclassmen and middle school student-athletes experience a training methodology focused more on development and foundation-setting for continued growth.
This training is forged through repetition and applied through local, regional and national competition. Ultimately, student-athletes become some of the most sought-after recruits for all levels of basketball, as IMG Academy has developed a deserved reputation for graduating skilled and mature student-athletes ready to succeed in college.
Program Accomplishments
Program Accomplishments
13 alumni competed in the 2016 NCAA Tournament (men's and women's)
89 D-I commitments since 2012 (men's and women's)
USA Basketball Women's U-18 National Team Selection
Basketball Facilities
Basketball athletes have access to our 4 pro-style basketball courts, 65,000 square-foot Performance Center with a 12,000 square-foot weight room, covered turf facility and multiple strategy rooms for video analysis. All of our facilities are maintained at a professional standard to ensure the perfect training environment for every athlete.
College Matriculation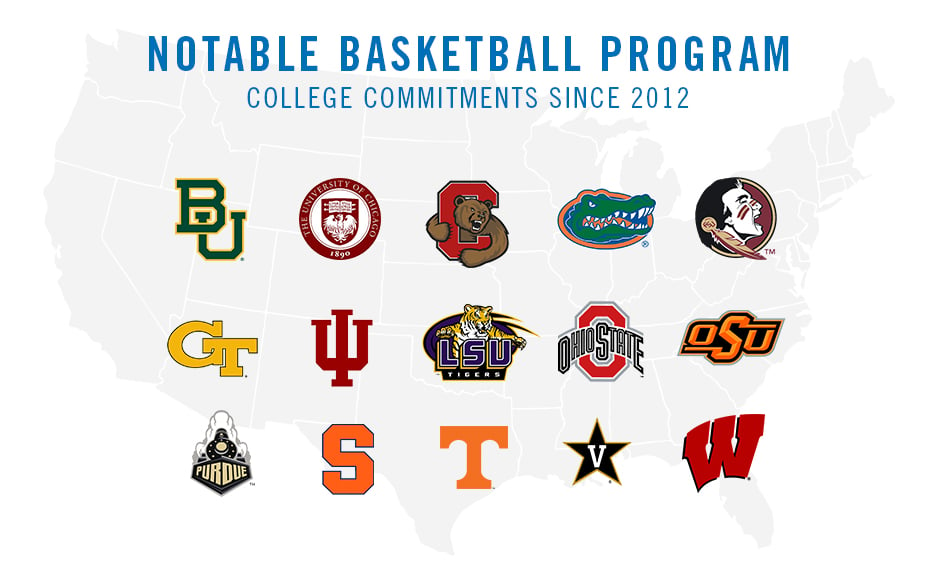 Athletic & Personal Development
Pregeneration
Speed & Movement
Strength & Power
Flexibility, balance & core
Conditioning
Regeneration
Sports therapy evaluation
Injury prevention
Proactive rehabilitation
Injury management / education
Personal profile
Nutritional goals & strategies
Body framework
Nutrient intake & timing
Supplements
Visual activity
Vision strengthening
Visual application
Visual enhancement
Connect With Us & Get A Guide