IMG trainee LaShawn Merritt gives Olympic preview at Prefontaine Classic
June 05, 2012
by: kberard
The afternoon of races in Eugene, Oregon, began with the men's 400 meter race. Kirani James began with a false start, but was allowed to restart the race. He held a slight lead coming off the final turn, but IMG trainee LaShawn Meritt found his legs for a last minute boost to win in 44.91. James finished third under protest. Merritt's fellow IMG trainee Angelo Taylor finished in true third at 45.59.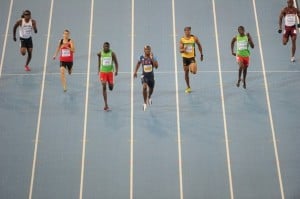 Merritt told the Eugene Daily News: "You train to win so when you get into a race, you want to win," said Merritt. "I executed my part of my race, which was that homestretch."
The event marked Merritt's last race before the Olympic Trials in Eugene later this month.
Both Merritt and Taylor call IMG Academy in Bradenton, Fla. their training home. They are coached by Loren Seagrave, IMG's Director of Speed and Movement.