Bollettieri speaks at Soccer Academy
March 04, 2009
by: IMGSoccer1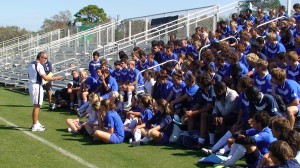 Life around the Academy moves so quickly, we often miss out or are simply too busy to stop, recognize and appreciate all it took to make this campus so special. Today, both players and staff got the opportunity to meet the man leading the charge to change the lives of young student athletes around the world....Mr. Nick Bollettieri.
A brief intro by Director of Coaching Tom Durkin, lead to the applause of one of the hardest working, most inspiring men any of us will ever meet. As Coach Bollettieri begun speaking to our players, the crowd quickly realized what it took to make IMG Academy so extraordinary, HARD WORK! Nick believes "You can achieve the impossible if you try the impossible," This campus and all his achievements are verification of that statement.
As Coach Bollettieri closed he challenged every ear listening to be the very best and "it's not how good you are, it's how good you want to be." After coaching so many Champions, being recognized as one of the best tennis coaches ever and establishing Bradenton, FLas the #1 Sports Training Facility in the world, you'd think that was enough, but it's not. Nick will continue to inspire young lives and today, at The Soccer Academy, that is exactly what he did.