Catching up with IMG Academy basketball program alum/Louisville star Jared Swopshire
July 20, 2009
by: Dan Tierney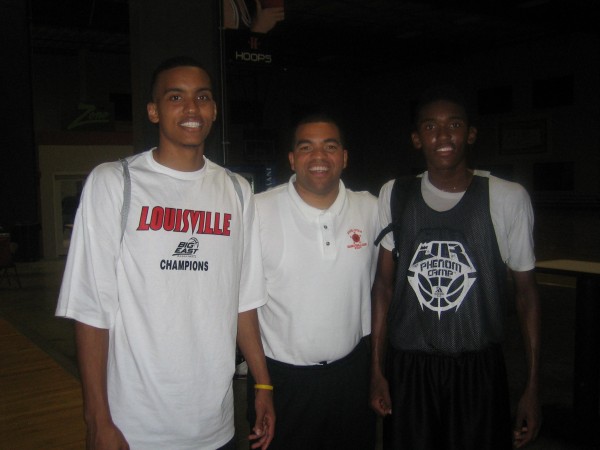 Vince Walden, the IMG Academy basketball program's national program coordinator, recently worked as an instructor at Five-Star Basketball camps in Pittsburgh, PA and Louisville, KY. While in Louisville, Walden caught up with current Louisville men's basketball star Jared Swopshire, an IMG Academy basketball program graduate.
Vince Walden: How do you feel about how your freshman year went?
Jared Swopshire: My approach toward the year was to look at every practice as if it were a game, and I competed hard with my teammates every day. We went to the Elite 8, and a couple of them were blessed to become lottery picks, like Terrence Williams and Earl Clark (did pre-draft training at IMG).
VW: It sounds like the journey has continued to be successful since graduating from IMG?
JS: Yes, sir, it has. I stay in the gym. The way I see it is that you can't take any days off. Now, I'm competing for minutes. If you want to go to the NBA, you just have to keep handling your business on and off the court. In the classroom (Jared has a 3.7 GPA). Hanging out with the right guys. Just staying hungry!
VW: You mentioned hanging out with the "right guys." How do you define the right guys?
JS: I hang with a lot of the older guys. Guys who have the same goals. Guys who have been there and done that. We have a lot of Louisville alumni who have played or are playing professionally come back to Louisville now and play pickup games.
VW: What are some of your goals going into next year?
JS: National Championship! I would like to help my team out as much as I can, while continuing to improve as a player. Hopefully, I will make it to the NBA
VW: Now, Jared I have to ask this question. There has been a lot of talk about Coach Calipari coming to the state of Kentucky... (Jared is smiling).
JS: Oh, man, Coach Vince. For those people who don't know about the Louisville/Kentucky rivalary, they will know after this season. I've heard a lot about the atmosphere and the fans at Rupp Areana. They have some talent coming in this year, so (again a big smile, shifts in his chair a little) I'm looking forward to going down there and winning that one!
VW: Who's been the most impressive this summer?
JS: (Louisville guard) Edgar Sosa! He has led the way with his work ethic and leadership.
Jared summer's schedule:
Morning: Weight lifting and conditioning, then to the classroom.
Afternoon: On-court workout and pickup games.
Evening: On-court workout.