Soccer recap: Oct. 17 and 18
October 26, 2009
by: Dan Tierney
The U.S. Soccer Development Academy League is a partnership between U.S. Soccer and the top youth clubs around the country to provide the best youth players in the U.S. with an every day environment designed to produce the next generation of National Team players. The IMG Academy soccer program U-18 boys' team finished 3rd in the nation in 2009.
Consisting of some of Florida's elite soccer clubs, the Club Directors League matches IMG Academy soccer program boys' and girls' teams against top competition.
U.S. Soccer Development Academy League
U.S. U-17 National Team 1, IMG U-18 0
It was a game to use as a measuring stick against the national's best players in their final phase of preparation for the U-17 World Cup. We had no expectations of winning...our objective was simple...use the game as a measuring stick to see how much progress we have made in the last 7 weeks. To see if we can close the gap in the four areas of concern: fitness, technique, tactics and mental toughness. If this was a test the boys passed with flying colors. Now the only remaining question is "how much better can we really become?"
We gave as good as we got. We were equal to the task for the most part and only a step off of running the game. Our defense was stretched but not broken and our attack was well constructed but lacked sting at the end. In the end I am very pleased with the progress the boys had made thus far and hope we can use this match as a spring
U-16 U.S. Soccer Academy Development League
This weekend we didn't have a league scheduled game so we had the opportunity to schedule a friendly with the U.S. National Team. It was a great opportunity to see how far we have come as a team against a quality opposition. We knew we would have to be very discipline in our individual roles while also maintaining our objectives organizationally as a team.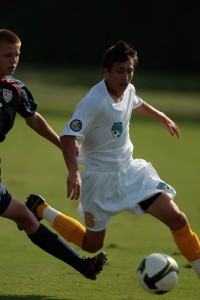 The start of the game we played quite well defensively but failed to maintain possession of the ball when we had the chance. The U.S. put a tremendous amount of pressure on the ball, and we really couldn't cope with it. We couldn't string enough passes together to mount an attack to put the US on their heels defensively and when that happens you usually have to defend for extended periods of time, which results in goals. Overall, it was a great learning experience for our boys to see how a top team stays focused for the entire match even though there was no danger of the US team losing. The final result was 5-0 for the US, now we must regroup as a team and come fully prepared to train at a high level of intensity to get where we want to go... the playoffs.
Club Directors League
U-15 Girls
The speed of play from a team like Central Florida was a good challenge. Not only are their players very fast, but the speed of play was extremely competitive for our team. Both teams passed well, received the ball into space well, connected on many combo runs and defended well. The little difference was the consistency in which we performed at that level for 80 minutes. At that level, it becomes a mental toughness factor for every player. Our higher level of play has brought us better performances on the field.
Central Florida4, IMG 0. Great team. I told the girls after the game that they played very well. A little more consistency executing plays and staying mentally tough the entire game was really the only little difference.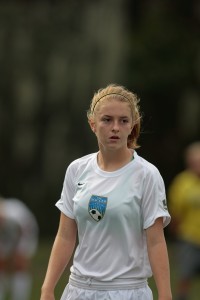 IMG 3, Clearwater 0. Played this game with great intensity and we controlled the speed of play. Executed very well with our passing, and the timing of our runs. Great combo's out wide and thru the central midfield. Defensively we played awesome. I believe CF made us believe that we deserve to play at that level all the time. Nice carry over from yesterday's game.
U-15 boys
IMG 3, Central Florida 0
The IMG Academy soccer program U15s took on CFU and Clearwater SC this past weekend at Academy Park. Both matches were a success for IMG, winning 3-0 against CFU and 8-0 against Clearwater. Playing some of their best soccer of the year, IMG got goals from Will Smith and Hector Rojas to take a 2-0 lead into half versus CFU and were able to add one more in the second half off of a Will Smith volley from 30 yards. The combination play between Gianluca Carbone and Cameron Boone led to Smith's first goal, a header just outside the six yard box. Hector Rojas continued his strong form and once again was on the scorer's sheet, with a nice two-touch finish just inside the six. The defensive abilities of Everardo Collar, Juan Deschamps, Paul Sime, Camron Tally and Stephen Ravazzoli were enough to keep a clean sheet and take all three points in the first match of the weekend.
IMG 8, Clearwater 0
In the second match, IMG found the back of the net early and often, winning 8-0 against a traveling Clearwater Chargers team. Stephen Ravazzolli opened the scoring minutes into the game with a nice toe-poke past the onlooking goalkeeper. IMG kept the pressure on throughout the entire first half, adding goals from Hector Rojas, Diego Torres (2) and Pablo Aguilar, with Will Smith and Gianluca Carbone providing the service on 4 of the 5 first half goals. With the introduction of substitutes Dennis Zeissner, Andres Pena and Andrew Ezigbo, IMG were able to maintain their attacking form throughout the second half, adding 3 more goals from Michel Zarur, Dennis Zeissner and Jeronimo Mata. Everardo Collar gave way to Juan Correon at half, with Correon making a save to keep the clean sheet for IMG. IMG will take these two positive results and work to build on them in preparation for their final 2 matches.
U-16 boys
IMG 2, Central Florida 1
Coming into the game Central Florida was in 1st place in the Division. The U 16 boys played very well against Central Florida. It was a very good first half with the two goals one in the 25th minute by Dylan Christie and in the 39th minute of the first half a nice cross by Chaz Heller and a beautiful header by Dylan Christie. Overall a good performance by the whole team offensively and defensively. Mike Mitchell made two game winning saves in the game. Even the subs that came into the game played well. I am very happy with the performance of the entire team. I hope we continue playing that way for the rest of the season.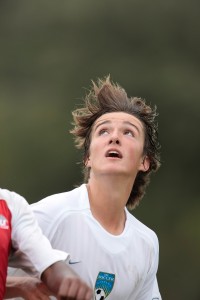 IMG 1, Clearwater 0
Sunday's game was against a very good Clearwater team. In the first five minutes of the game Jon Bugs was taken out inside Clearwater's box for a penalty kick. Rafael Nunez took the kick to put IMG up 1-0. The team played well again. With that win we can now move closer to first place in the league with two games left. I think we have a good chance to finish on top. I am very happy with the performance over the weekend however we still need to continue to keep the momentum and hard work going to finish out the season on top.
U-17 boys
With the win over Clearwater on Sunday with the score of 5-1, the 17s boys clinched first place in the standings of the CDL League .
Nicolas Nicolaci score the first goal 15 minutes in to the game. Jake Kaye had a hat-trick scoring two goals in the first half and a PK in the second half.
Juan Pablo Medina scored the final goal for IMG with a shot from outside the box. Overall the team outplayed the opponent but we didn't play with the determination and the attention that is needed to dominate. Our defenders ( De Luca, Sheehan and Ingerman) had a steady game in not allowing the opposite forwards to be dangerous. Anuar Maccise came in a sub and gave his contribution.
De Sa and Medina our two center mid have been the heart of this team throughout the whole tournament and had a steady game on Sunday.
The outside mids , Ortiz and Ingles on the right and Stokes and Reis on the left, worked very hard offensively and defensively, providing crosses from the flanks.
Our forward line did well, Nicolaci and Kaye converted their scoring chances and were always dangerous. Neves and the newcomer Austin Rummel came in as subs and worked very hard trying to find their way to goal.
Our last game is next Sunday against RSL and it's going to be a decisive match for winning the Championship.
U-17 and U-18 Girls
Overall, it was a positive weekend for the 17 and 18 girls. They showed a lot of character. It started off with an easy 7-0 win over CFU which provided a good warm up for the weekend. Sydney and Shelby Payne both had two goals each while Jess, Sammie, and Paige tallied one each. The team did well applying the defensive shape we worked on in training, which we will build upon throughout the season.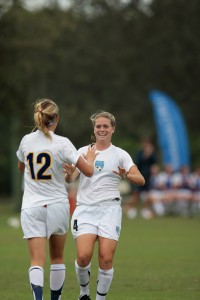 On Sunday, the U-17 girls fought very hard against a very strong and athletic Clearwater team. Our back line did a good job of applying pressure on the speedy Clearwater forwards and outside mids and worked hard to get back behind the ball when beat. Our midfield did much better this time around with pressuring and covering eachother. We held Clearwater 0-0 at halftime, but unfortunately conceded 2 goals in the second half. Despite that, the girls never stopped competing. The score was not a reflection of the performance our girls had.
The U-18 girls beat Clearwater 3-0 with a beautiful hat trick from Shelby. Although we did not play our best soccer, we found a way to pull it off. The twins and Jess were dangerous in the attack. Paige stepped up and took on a defending role for the 18s. She and Lydia are a young center back pair but played with confidence that will carry on throughout the season. Shannon had a great weekend, making some big saves in all games. She has really stepped up well into her role this season.
On another note, I'd like to give a big thumbs up to Renae, Sammie, Paige, Ash, Carlye, and Lydia. These girls played 3 games in two days-some with little to no breaks. Louisa would have joined them, but unfortunately sustained and ankle injury in the end of the second game. Their effort was outstanding in every match and our performances are a result of their attitude, concentration, effort and overall energy they give their teammates. Well done to everyone this weekend.
U-19 Boys
IMG 5, CFU 0
IMG played a good game, playing out of the back, building up, creating a lot of scoring opportunities. We played well defensively giving no scoring opportunities to CFU. The first have was 2-0 with Brandon Patten and Felipe Picado doing the scoring. Breno Moreira scored two great goals in the second half with a final score of 4-0.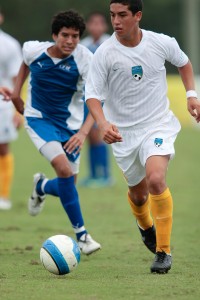 IMG 2, Clearwater 2
One of the best games IMG has played so far this season. Our build up, pressure of the other team all over the field, and creating very good scoring chances were the best I've seen our team all season. We did miss too many chances (finishing) which is how we ended up in a tie. This is something that we have to work on. If the team would score 50% of the chances that we create we would be winning more games. Great job overall. It was a fun game to watch. Brandon Patten and Felipe Picado had the goals for IMG.