IMG Academy soccer program alum Pearce named to World Cup provisional squad
May 12, 2010
by: Dan Tierney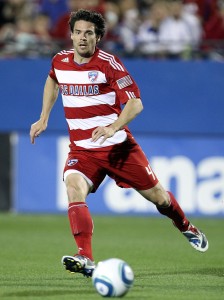 The final roster won't come out until June, but IMG Academy soccer program alum and current FC Dallas defender Heath Pearce took one step closer to South Africa this week.
Pearce on Tuesday was named to Bob Bradley's 30-man provisional World Cup roster. Said Pearce to MLS.com:
"My attitude was positive in the sense that I feel like I'm good enough to be there," Pearce said. "I feel I've been playing well lately, but I really wasn't thinking too much about it. It came up on me quickly."

Pearce got the news following a morning practice, and said the decision caught him by surprise.

"I knew I was in the pool of it all but had no idea where I stood in that pool," he said. "So it's a great honor to be selected in the final 30 and I'm really excited about getting into camp."
Pearce played a key role in several World Cup qualifying games over the past year and has started all seven games for FC Dallas in MLS play this season.