IMG Academy Lacrosse program hosts free clinic
May 27, 2010
by: Dan Tierney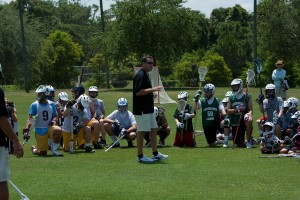 The IMG Academy lacrosse program played host to 87 boys and girls players this past weekend. In an effort to reach out to local players and coaches and help grow the game in the Florida Gulf Coast region, Director Kevin Finneran and his assistant coach Tony Ventiquattro held a three-hour clinic focusing on stickwork, footwork, dodging, shooting, ground balls and defense.
"We were excited to see the level of play and energy that all the kids brought to the Academy on Saturday, said Finneran. "We wanted to expose them to all of the facets of the IMG Academy lacrosse program. The Sarasota, Bradenton and Lakewood Ranch area brought some talented players to campus."
The clinic also featured some guests coaches from the area who have helped grow and develop the sport for many years. Highlights also include Dartfish video analysis and Athletic & Personal Development program training.