"Coach 24" visits the IMG Academy lacrosse program
June 30, 2010
by: Dan Tierney
Along with his two sons Tony (who played at UMass and SUNY Cortland) and Mario (Ohio State), Kirk Ventiquattro has made the Ventiquattro name synonymous with lacrosse success in upstate New York. As coach of Carthage High for more than 20 years, Kirk has registered 350+ wins and helped produce more than 40 D-I players and 13 All-Americans, while racking up multiple league and sectional titles, state championship appearances and Coach of the Year awards. Alumni of his program include Jason Coffman (all-time NCAA leading lacrosse scorer), the Powell brothers. Kirk is serving as a guest coach this week at the IMG Academy lacrosse program.
Kirk Ventiquattro on...
...how he got started in lacrosse: I was a baseball, football and basketball player when I was younger. I went to Cortland State, and baseball didn't work out. I got involved with a guy named John Distler, who at the time was the D-III Defensive Player of the Year. I took a couple courses and started playing intramurals. When you went to a lacrosse game in the 70s at Cortland, and the cannon's going off, and they're playing Virginia or North Carolina, and it just drew me to the sport, as it does to everybody. I fell in love with it.
...the early years at Carthage: I started the program in 1988 and went varsity in 1989. The athletic director came to me and asked me to coach lacrosse because I was only person in town who owned a lacrosse stick, and I was looking for a way in to be a head coach anyway.
...the key to his success: I'm like a sponge. Having to start a program from nothing, I spent a lot of time watching and listening. And there's still stuff to learn. I'm taking stuff from Coach Finn back with me. I don't know everything, and when I first started, I didn't know anything. We run an offense that we've been running for 12 years called Hopkins. We've run an offense for the past 6 years called Orange. Where do you think I got them?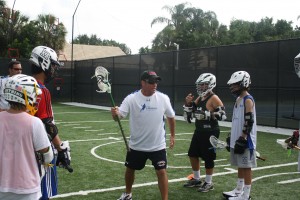 One of my buddies, an assistant football coach at Carthage, told me a while back, "You coach every game like it's the Super Bowl." You know what? Yes, I do, because that's what my players deserve.
...not yet having won a state championship: It does gnaw at me to some extent. Honestly, though, I also coach modified volleyball. If I'm coaching volleyball that night, a lacrosse state championship couldn't be further from my mind. Winning any game is an exhilarating, but fleeting feeling, and losing stings just as much. So, winning a state title is part of my motivation, but not all of my motivation.
...how lacrosse can continue to grow: I think it has to be introduced to states that don't have it. Much like I fell in love with the sport, I think anyone who is truly an athlete will absolutely fall in love with this game. I just got back from Portland, Oregon. The next great player might be from Portland, and five years ago you couldn't have said that. I just coached in Dallas and saw 4.4 (40-yard dash) athletes sprinting down the field playing lacrosse as a second sport because football is their No. 1. I've been in Whittier, California, and saw good players out there. I think that the sport is growing at a fast rate, but like everything in America, we want everything tomorrow. I think it's on the right course.
...his legacy: Hard work pays off. You can do it the right way. I use John Wooden's principles all the time. You arrive on time. You never use foul language. Teammates can't criticize teammates. I have what's called 24's 24. Every athlete and their parents have to sign at the beginning of the season. For example, you have to be in bed by 10 p.m. on a game night. On prom night, unless you're at a school-sponsored lock-in, you have to be home by 1 a.m. And I will call at 1 a.m. Being 15 minutes early to practice. You always wear the proper colors, because if you're on the team, you have to be all the way. It's just a way of holding people accountable.
...IMG Academy: Today, I ran campus, was on a lacrosse field, lifted weights next to two NFL players, ate at a world-class dining facility, hit the pool and sunned, then went to the turf field for practice. This is a dream come true. I've been calling my buddies and saying, "You have no idea." People talk about Disneyland? If we would have had the chance to come here, we would never have left. It has everything for someone who's hooked on athletics. It pumps me up. I'm coming back in a couple weeks, and I can't wait.