Russell Wilson to attend IMG's Combine Training program
January 12, 2012
by: Benjamin Fite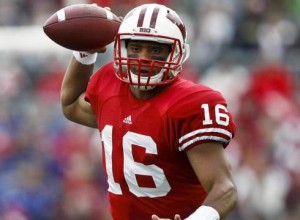 After a trip to the Rose Bowl, Russell Wilson plans to attend IMG's Combine Training to prepare for the upcoming draft.
Multi-sport college standout Russell Wilson, former Wisconsin quarterback, has informed the Colorado Rockies he plans to pursue an NFL career. After playing two minor league seasons for the Rockies and a trip to the Rose Bowl Russell Wilson has decided to attend IMG Academy to prepare for the upcoming N.F.L. Draft.
Here at IMG, Russell will be in good hands engaging in nutrition guidance, skills training (Chris Weinke) game on communications training (Steve Shenbaum), speed training (Loren Seagrave) mental training (Trevor Moawad) and physical conditioning (Scott Gadeken) under the multifaceted NFL Combine 360 training program here at IMG.
Full article by Pete Thamel in the New York Times
Wilson, who played parts of two minor league seasons for the Colorado Rockies organization, has informed the team that he will be preparing for the N.F.L. draft instead of reporting to spring training. Wilson, a fourth-round pick of the Rockies in 2010, called Colorado General Manager Dan O'Dowd to inform him of the decision and said that he was supportive.

"I want to put all my focus in football and see where it takes me," Wilson said in a phone interview Wednesday. "I know that I have the talent, aptitude and leadership to succeed on the next level."

Wilson is marrying this weekend and said he would leave the next day to train at IMG Academy in Florida with Chris Weinke, the former Heisman Trophy winner and N.F.L. quarterback who tutored Cam Newton before last year's draft. Wilson will play in the Senior Bowl and is in the process of choosing his football agent with the help of his baseball agent, Mark Rodgers.

Wilson projects as a fourth-round pick, according to the former Dallas Cowboys executive Gil Brandt; at 5 feet 10 inches, he is shorter than the prototypical N.F.L. quarterback.

"We're getting shorter," Brandt said of quarterbacks in the N.F.L. "Drew Brees opened the doors for a lot of guys. Someone is going to take him, and I think he can play. He has a great arm, great accuracy and great mobility."