IMG Academy to host USL PRO Combine featuring 100 of nations top soccer players looking to turn professional
January 23, 2012
by: largeinc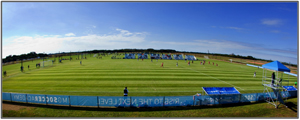 IMG Academy will host the United Soccer Leagues (USL) PRO Combine, January 26-29, 2012. Among the players who will have the opportunity to be evaluated by USL PRO clubs and other professional clubs such as Sweden's Malmö FF, are nearly sixty former USL Player Development League players looking to transition to the pro ranks.
"We are very happy with the level of talent that will be on display in Bradenton next week," USL National Technical Director Peter Mellor said. "We believe there are a number of players who are ready to make the jump to the professional ranks from the PDL, and some current professional players attending who would fill a need for a team immediately." 
Being staged for the first time at the internationally-recognized IMG Academy, the USL PRO Combine will see the players divided into six squads, with each team playing three matches over the duration of the event. There will also be testing, team training sessions, and for the second consecutive year, two sessions devoted solely to goalkeeper development.
The Combine marks the first of a number events occurring over the next few months at the IMG Academy soccer program Complex within the walls of the 400-acre IMG Academy. Also next weekend, IMG will play host to the U.S. Youth Soccer Olympic Development Program (ODP) Boys Winter Interregional, in which the four U.S. Youth Soccer 1996 Regional Teams (NE, SE, Midwest, Far West) will train and compete. Coaches will be on site to evaluate players for possible selection to a National Team Training camp. 
Beginning in early February, a number of professional teams will begin descending on the campus of IMG for pre-season training. Teams include MLS's Seattle Sounders, Columbus Crew and D.C. United, as well as Malmö FF, Sweden's most successful club with sixteen national championship titles and fourteen national cup titles to their name. During their stretch of training, the teams will compete with another.    
Later in February, IMG will host both the boys' and girls' 2012 USL ODP Super-Y League National Camps. The boys' camp (1995/96 and 1997/98 teams) will run February 23-26, while the girls' (1995/96 and 1997/98 teams) will take place March 1-4, 2012. There will be six teams formed within each calendar year group that will train and compete in games for national select spots and other opportunities. The event will draw nearly five hundred players and countless coaches.
Rounding out the events is the IMG Academy soccer program's IMG Cup-College Showcase event, to be held March 9-11, 2012. The event, expected to attract several thousand players, coaches and spectators, will feature sixty of the nation's top boys and girls teams. More than 200 men's and women's coaches from the nation's top collegiate programs like Akron University and the University of North Carolina, will be on hand to scout the talent. Amidst the exciting team competition, a number of pro teams will travel to IMG to train and compete among one another during the Showcase. 
Remarked Scott Dean, Director of the IMG Academy soccer program, "This year is off to an exciting start, as we help our senior student-athletes select the best collegiate programs, all while bringing incredible talent to our fields for great competition at the youth level through the professional ranks." 
For more information about these events, and to register, please visit: http://www.imgacademy.com/soccer-academy/