IMG Academy Players to Compete in USA Baseball Tournament of Stars
June 20, 2012
by: Caroline Early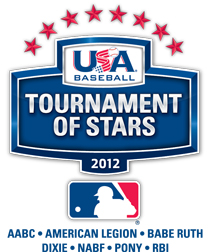 Two IMG Academy baseball players, Brett Hanewich and Cameron Varga, will compete in the 2012 USA Baseball Tournament of Stars (TOS) presented by Major League Baseball (MLB) in Cary, N.C. this week.
Hanewich and Varga are two of the 144 players who were invited to participate in the tournament hosted by USA Baseball. Each player was selected to play for one of the seven national member organizations; AABC, American Legion, Babe Ruth, Dixie, PONY, NABF and RBI or the "at-large" team selected by USA Baseball, the Stars. Hanewich was selected for the Stars and Varga for the PONY. During the four-day tournament, the players will compete against each other for a spot on the 18U National Team. The 18U National Team is notorious for hosting major leaguers and first-round draft picks before going pro.
Hanewich was also recently selected for the Class 5A Florida Athletic CoachesAssociation All-State Baseball Team and the Perfect Game USA High School Underclassmen All-American Team. A junior at IMG, Hanewich was awarded the 2012 IMG Academy baseball program Award and has committed to Stanford.
Varga was also selected for the Perfect Game USA High School Underclassmen All-American Team this spring. As an upcoming junior, Varga is the No. 1 right-handed pitcher for the class of 2014.
Follow the tournament, Hanewich, or Varga on Twitter: @BrettHanewich, @CameronVarga and @USABaseball or with the hashtags #tournamentofstars and #TOS.