Athletic and Personal Development
NFL stars talk leadership while at IMG Academy
August 17, 2009
by: Dan Tierney
Unique workout of junior tennis star Maria Shishkina
August 17, 2009
by: Dan Tierney
Check out the interesting workouts used by Athletic & Personal Development program trainer, Yutaka Nakamura, with 11-year-old tennis phenom, Maria Shishkina.
Saban focused on team chemistry
August 16, 2009
by: largeinc
TUSCALOOSA — Alabama coach Nick Saban has plenty of areas of development his football team must address.
Among the coach's themes throughout this summer camp has been being a physical team, finishing strong and being disciplined.
But the coach also talked to reporters several times about off-the-field things such as team building and chemistry.
The comeback: Mary Pierce works for eventual WTA Tour return
August 10, 2009
by: Dan Tierney
Altidore to play for Premiership's Hull City
August 06, 2009
by: Dan Tierney
Though it's not yet official, several news outlets (and a Twitter feed from the man himself) are reporting that Athletic & Personal Development program alum and U.S. Men's National Team star Jozy Altidore will play for Hull City in the Barclay's Premier League this season.
Currently under contract by La Liga's Villarreal, Altidore's stock shot up this summer with his performance for the USMNT in the Confederations Cup.
Athletic & Personal Development program director speaks at FSU
August 04, 2009
by: Dan Tierney
Athletic & Personal Development program director Trevor Moawad took some time recently to speak with Florida State University blog fearthespear.com after working with some football players during 7-on-7 drills.
Moawad has worked with several collegiate and professional teams and organizations on the mental aspect of athletics, including the University of Alabama, Jacksonville Jaguars and U.S. Soccer Federation.
IMG Swimming Academy camp has international flavor
July 29, 2009
by: Dan Tierney
This week's IMG Swimming Academy summer camp featured swimmers from all around the world, including Austria, Colombia, France, Panama, United Arab Emirates, United States and Venezuela. Check out some photos of a recent morning session below.
Tuesday Kickaround
July 27, 2009
by: largeinc
*USA forward Freddy Adu has been conditioning at IMG Academy in Bradenton, Fla., in preparation to rejoin Benfica this week. However, the Insider is hearing that at least one Dutch club is interested in acquiring him on loan. He has three years left on his Benfica contract. After last season's bench-sitting experience with Monaco, another loan needs to be with a club "that is going to play him. The [Monaco] situation cannot happen again. It was not good for Freddy. It has to be the right situation," a source close to Adu said.
What about Hawk?
July 26, 2009
by: largeinc
PackersNews.com
It seemed like a throwaway line at the end of Pete Dougherty's position-by-position story about the linebackers that ran today and focused largely on Aaron Kampman's switch from defensive end to outside linebacker, but after giving it more thought it might be time to wonder if A.J. Hawk's job really could be in jeopardy or at the very least whether his role in the defense might be reduced.
IMG Academy Athletic & Personal Development programsDirector, Trevor Moawad, discusses Matt Jones and the NFL
July 25, 2009
by: IMG Performance Institute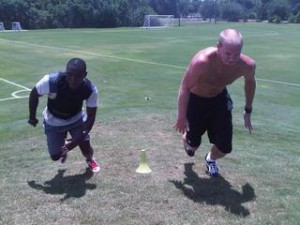 How do you think Matt has progressed since coming to Bradenton this spring?
Pages