Under Armour and IMG Performance form unprecedented partnership
November 02, 2009
by: Nick's Picks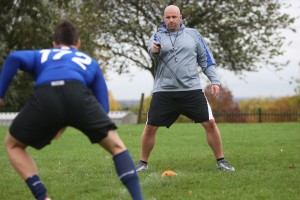 Under Armour and IMG Academy announced today that they are forming a partnership to develop a unique comprehensive athletic training platform that will establish a global measurement standard for improved sports performance, health and fitness called "Combine360."
By utilizing the performance and training expertise of Under Armour and IMG Performance, Combine360 will measure and record sport-specific ability and mental aptitude, nutritional level, ability to communicate and a variety of other performance disciplines allowing athletes of all abilities from across the world to compare their scores.
As part of this new venture, beginning in early 2010, Under Armour and IMG Performance will host over 100 combines at regional sites across the country. Staffed by some of the world's top performance specialists from Under Armour and the Athletic & Personal Development program, the combines will lay the foundation for a consistent platform for athletic analysis. This partnership will also help establish testing metrics, training methodology, certification standards and continuing educational programs to maximize athletic development and performance potential. The focal points of this integrated training platform are at three levels: 90 (Core Physical), 180 (Sports-Specific Physical) and 360 (Advanced Elements). These tests will include physical conditioning, muscle regeneration, nutrition, sports medicine and anthropometric assessments.
To kick off the partnership and showcase the multi-sportapplications of this joint initiative, Under Armour and IMG Performance hosted a special grassroots combine for dedicated football, soccer and rugby players (ages 8-18) this past Saturday, October 24th at London's Finsbury Park Stadium in conjunction withthe NFL game in London between the New England Patriots and Tampa Bay Buccaneers. Over 250 talented athletes participated in this first-ever program. The head of the Athletic & Personal Development program's Strength and Conditioning program, Jeff Dillman, along with performance specalist Corey Stenstrup, and the Head of Mental Conditioning, Dr. Angus Mugford all crossed the Atlantic to work with some of the UK's young athletic talent. Athletes attending the combine got some hands on coaching and sport skill work from some of the best coaches out there, including IMG's own Director of the IMG Academy soccer program - Tom Durkin, in addition to Drew Brees' Strength Coach Todd Durkin, Former NFL player Eric Ogbogu and NFL Receiver Coach Noel Mazzone.
Here is a video from the combine:
In addition to the London combine, Under Armour will provide apparel, footwear and accessories to IMG Academy, a division of IMG Worldwide. Under Armour also will utilize the Athletic & Personal Development program at IMG Academy to test its newest innovations. IMG and Under Armour's partnership will have multiple retail and consumer extensions, with both parties working to develop sports-specific training programs, equipment, instruction and online content.
Related News:
IMG, Under Armour in Combine Biz (The Sports Business Journal)