IMG Academy baseball program celebrates Senior Day
April 22, 2009
by: Dan Tierney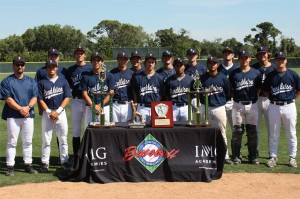 In a few months, 14 seniors will graduate from the IMG Academy School/IMG Academy baseball program and go on to grander stages.
Their mark on the Academy, though, won't soon be forgotten.
The Academy celebrated the 14 soon-to-be-graduates during Senior Day on Tuesday at Academy Park against Lakewood Ranch.
From their unbelievable current season (28-1 and counting) to their hard work and dedication, the 14 seniors will be missed after they depart.
Here's the list of seniors (from left to right) and check out other photos from the day below: (front row) Pitching coach Steve Frey, Nick Mace, Jesus Sanchez, Patrick Waugh, Marc-Richard Culmer, Julian Garcia, Jack Daru and head coach Kevin Sharp. (Back row) Cal Lambert, Blaze Tart, Michael Xirinachs, John Ryan Murphy, Shay Mlakar, Jack Repokis, Tyler Rubino and Connor McCarthy.