U-19 Boys defeat FC Sarasota 3-1
March 07, 2009
by: IMGSoccer1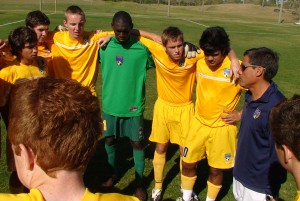 The IMG U-19 boys have what it takes to contend for the Florida Cup Championship and all of the pieced seemed to be in place as the faced local rival, FC Sarasota.
Confident in his team, Marcello Carrera watched as his team controlled the game early on. Returning student Joel Mitchell put his mark on the game by scoring on a header and a direct kick, both in the first half. IMG' defense, anchored by Joe McDowell sealed up the half leading Sarasota 2-0.
No momentum was lost as the second half begun. Ben Liesveld increased the lead by sneaking past the back line of Sarasota and blasting the ball in the back of the net.
A good start to a long weekend puts IMG in contention for a top seed in this round robin event. They will face Lakeland FC next at 2:40pm.